Which Kardashian-Jenner Sisters Are the Closest?
The Kardashian-Jenner family has risen to immense fame since their reality show, Keeping Up With the Kardashians, first aired back in 2007. The family name also gained notoriety when their late father, Robert Kardashian, joined O.J. Simpson's defense team during his murder trials. Now that the women have grown up, many of them have started families and all of them have taken on careers of their own. And These days, some sisters are closer than others.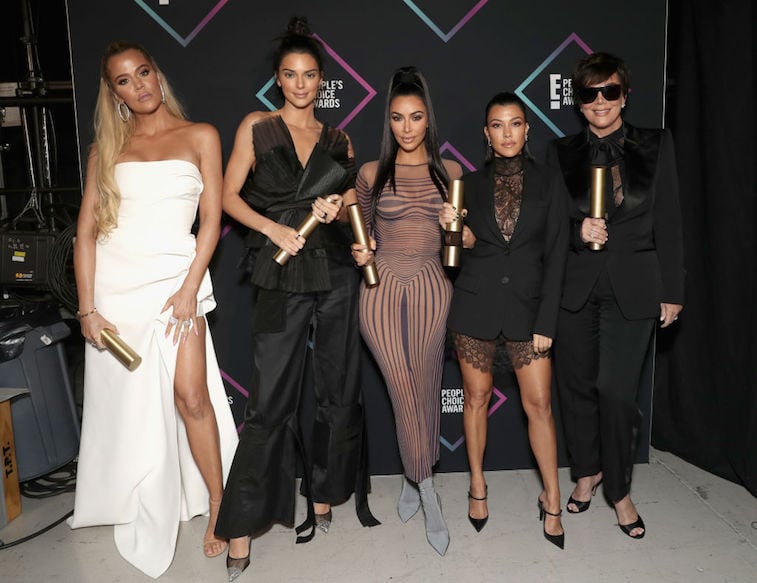 Kim Kardashian has said she's grown much closer to Khloé Kardashian this past year
Kim has always had a strong relationship with her Kardashian sisters, Kourtney and Khloé. Growing up, Kim and Kourtney spent nearly every waking moment together, since they're so close in age. But in Kim's recent Vogue Arabia interview, she admits that this year, she's grown extremely close with Khloé. "Kourtney and I will always be really close, but this year, Khloé and I really bonded." Khloé has been through a lot with her ex, Tristan Thompson, and all of her sisters have supported her and her daughter, True.
Khloé and Kourtney Kardashian have remained close since Kim's modeling days
Though Kourtney and Kim were closer growing up, once Kim's modeling career took off back in the mid 2000s, Kourtney and Khloé built a very strong relationship. In the earlier days of KUWTK, Kim was often away on modeling gigs, driving her Bentley, or dating professional athletes. Meanwhile, Kourtney and Khloé were running the Kardashians' clothing store, Dash. They spent a lot more time together as young adults, since Kim was constantly off doing her own thing. Nowadays, though, all of the women have grown equally famous.
Kylie Jenner recently proved that she and Kendall are still a dynamic duo
Kylie and Kendall Jenner, the only Jenners in the Kardashian family, have had a close bond since Kylie was born. They're more than a decade younger than their sisters; Kourtney, the oldest Kardashian, just turned 40, while Kylie only just turned 22. Though their older sisters have always been role models for them, Kendall and Kylie grew up doing everything together. The girls have taken on two very different careers as they've grown up, with Kendall modeling and Kylie running her cosmetics brand. But Kylie recently confirmed the two sisters are still closer than ever when she posted a throwback photo of them as little kids.
All the women have formed extremely close bonds through the years 
There truly aren't two Kardashian-Jenner sisters who don't have a strong bond. Kylie and Khloé, Khloé and Kendall, Kendall and Kim, Kim and Kourtney, Kourtney and Kylie… There aren't any two women who don't spend a lot of time together. They've all planted roots near each other, too, which means their children can grow up together. These days, there are 10 Kardashian-Jenner grandchildren: Kim has four kids, Kourtney has three, Rob has one, Khloé has one, and Kylie has one. So far, Kendall hasn't welcomed a baby, but over the next few years, that could change. The next generation of Kardashian-Jenner besties is already in full swing.