Which Member of Outkast Has the Highest Net Worth?
In the early 1990s, the hip hop duo, Outkast, burst onto the music scene. Atlanta-based rappers,  André "André 3000" Benjamin and  Antwan "Big Boi" Patton helped bring "southern hip hop" to the forefront while creating their own unique blend. With as long as Outkast performed, who has a higher net worth — Big Boi or André 3000?
Outkast burst onto the scene with a mix of funk, jazz, hip hop, and techno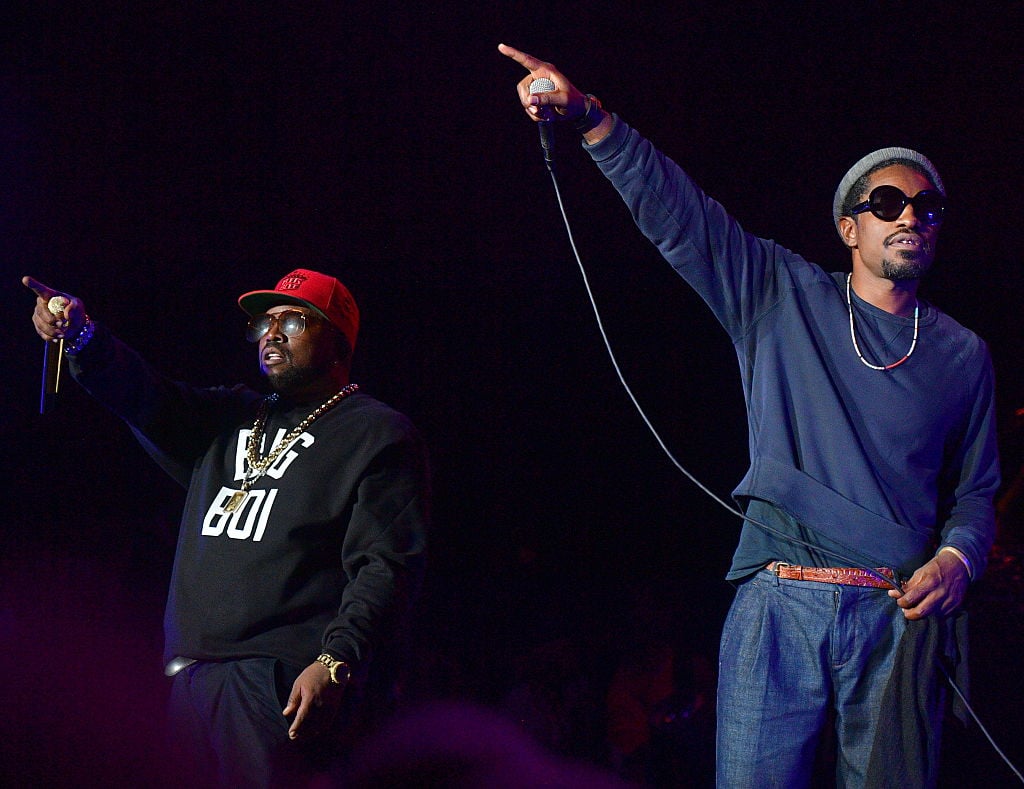 In 1992, Atlanta-based rap duo, Outkast, formed, giving new meaning to rap. André "André 3000" Benjamin and  Antwan "Big Boi" Patton put their own unique spin on melody, lyrics, and rap with the integration of jass, funk, techno, and other stylized genres.
For nearly 30 years, the two former high school friends who rap-battled to earn the other's respect has remained one of the most recognizable and beloved performers by way of positive messages and Southern-influenced arrangements.
Once Organized Noize Productions took notice (TLC, Xscape), Antonio "L.A." Reid and Kenny "Babyface" Edmonds signed the duo to their LaFace label right after graduation.
There, Outkast recorded "Player's Ball," their debut single, which hit No. 1 on the rap charts and stayed there for six weeks. The song certified gold and became the perfect foundation for a full-length release.
Southernplayalisticadillacmuzik, hit the Top 20 in 1994 and certified platinum before 1995 hit. Their ride only went up from there. In 1996, Outkast released ATLiens, which also went platinum. 1998's Aquemini went double platinum.
However, it's the 2000 album, Stankonia, that propelled Outkast into superstardom with hits like "B.O.B.", and "Ms. Jackson," putting the duo into triple-platinum status. Never to be outdone, 2003's Speakerboxxx/The Love Below offered fans "Hey Ya" and "The Way You Move."
Outkast broke up in 2006 after the release of Idlewild but they briefly reunited in 2014 to commemorate the 20th anniversary of Southernplayalisticadillacmuzik. They did it again in 2017 to celebrate Big Boi's son's graduation.
What is Big Boi's net worth?
Big Boi's estimated net worth, according to Celebrity Net Worth, is $50 million. The rapper, songwriter, record producer, and actor made the bulk of his money through Outkast as well as his solo work, and acting in projects like Law & Order: Special Victims Unit. The artist also now has a signature Budweiser "tall boy."
"You can't rate something that's off the scale, you feel what I'm sayin'?" Big Boi said of his time in Outkast. "I can only be matched by André 3000, and we take pride in that. It's not cockiness or nothing like that. Check the numbers, check the paperwork, check the scoreboard, check the catalog. I'm like the boogeyman: people don't acknowledge something that they fear."
He continued: "But there's no competition for me. I'm only competing against myself. So whenever these fan lists come out, it means nothing to me. Check the tape. We won Album of the Year. No hip-hop artist has ever done that. We went diamond, several Grammys, every Moon Man, BETs. We done cleaned the closet, and the music speaks for itself, to be here twenty-plus years and still rockin' two, three generations of people."
Will the two get back together, officially? Big Boi said it's not necessarily up to him.
"You've gotta talk to Jesus, man! You've gotta talk to Jesus," he said. "I'm always open. I'm always open. So when plans and stars align one day… you never know."
What is André 3000's net worth?
André 3000 has an estimated net worth of $45 million, according to Celebrity Net Worth. Though he made his name in Outkast as well, André 3000 has also made money as a rapper, singer, songwriter, record producer, and actor.
As of late, André 3000 appeared on records from Frank Ocean and Travis Scott, but if deferred back to whether Outkast will get back together, it's a little more complicated.
" Now, it's just an excitement thing," he previously told Complex, adding he likes "not being a part of [rap], now that I've done it."
"As I get older, I start to see myself move more back from it — the hustle and bustle of putting out an album, the pressure of being in the studio trying to come up with something," he said.
"Now it's more like a hobby for me, so I don't think about it in that way. Even with Outkast — if we never do another album, I'm totally fine with that."
That said, there doesn't seem to be any bad blood between the two Outkast members.
"We have such an understanding that it's never friction," he told Friction. "There's never pressure of, 'Hey, man, let's get back in.' Of course, there's always money on the table, but it's never seen that way. We've been blessed to not have to scratch for that money. Maybe it'll be an issue in the future, but maybe not."