Which 'Orange Is the New Black' Cast Member Has The Highest Net Worth?
If you thought this week was tough for you, imagine being a fan of Orange Is the New Black. On July 26, Netflix released the seventh and final season its beloved series, and viewers are seriously going through it.
Since it's premiere in 2013, Orange Is the New Black has received widespread acclaim. The series was groundbreaking in its ability to juggle multiple character arcs while highlighting a multitude of issues. So it's hard for viewers to let go.
They've fallen in love with the characters and often want to know details regarding the actors who play them, from their relationships to their incomes. With that, let's talk about which cast member has the highest net worth.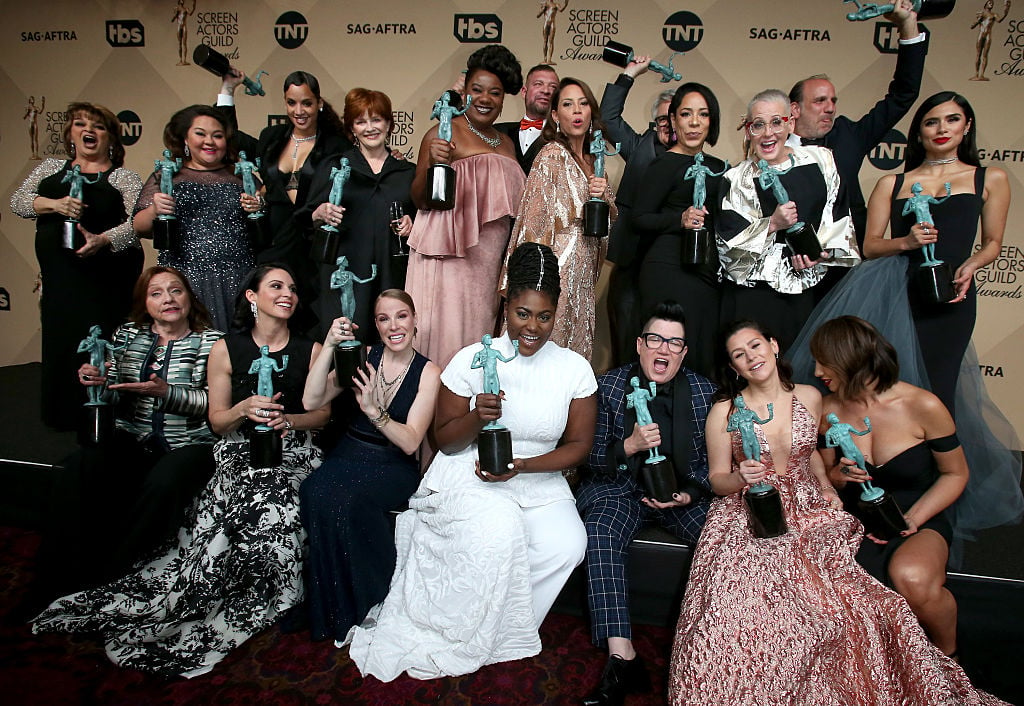 Danielle Brooks
Brooks played Tasha "Taystee" Jefferson, a troubled woman who ends up at Litchfield Penitentiary for her connection to a drug ring. Brooks brings a lot of personality to the show and has earned praise for her performance. She's been acting since she was little, but she didn't get her first taste of fame until OITNB. Thanks to the show, as well as a few small roles, her net worth is a cool $1 million.
Uzo Aduba
Aduba starred as Suzanne "Crazy Eyes" Warren, who has a penchant for theater and, um, marking her territory. Outside of the show, Aduba has appeared in Alvin and the Chipmunks: The Road Chip, The Wiz Live!, and Steven Universe. She checks out with a net worth of $1 million. 
Taylor Schilling
Schilling starred as Piper Chapman, a privileged New Yorker who ends up in jail for her participation in a drug-smuggling ring with her girlfriend, Alex Vause. Schilling had dabbled in acting before OITNB, making appearances in the 2007 film Dark Matter and NBC's short-lived medical drama Mercy (2009-2010). She has a net worth of $1.5 million.
Laverne Cox
The actress and LGBTQ advocate is one of the breakout stars of the show. She played Sophia Burset, a transgender woman who committed credit card fraud to support her transition. Aside from the Netflix series, Cox has had roles in productions like Law & Order, The Mindy Project, and Lip Sync Battle. Her net worth? It's $2 million dollars.
Samira Wiley
Wiley found mainstream success through her role as Poussey Washington, who died in Season 4 after being suffocated by a prison guard. But don't get it twisted — Wiley is keeping busy. She's had roles in popular shows like The Handmaid's Tale and Will & Grace. So it might not be surprising that her net worth is $3 million.
Natasha Lyonne
Lyonne might be best known for her role as Nicky Nichols on the show, but she's got an extensive acting career. She's had parts in productions like American Pie, Russian Doll, and Scary Movie 2, making her net worth $3 million.
Taryn Manning
Like Lyonne, Manning has been acting long before she got her role as Tiffany "Pennsatucky" Doggett on OITNB. The 40-year-old has had appearances in movies like Hustle & Flow and shows like Sons of Anarchy. Today, she's worth $3 million.
Dascha Polanco
OITNB was like a springboard for Polanco's career. After she got her role as Dayanara "Daya" Diaz, Polanco went on to star in productions like Russian Doll, When They See Us, and The Perfect Match. So far, she's worked up a net worth of $5 million.
Kate Mulgrew
Mulgrew is known for her OITNB role as Galina "Red" Reznikov, the head honcho of Litchfield. But you might recognize her from some other places, too. The 64-year-old has made appearances in Star Trek: Voyager, Cheers, and American Dad! And her hard work has paid off. She has a net worth of $5 million.
Laura Prepon
When OITNB premiered all those years ago, Prepon was arguably the most recognized face. Before her role on the show as Alex Vause, fans knew her as Donna Pinciotti on the Fox sitcom That's 70 Show. She's also known for projects like Karla, The Girl on the Train, and How I Met Your Mother.
Prepon has the highest net worth of all the OITNB cast members, topping out at $12 million.