Which 'Real Housewife' Scored the Biggest Divorce Settlement?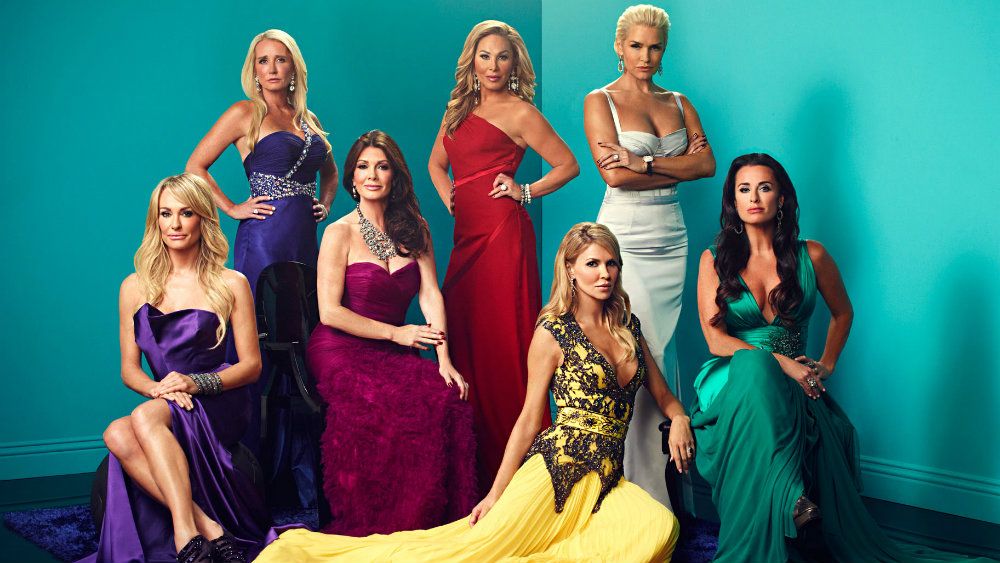 The Real Housewives franchise is known for marriage, drama and also divorce. Plenty of the ladies featured on the series divorced either during or after their season, some scored some pretty gigantic settlements.
While some women, like Porsha Williams from The Real Housewives of Atlanta got absolutely nothing in her divorce, other women are making a mint. Shannon Beador from The Real Housewives of Orange County was awarded $22,500 a month from her ex and Alexis Bellino from RHOC is getting $16,000 a month from her divorce.
And while making about $270,000 a year from your divorce settlement is jaw-dropping, the Real Housewife who ended up cleaning up the most is Camille Grammer from The Real Housewives of Beverly Hills. So how much did she receive in her divorce from actor Kelsey Grammer and what was their marriage like?
Kelsey was 'broke' when the couple met
Although Kelsey was a big star when he met Camille, he was supposedly struggling financially. According to TMZ, "We're told when the couple married, Kelsey was broke.  Pretty shocking, considering he had earned Cheers and Frasier money.  But bad decisions and a drug problem nearly sent Kelsey to the poor house."
The actor also told Oprah he met Camille during a dark time in his life. He was struggling with addiction and after a car accident sought help. The couple also struggled to have a family, eventually going through a surrogate.
Was the marriage over before it began?
Camille reflected on the dissolution of her marriage to Bravo's The Daily Dish in 2015. " I know my ex-husband really loved me. And the things he said in that Oprah [Winfrey] interview that I cited on Twitter that [our marriage] was over before it began — I'm paraphrasing — and it was a sentence, a self-imposed sentence. I have so many photographs. I can't even count them."  Also, she recalls a "very happy Kelsey Grammer with me and with big smiles on both of us and a lot of laughs, a lot of fond memories and letters that are filled with love from him."
But tensions were too much. Kelsey said in an episode of Oprah's Next Chapter that Camille "always wanted to be famous, and was angry that she had given up 'so much' to be with me," The Huffington Post reports. Camille responded to that interview and said to Bravo, "So when I watched that OWN interview with Oprah, it was really upsetting to me because I just thought, 'He's lying. These are lies.' I mean, I don't know what he's thinking, why he would lie? But they're lies because I know what we experienced together during those 14 years together. And he wants to paint a very different picture and a different story."
An airplane trip changed their lives forever
Kelsey met his future wife six months before he asked Camille for a divorce. "We actually met in the air on a plane to England," Grammer recalled on Jimmy Kimmel Live, Page Six recounts. "It was very romantic, she was working on the plane. We went out for coffee several days later and had this magical night in the snow in London around Christmas time. It was two years ago."
Kelsey married new wife Kayte Walsh only days after his divorce from Camille was final. However, since then Camille too found love. She recently married attorney David C. Meyer in Hawaii.
This is one reason she got so much
Surprisingly, Camille and Kelsey did not have a prenuptial agreement. "Thank God I didn't have a prenup," she told People. "Thank you Kelsey. I guess you loved me at one point." She added if she were to marry again, she'd absolutely insist on a prenup."
As a result, Camille was awarded half of Kelsey's retirement fund in the divorce, according to E News. Court documents showed that Camille will receive 50% of Kelsey's 410kK balance as of June 2010. That means Camille received a shocking $30 million, making it one of the most expensive divorce settlements of all time.
Check out The Cheat Sheet on Facebook!