Prince Harry Reveals Which of His Family Members He Still Talks to, and Who He's Disappointed in
Prince Harry surprised everyone when he announced that he and his wife Meghan, Duchess of Sussex were stepping back from their roles as senior members of the royal family. Since then, there have been rumors spreading that Harry's relationship with his family members has been strained and that he is not on good terms with the royals. In his and Meghan's interview with Oprah Winfrey, Harry revealed which family members he is still on good terms with.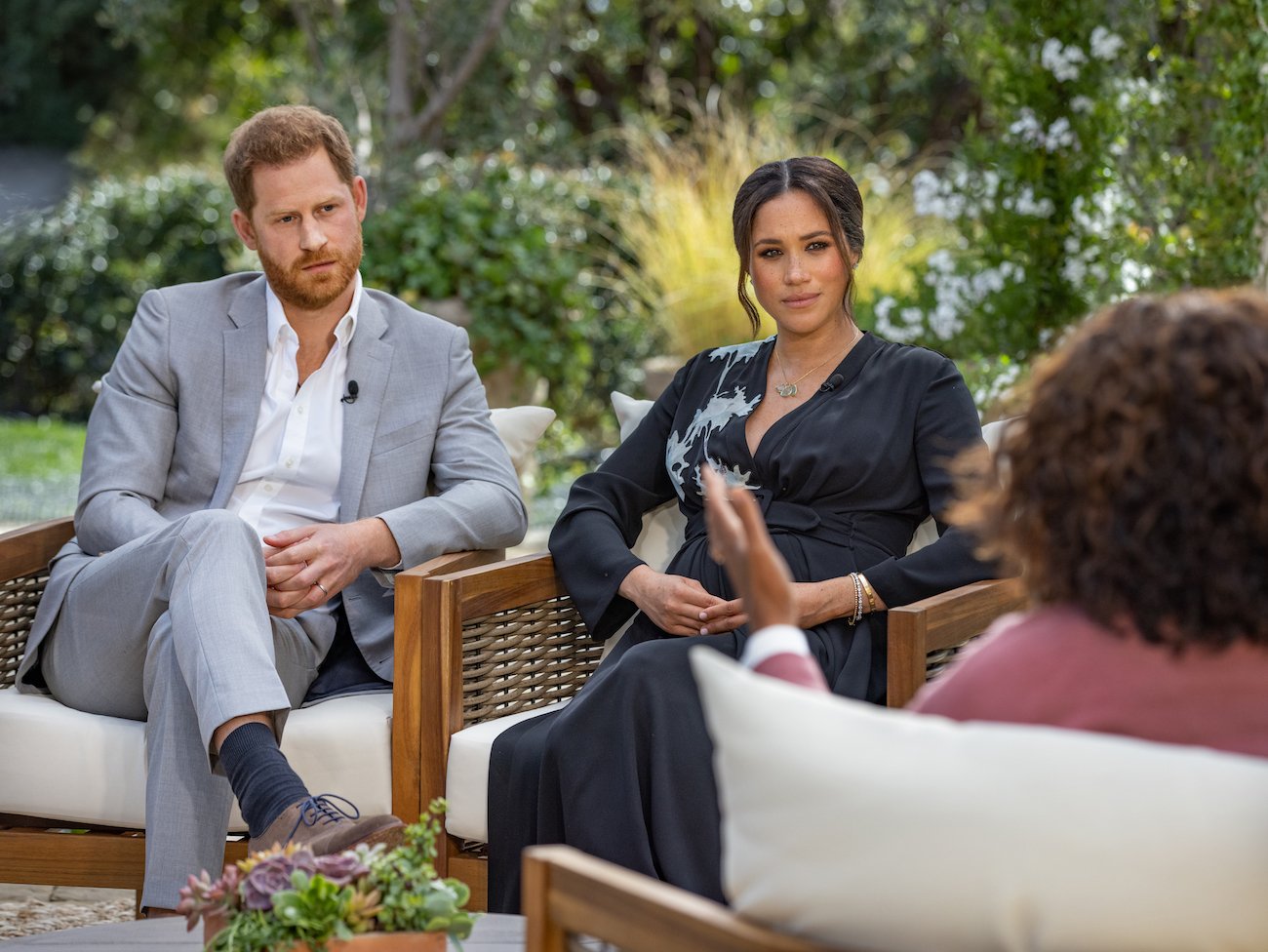 Harry didn't blindside the queen
A lot of the drama surrounding Prince Harry and Meghan stepping back came from the rumor that the couple blindsided the queen and pretty much forced their way out of the family. But according to Meghan and Harry, that is very far from the truth.
"But we never left the family," Meghan told Oprah. "We were saying, 'OK, if this isn't working for everyone, we're in a lot of pain, you can't provide us with the help that we need, we can just take a step back. We can do it in a commonwealth country.' We suggested New Zealand, South Africa." 
Harry said that he had several conversations with his grandmother and father before the announcement.
"When we were in Canada, I had three conversations with my grandmother and two conversations with my father and — before he stopped taking my calls — and then [he] said, 'Can you put this all in what your plan is?" Harry revealed.
"I put all the specifics in there, even the fact that we were planning on putting the announcement out on the 7th of January," he said. But after his father started ignoring him, Harry had to do what he thought was best.
"By that point, I took matters into my own hands. It was like, 'I need to do this for my family.' This is not a surprise to anybody. It's really sad that it's gotten to this point, but I've got to do something for my own mental health, my wife's, and for Archie's, as well, because I could see where this was headed," he continued.
Which members of Prince Harry's family does he still talk to?
Surprisingly, Harry's relationship with his grandmother has actually grown since he's been in America.
"I have spoken more with my grandmother in the last year than I have done in many, many years," he said. "My grandmother and I have a really good relationship and a good understanding."
Throughout the interview, he also spoke of how much respect he has for his grandmother.
Who is Harry not on good terms with?
When it comes to Harry's older brother, Prince William, the relationship isn't as peachy as the one with his grandmother.
"I love William to bits," Harry told Oprah. "He's my brother and we've been through hell together but we were on different paths."
He revealed that the two aren't close at the moment.
"The relationship is space at the moment and time heals all things hopefully," he said.
But Harry's relationship with his father, Prince Charles, seems to be the most fractured.
"There is a lot to work through there," he said of his relationship with his dad. "I feel really let down, because he's been through something similar. He knows what pain feels like. I will always love him, but there is a lot of hurt that's happened. I will continue to make it one of my priorities to try to heal that relationship. But they only know what they know."