Which 'SNL' Alum Will Be in the 'Jay and Silent Bob Reboot?'
Which 'SNL' Alum Will Be in the 'Jay and Silent Bob Reboot?'
As fans eagerly await the return of Jay and Silent Bob, director and writer, Kevin Smith drops a few hints about who will be featured in the new film.
Jay and Silent Bob Reboot is based on the iconic characters Smith created for his seminal film, Clerks. The movie received critical acclaim and Jay and Silent Bob became their own entity. The characters starred in their own feature films, plus made appearances in other Smith creations.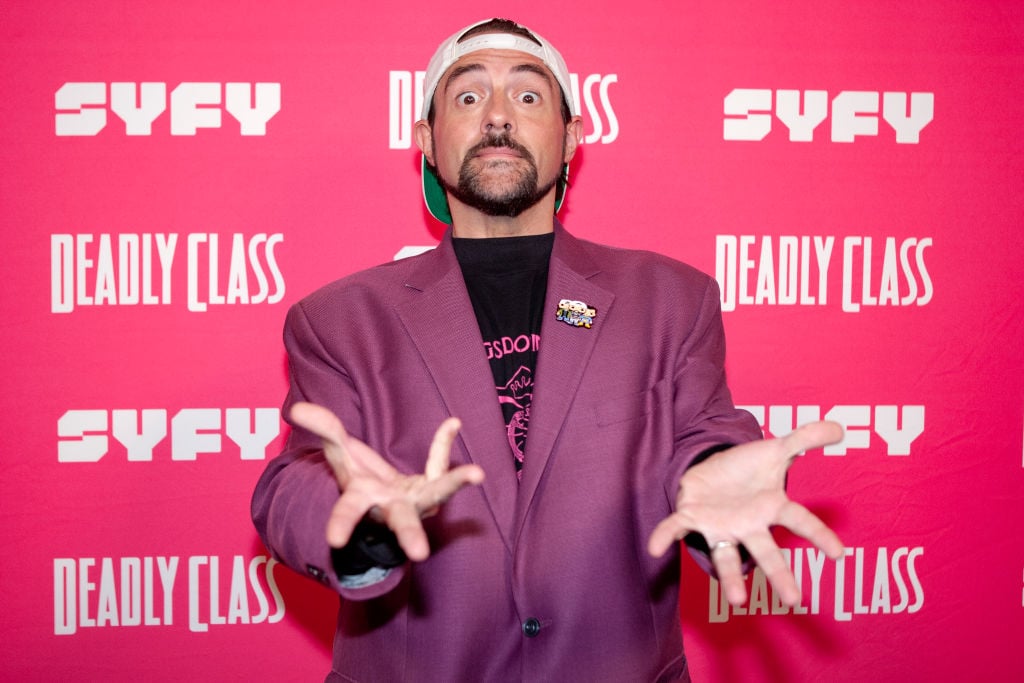 After Smith's near-death experience, Jay and Silent Bob are back and seriously better than ever. Smith shared filming updates on Instagram, plus which stars will make appearances. He was particularly excited about one Saturday Night Live alum's appearance and posted about it recently.
Smith refers to this cast member as a genius
In late March, Smith shared that comedian and former SNL cast member, Fred Armisen would make an appearance in the reboot movie. "When we were lucky enough to get @sordociego [Fred Armisen] into @jayandsilentbob Reboot, I knew we would land a great cast!" Smith wrote.
He added that Armisen is "talent-bait: when actors or actresses see a genius like Fred is involved, they feel way more comfortable about joining up as well!"
Armisen is Smith's go-to YouTube star too. "If I have any time when I'm smoking and not working, I watch old @nbcsnl clips featuring Fred, eps of #portlandia or @docnowifc. So even though I worked with him for a night on #copout, having him on the Reboot for a few days was fanboy Heaven for me!"
He shares his funniest fan moment
Smith admits to having a bit of a fangirl moment with Armisen too. "I asked him about the bits he does at the drum set on @latenightseth," he wrote. Smith asked Armisen if he just joined Meyers in the band whenever he's in town?
But Armisen shared that he is a true musician and it isn't on the fly. "And Fred said 'No, that's my real job. That's my band. We do the music. That's not a bit: I'm really a drummer.' What's weird is a) I love the Late Night theme song, and b) Fred wrote if! He's crazy-talented and crazy-sweet (seriously – everyone loves #Armisen because he's brilliant, but also because he's a super nice guy)! And he killed in #jayandsilentbobreboot! We're lucky to have him!"
Armisen has been busy
Armisen continues to produce the hilarious Documentary Now, plus he recently made a guest appearance on At Home With Amy Sedaris. He's also making live performances too. "I'm performing @clusterfest for two shows," he posted to Instagram. "6/21 comedy for musicians but everyone is welcome and 6/22 with Los Espookys."  He is also featured in the animated Netflix series, Big Mouth and Unbreakable Kimmy Schmidt.
SNL fans can also count on Armisen to appear on the show from time to time. In December he took on the role of Crown Prince Mohammed bin Salman of Saudi Arabia during the cold open. Along with Alex Baldwin and Ben Stiller, the cast pulled off a Trump parody of "Don't Cry For Me Argentina," The New York Times reports. Jay and Silent Bob Reboot should be released fall 2019.
Check out The Cheat Sheet on Facebook!