Which 'Sons of Anarchy' Characters Appear in 'Mayans M.C.'?
Fans were beyond thrilled when Kurt Sutter announced plans to launch the first official Sons of Anarchy spin-off, Mayans MC. Not only does the series give us an extended look at Sutter's biker universe, but it also provides a platform for some familiar faces to return to action. In fact, the first season of Mayans MC was packed full of SOA references and surprising cameos.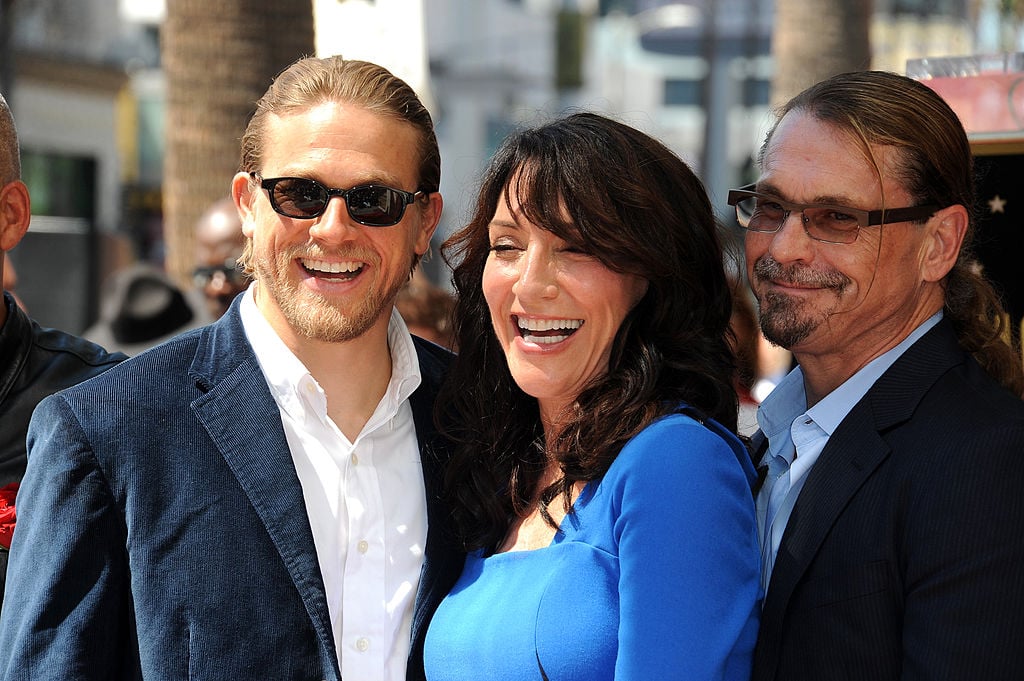 FX has already ordered a second season of Mayans MC, so fans can expect even more crossovers in the spin-off's sophomore run. Until then, here is a quick look at all of the Sons of Anarchy characters who appeared on Season 1 of Mayans MC.
Chuckie is still cooking the books
Michael Ornstein's Chuckie was first introduced in Season 1 of Sons of Anarchy. As fans will recall, Chuckie promised a large sum of cash to SAMCRO in exchange for protection. After learning that the cash was actually counterfeit, the club handed Chuckie over to the Triads, who cut off most of his fingers. Chuckie eventually made his way back to the club and became the bookie everyone has come to love.
In Mayans MC, Chuckie was introduced as a bookie for the Mayans, SAMCRO's former rivals. Chuckie still doesn't have his fingers, but it was great to see him back in action, albeit at still a minor role.
Gemma Teller returns in a flashback
Jax Teller (Charlie Hunnam) probably won't be making an appearance on Mayans MC anytime soon, but his mother, Gemma Teller (Katey Sagal) enjoyed a surprise cameo in Season 1. Gemma met her end at the hands of Jax in the final season of SOA and was brought back in the form of a flashback.
In the spin-off Gemma was shown visiting a member of her club at Stockton prison, where she ran into the lead character of the spin-off, Ezekiel "EZ" Reyes (J.D. Pardo). Given her brief interaction on the show, it is unclear if Gemma will make any future appearances, unless Sutter has some more flashbacks up his sleeve.
Lincoln Potter starts a new investigation
Lincoln Potter (Ray McKinnon) proved a worthy adversary for Jax and SAMCRO and was probably came the closest to bringing down the club. If it wasn't for a pair of CIA agents working undercover with the cartel, there is a strong possibility Potter would have destroyed the club with a RICO case.
Fast forward to Mayans MC and Potter is back to his old tricks. According to TV Insider, Potter has now turned his attention to the Mayans and is looking to bring a case against the Galindo cartel. Taking out a drug empire is a lot different than a biker club, so it will be interesting to see if his old tactics work.
Marcus Alvarez is back as El Padrino
Emilio Rivera's character returned in a big way on Mayans MC and easily had the most significant role out of any of the SOA alums. Alvarez is still the president of the Mayans charter in Oakland, CA, and will likely continue to be a part of the spin-off as it enters its second season. The only difference is that his fellow gang members now refer to him as El Padrino (the Godfather) given his veteran status within the ranks.
What other SOA references were included on Mayans MC?
Although they are set in completely different locations and time periods, there were plenty of moments in Season 1 of Mayans MC that referenced the original show. In fact, the very opening scene shows a stray dog chowing down on a dead raven at the side of the road, which is a reference to how the first episode of SOA started.
As far as Season 2 is concerned, there is likely to be even more crossovers, especially considering how the first season ended. During the finale, EZ learns that Happy Lowman (David Labrava), a member of SAMCRO, was the person who killed his mom. With that information in hand, EZ will probably seek out revenge in Season 2, which will likely cause trouble with the Sons.
FX has not announced when Season 2 of Mayans MC will premiere, though it is expected to return later this year.