Which 'Sons of Anarchy' Star Made 1 of the Most Shocking Cameos on 'Entourage' of All Time?
ARTICLE HIGHLIGHTS
Which 'Sons of Anarchy' star made a shocking cameo in 'Entourage'
He also appeared in all 92 episodes of 'Sons of Anarchy'
The 'Entourage' ending was tragic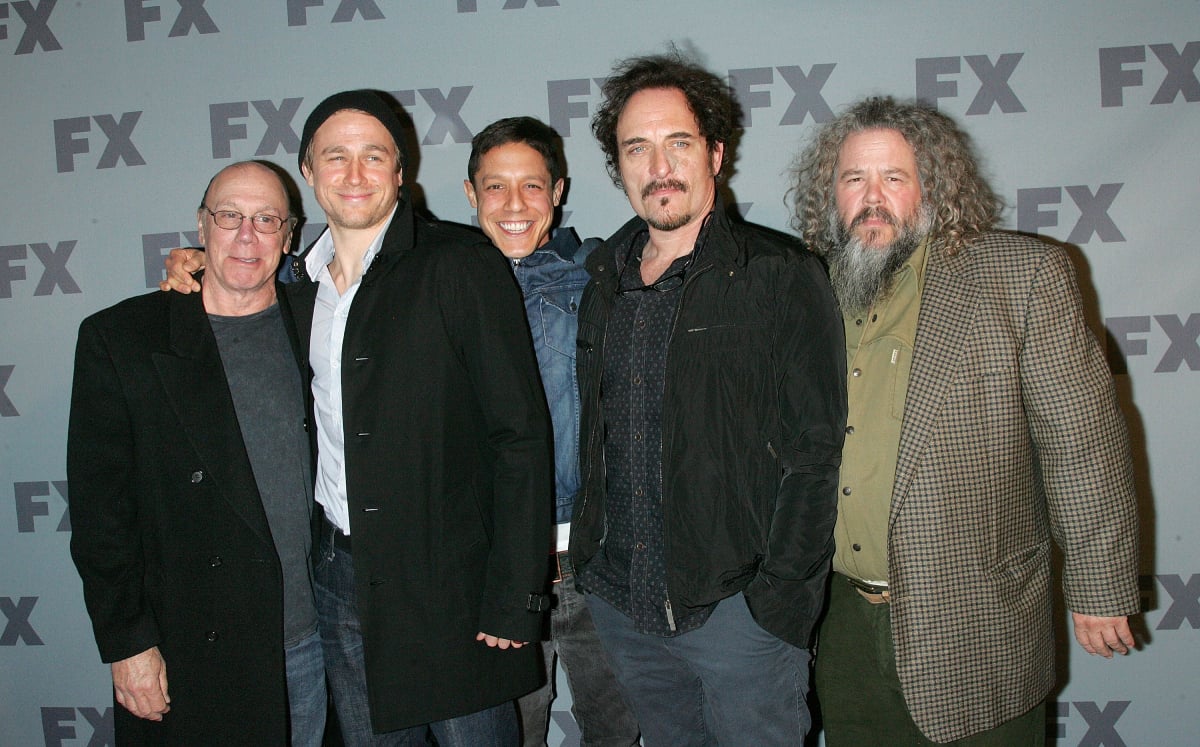 Sons of Anarchy star Kim Coates played the role of the troubled and violent Alexander "Tig" Trager for seven seasons. But that's just one of the many characters Coates has portrayed during his lengthy career.
Coates' career as a character actor began in the late 1980s, and it's continued well past his days on Sons of Anarchy. One of his most memorable roles was his shocking cameo in Entourage.
Kim Coates was a character actor for two decades before 'Sons of Anarchy'
Coates worked as a character actor for more than 20 years before Kurt Sutter cast him in Sons of Anarchy. His IMDB page shows more than 100 films and TV credits, with his first coming in 1987 when he landed the role of "gang member" on Miami Vice.
Despite his extensive resume, Coates is best known for his work on Sons. But, he almost turned the role down. Coates told Pop Culture that he originally passed on the part because he thought it was too violent.
He appeared in all 92 episodes of 'Sons of Anarchy'
Coates says that Sutter agreed with him that the role was violent. But, he promised him that there was a lot more to the Tig character. He also made it clear how important the character was to the club.
"He (Sutter) couldn't show me much," Coates said. "Kurt looked at me and said, 'Please come for this ride, because this guy, yep, he's tough. He's psychotic. Yeah. He's a bullet ready to be fired all the time. But he's loyal, and he's a dog, and he will protect people. He will be funny, and he will cry. He will end up being one of the moral compasses of this club.'"
The Sons of Anarchy star now admits that Sutter "didn't lie" about Tig. He says that Sutter delivered on that promise because that's "exactly what happened over seven years."
Kim Coates made a shocking cameo in 'Entourage'
Four days after the series premiere of Sons of Anarchy, Coates made an appearance on another series. In the season 5 premiere of Entourage – an episode titled "Fantasy Island" – Coates made one of the show's most shocking cameos as the eccentric Carl Ertz.
In the episode, Carl contacts Ari Gold (Jeremy Piven) after they connect at an NA meeting because he wants to give Vince (Adrian Grenier) his first movie in six months. Vince had been hiding out in Mexico after critics slammed his movie Medellin, and it ended up being a direct-to-DVD release.
The episode's ending is dark
Vince cuts his vacation short to meet with Carl, even though Ari doesn't like him.  Ari tells him: "I mean this sincerely, Vince. I would hack off my penis before I would ever allow you to work with Carl Ertz again."
Vince meets with him despite Ari's objections, and it doesn't go well. The gang ends up discovering that things aren't exactly what they seem. The episode ends with a dark, shocking twist.
The 'Sons of Anarchy' alum has been staying busy
Coates' career hasn't slowed down since Sons of Anarchy came to an end in 2014. He's appeared in a number of different projects. The most recent being the fifth and final season of Van Helsing, where he played Count Dalibor.
In 2017, Coates appeared as smuggler Billy McGrath in the only season of SyFy's series Ghost Wars. McGrath was tasked with navigating a far-flung Alaskan town that has been overtaken by ghosts and other visitors from beyond.
He was also part of the recent Blumhouse remake of Fantasy Island, playing a cartel leader who turns two guests' fantasies of being rich into an ironic nightmare.
All seven seasons of Sons of Anarchy are available for streaming on Hulu.