Which 'Southern Charm' Cast Members Have Jobs?
It may come as a surprise to fans, but most of the stars of 'Southern Charm' do not rely on the show as their main source of income. But which 'Southern Charm' cast members have jobs outside of the show?
It may come as a surprise to fans, but most of the stars of Southern Charm do not rely on the show as their main source of income. There is little doubt that the cast members make a decent amount of money from the series, but none of their lives revolve around the world of reality TV. Some of the cast members own and operate their own businesses while others have inherited wealth from family members. But which Southern Charm cast members have jobs outside of the show?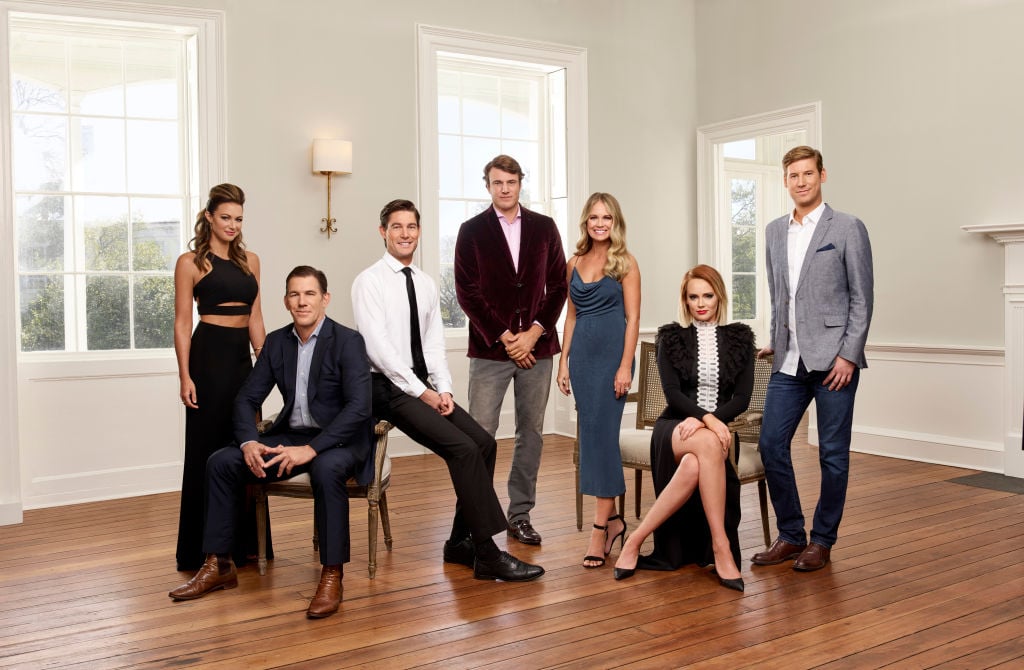 Shep Rose
When it comes to work, Rose is probably the most diverse of all the Southern Charm cast. Rose has tried his hand in a number of different trades, including restaurants, fashion, and other types of investments. Two of his most profitable ventures are his own clothing line, Shep Gear, and the various bars he owns around Charleston. He also just started his own podcast. In total, Shep Rose is worth around $4 million, most of which he earned outside of Southern Charm.
Whitney Sudler-Smith
Southern Charm fans have noticed that Whitney Sudler-Smith's name is prominent in the show's opening credits. This is because Sudler-Smith is the person who created the show and pitched the idea to Bravo. Apart from the entertainment business, Sudler-Smith tried to open a restaurant called Generalisimo with Bryan Kestner of Planet Hollywood. The project failed before getting off the ground and Sudler-Smith returned to producing full-time. He is currently worth around $2 million.
Craig Conover
Craig Conover's main passion rests in the world of fashion. According to Romper, the Southern Charm star works full-time for his brand, Apex Principles, Inc., and is set to open up a new line of aprons, baby clothes, and pillows this year. When he is not sewing or coming up with a new fashion design, Conover has an interest in the law. In fact, Conover recently passed the South Carolina Bar and will likely open up his own law firm in the near future.
Kathryn Dennis
Kathryn Dennis is the one person who relies mostly on the show for her primary source of income. Although Dennis has done modeling in the past, she recently revealed that she wants to pursue a new vocation in the near future. This might include getting more involved in politics or going to law school. She also started a children's furniture line. Dennis is estimated to be worth around $800,000 and pulls down over $25,000 for every episode of Southern Charm.
Cameran Eubanks
As a Charleston native, Cameran Eubanks has built a successful career in the real estate industry. Although she plays an important part on Southern Charm, Eubanks spends most of her time helping people find the home of their dreams. With a net worth at around $1.5 million, it is safe to say that Eubanks knows what she is doing and is passionate about her work.
Austen Kroll
Austen Kroll is one of the newest members of Southern Charm, but he is quickly becoming a fan favorite. Before landing a spot on the popular series, Kroll worked at Red Hare Brewing Co. as a manager over sales. He left that job in the spring of 2017 and is now a full-time entrepreneur. He even launched his own beer, Trop Hop. It is unclear how much Kroll makes a year or what projects he has in the pipeline.
Chelsea Meissner
Chelsea Meissner spends most of her time working for Willow Salon, a company based out of Charleston. She supplements her income by advertising on her social media accounts and has seemingly landed an endorsement deal with Pepsi. Other than that, Meissner also gets paid for her appearances on Southern Charm, though it is clearly not enough for her to quit her day job.
Thomas Ravenel
Disgraced Southern Charm star Thomas Ravenel made a name for himself in the world of politics and once ran for the United States Senate. It helped, of course, that politics runs in his family. Ravenel also works in real estate and has his own company called Ravenel Development Corporation. His estimated net worth is around $6 million, though he will no longer be earning a salary from Southern Charm.