Which 'The View' Host Has the Highest Net Worth?
The View has seen its share of host changes throughout the years. But the current hosts appear to be here to stay for some time. Each day, the five women debate important topics such as politics and current trends in front of a live audience. Some lean liberally while others lean conservatively, which helps spark debate among the women and keep the show interesting. Some have been doing network television longer than others, but which of these women has the highest net worth? Here they are, ranked.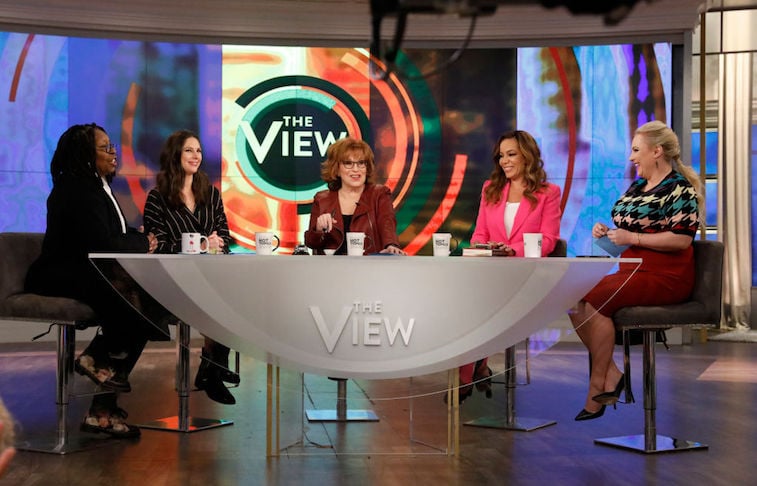 Sunny Hostin: $2 million
Hostin is currently a host on The View, but that's not her only job. She is also a lawyer and the senior legal correspondent for ABC News. Hostin first became known on television during her segments on Fox News, where she'd usually debate with the hosts about certain legal issues. She eventually began making guest appearances on The View and became a full time host in September 2016. She's worth an estimated $2 million today. Hostin is married with two children.
Meghan McCain: $4 million
McCain is the daughter of well-known late politician John McCain. McCain leans conservatively just like her father, and she's one of two women on the show who do. She originally began appearing on television as a contributor on MSNBC back in 2011 and joined Fox News in 2015. She's been a full time host of the view since October 2017 and gets a lot of her political knowledge from growing up surrounded by politics. (Her father ran for president in 2008.) McCain has an estimated net worth of $4 million.
Joy Behar: $12 million
Behar is currently the longest-standing host out of any of the women on The View. She's been hosting the show since 1997 but used to only fill in when Barbara Walters was off. However, the network eventually made her a full-time host, and now she's been doing the job for more than 20 years. She and former co-host Star Jones often got into arguments on the show, which kept things entertaining. Behar's long-running television career has helped her do well for herself; she's worth an estimated $12 million these days.
Abby Huntsman: $20 million
Huntsman has been in the television industry since she began working on the set of Good Morning America when she was a teenager. Prior to joining the view, she dabbled in many other network television shows. She appeared on MSNBC as well as CNN and event spent a few years on Fox News. She is the newest member of The View's hosting squad, joining back in August 2018. She's been married since 2010 and at only 32 years old, she's worth an estimated $20 million.
Whoopi Goldberg: $45 million
Goldberg had a successful acting career before she turned to network television. She's won an Emmy Award, Grammy Award, Academy Award, and Tony Award and is one of very few people to do so. She's starred in films such as "The Color Purple" and "Sister Act" but has been with The View since 2007. Goldberg is also an activist who has been vocal about issues such as LGBTQ rights. She's worth around $45 million today.
Check out The Cheat Sheet on Facebook!