Which 2 'The Vampire Diaries' Stars Fought on Twitter in 2020?
The stars of the popular series The Vampire Diaries have faced many rumors about their off-screen relationships in the past. Years after the show came to an end, two major actors from it took to social media for a disagreement the internet quickly became privy to. Who was involved, and why did they fight?
'The Vampire Diaries' aired for 8 seasons on the CW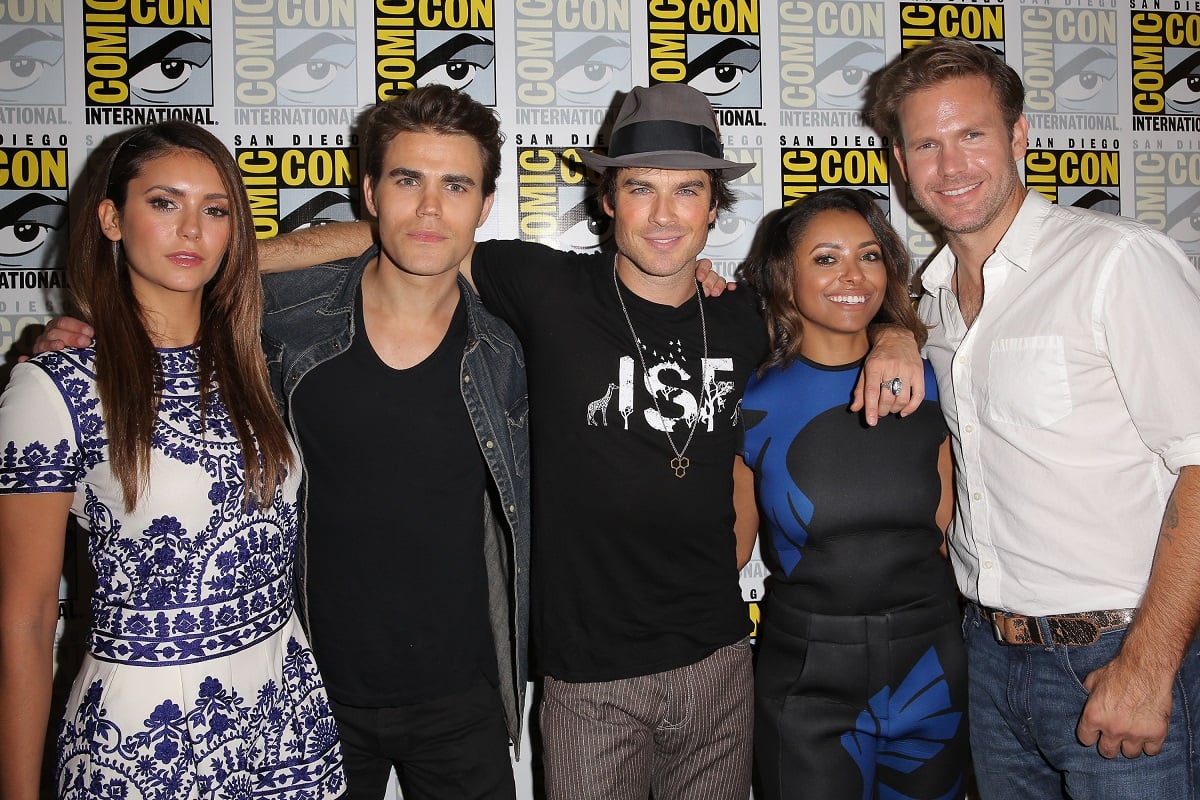 The hit CW supernatural series began in 2009. The Vampire Diaries, which is based on a book series of the same name, follows a young woman, Elena Gilbert (Nina Dobrev), who falls for Stefan Salvatore (Paul Wesley), a vampire. Things get more complicated when his brother, Damon (Ian Somerhalder), shows up, and they enter into a love triangle.
Several other characters play essential roles in the show. There's Elena's friend, Bonnie (Kat Graham), a witch; her brother, Jeremy (Steven R. McQueen); werewolf Tyler (Michael Trevino). Elena learns more about her past after vampire hunter Alaric Saltzman (Matthew Davis) comes to town.
Several characters made their way to the show's spinoffs
Even before The Vampire Diaries came to an end in 2017, a spinoff came to be. The Originals followed several characters from in The Vampire Diaries, as well as their offspring. The show's final season, which concluded in 2018, introduced a school for supernatural children, leading to another spinoff.
Legacies premiered on The CW in 2018. The series, which is set to air its third season in 2021, features characters from The Originals, as well as some from The Vampire Diaries. The only leading cast member who stars in the original series is Davis, who reprises his role as Alaric, now the school's headmaster.
Paul Wesley and Matthew Davis had it out on Twitter
Wesley and Davis, who worked together on The Vampire Diaries, went toe-to-toe on Twitter. In response to one of Davis' now-deleted tweets about the first 2020 vice presidential debate, Wesley wrote, "It would also be nice if [incumbent Mike Pence] answered the question he was originally asked rather than deflecting."
"Paul likes to vote for criminals and losers, just like he did in 2016," Davis quote-tweeted his reply. He continued, "Your opinion on the matter carries little weight as far as I'm concerned." Wesley responded, seemingly pointing to a difference in their political beliefs. "You're mistaken," he wrote. "I didn't vote for trump in 2016!"
How did the argument end?
Despite the tension, Wesley tried to keep things light. He even joked about The Vampire Diaries, writing, "Guys Alaric drank some vervain he's losing it." (Vervain is an herb often used to hurt vampires on the show). However, Davis didn't seem to enjoy this banter, replying simply, "Yawn."
"Lighten up baby boy u know u miss me," Wesley responded. Fans joked about the exchange, noting that Alaric, though a vampire at one time, is later made human. Even after all of the negativity of their Twitter banter, Wesley tweeted at Davis, "love you buddy." Davis, however, did not respond.