Which Whitney Houston and Bobby Brown Duet Did Better?
Whitney Houston and Bobby Brown released two duets during their marriage: 'Something In Common' and 'My Love.' One sing did better commercially.
Bobby Brown and Whitney Houston made headlines during their marriage for many of the wrong reasons but through it all, they made beautiful music together. Joining forces, they recorded two duets during their time together. Both songs became fan favorites, but one did better than the other, with an accompanying music video and several live performances.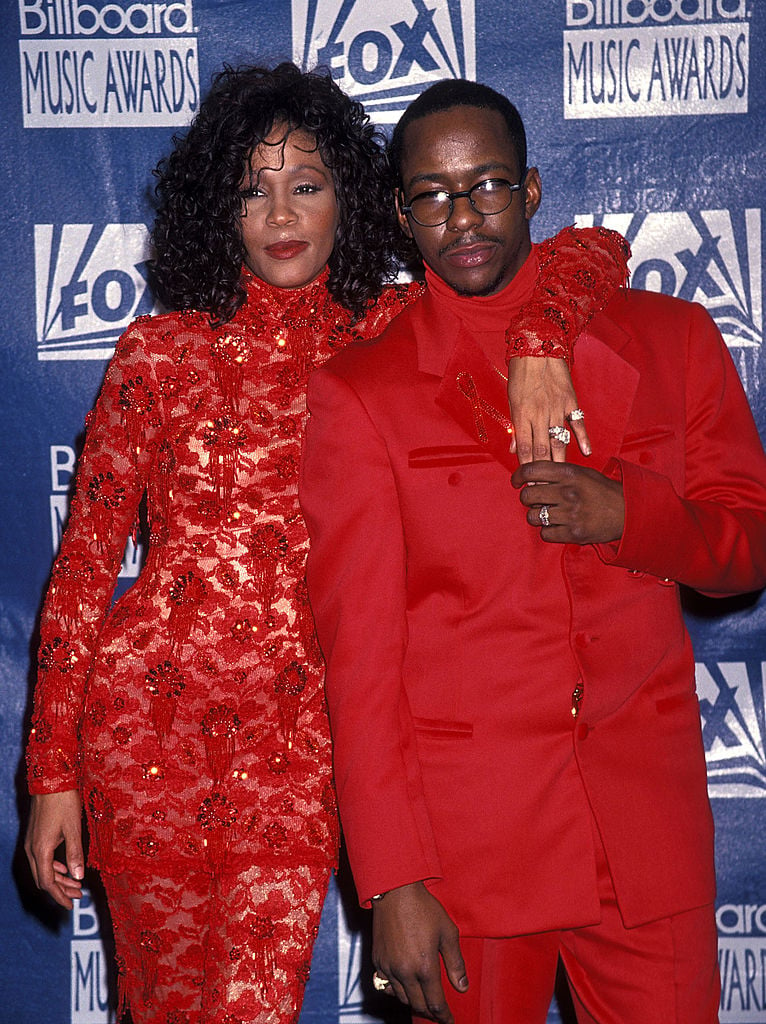 Whitney Houston and Bobby Brown's 1992 duet, 'Something In Common'
Something In Common was featured on Bobby Brown's third album, Bobby. It marked the couple's first collaboration. The song was inspired by their relationship and explores two unlikely people who come together as they find "something in common."
The song was first released as a single in the United Kingdom and peaked at number 16. It received a good amount of radio rotation in the U.S. and was made more popular following the release of its music video. It featured a special appearance from their daughter, Bobby Kristina and was directed by Andy Morahan. 
The song wasn't released as an actual single in the U.S., making it ineligible to chart on the Billboard Hot 100 and Hot R&B Singles charts. It did, however, peak at numbers 32 and 30 on the Hot 100 Airplay and Hot R&B Airplay lists.
Houston and Brown performed the song on the Soul Train Awards, making it the only time they performed it on television. Houston incorporated the song into her tracklist for her Bodyguard world tour. The song also became the title of a few interviews the couple did together.
Whitney Houston and Bobby Brown's second duet, "My Love"
My Love was the couple's second collaboration. It was part of Houston's fifth studio album, Just Whitney released in 2002. It was her first studio album in four years, since her 1998 release of My Love Is Your Love – and was the first album she released after signing her $100 million Arista contract in 2001. At the time, she was the first female artist in history to sign such a deal.
Three songs were released from the album: One of Those Days, Try It on My Own, and Love That Man. All three singles had accompanying music videos. 
Houston and Brown performed My Love on the VH1 award show, Divas. The song was popular amongst fans. 
Which Whitney Houston and Bobby Brown duet did better?
My Love was never released as an actual single nor received any radio play, leaving Something In Common the only song to qualify for measurement as far as single sales. 
Something In Common was re-recorded in 1993 and also available on Brown's 1993 compilation album, Remixes in the Key of B.
My Love not being released could have been contributed to Houston's pregnancy. She was visibility pregnant when she and Brown performed for VH1. A pregnancy would have left little room for promotion. Sadly, the pregnancy ended in miscarriage. The VH1 performance is the only known performance of My Love.