Which Whitney Houston Song Became Her First to Top the Billboard Hot 100?
Whitney Houston broke multiple records throughout her over two-decade career. In addition to being the most awarded female solo artist in history, Houston's first two albums made her the first to have multiple singles reach No. 1 back-to-back. The first to do so was 'Saving All My Love For You.' Six hits followed.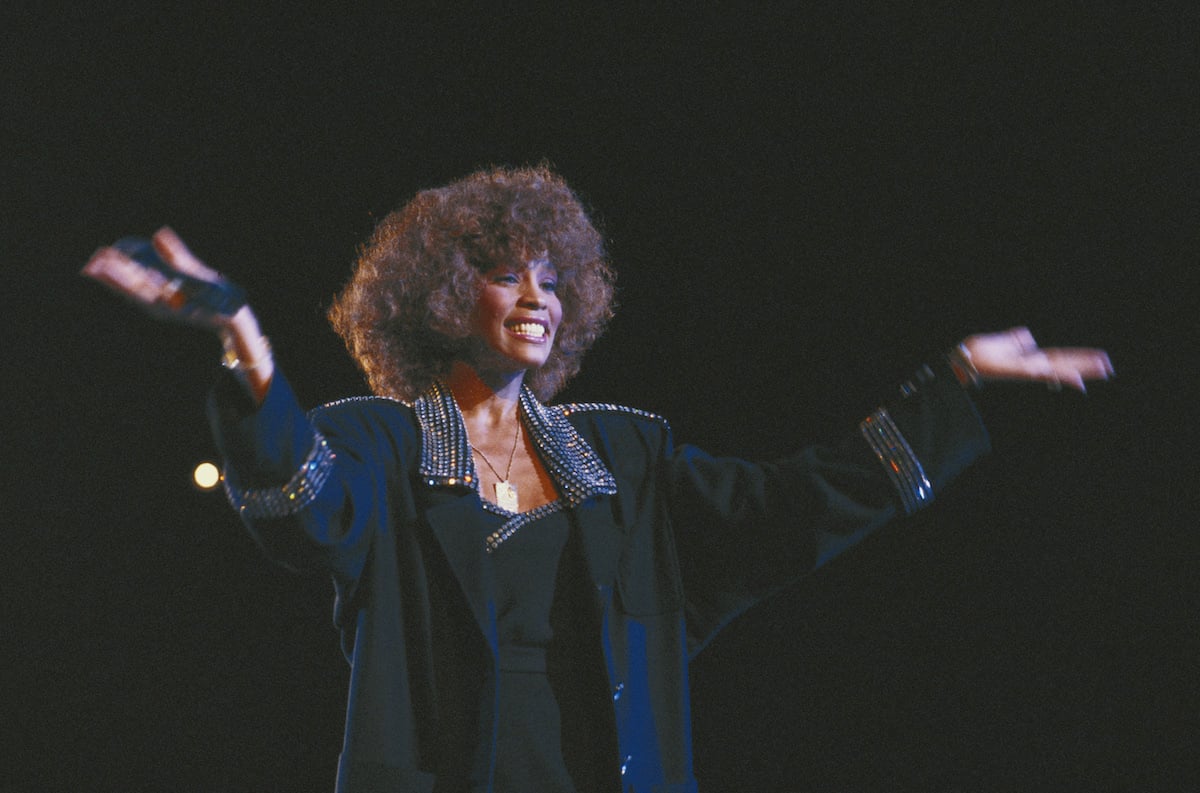 'Saving All My Love For You' reaches No. 1 on the Hot 100 chart
Houston burst onto the music scene in 1985 with her debut single 'You Give Good Love.' The song was a hit from her self-titled debut album. It topped the US Billboard Hot Black Singles chart and also became a crossover hit, peaking at No. 3 on the Billboard Hot 100 chart as well.
But it would be her second single, 'Saving All My Love For You,' to give her the No. 1 spot on the Billboard Hot 100. It stayed at the top of the chart for two weeks. Fans and critics loved the song, praising Houston for her vocals and melodic performance.
Related: Super Bowl: Whitney Houston's Iconic Rendition of 'The Star-Spangled Banner' Was Recorded in One Take
Her official Instagram account celebrated the historical feat recently with an accompanying video of the late singer performing the song live during her 1994 concert in South Africa. The caption reads in part:
On August 13, 1985 "Saving All My Love" was released as the second single in the U.S. (third worldwide) from Whitney's debut album. Written by Michael Masser, the song became a massive hit worldwide and her first song to top the Billboard Hot 100. It won a Grammy for Best Female Pop Vocal Performance at the 28th Annual Grammy Awards.
The singer broke records with seven consecutive No. 1 singles
Houston's No. 1 single streak didn't end with 'Saving All My Love For You.' The success followed with her first uptempo dance and pop record 'How Will I Know,' which debuted in December 1986.
Her cover of George Benson's 'The Greatest Love of All' ballad released next has been lauded as one of her greatest records. Houston's mentor and record label owner Clive Davis first heard her sing the song during a New York City showcase years prior. Per Soul Music, of the performance, Davis said:
Whitney sang the song with such fervor, with such a natural vocal gift, with such passion, that I was stunned. I knew really right then and there that this was a special talent and I was blown away by her. As I reflect back on this, I can relive the experience for the very first time.
Related: Whitney Houston Just Made History
'I Wanna Dance With Somebody,' 'Didn't We Almost Have It All,' 'So Emotional,' and 'Where Do Broken Hearts Go,' all shot to No. 1 amid their release as well. 
Houston became the first artist in US history to score seven consecutive No. 1 hits. The declaration was made in April 1988, just three years after her debut. The singles were from both her self-titled debut and 1987 follow-up sophomore album, Whitney.