Whitney Houston: Why Clive Davis' Pre-Grammy Party Went on as Scheduled Just Hours After Her Death
The Grammy Awards is the biggest night in music. And every year, for the past few decades, music executive Clive Davis has thrown a pre-Grammy bash featuring the hottest stars and icons mixing and mingling in the same room. But what happens when the greatest voice of a generation dies the day of Davis' highly anticipated event? In the case of Whitney Houston's death, the show goes on.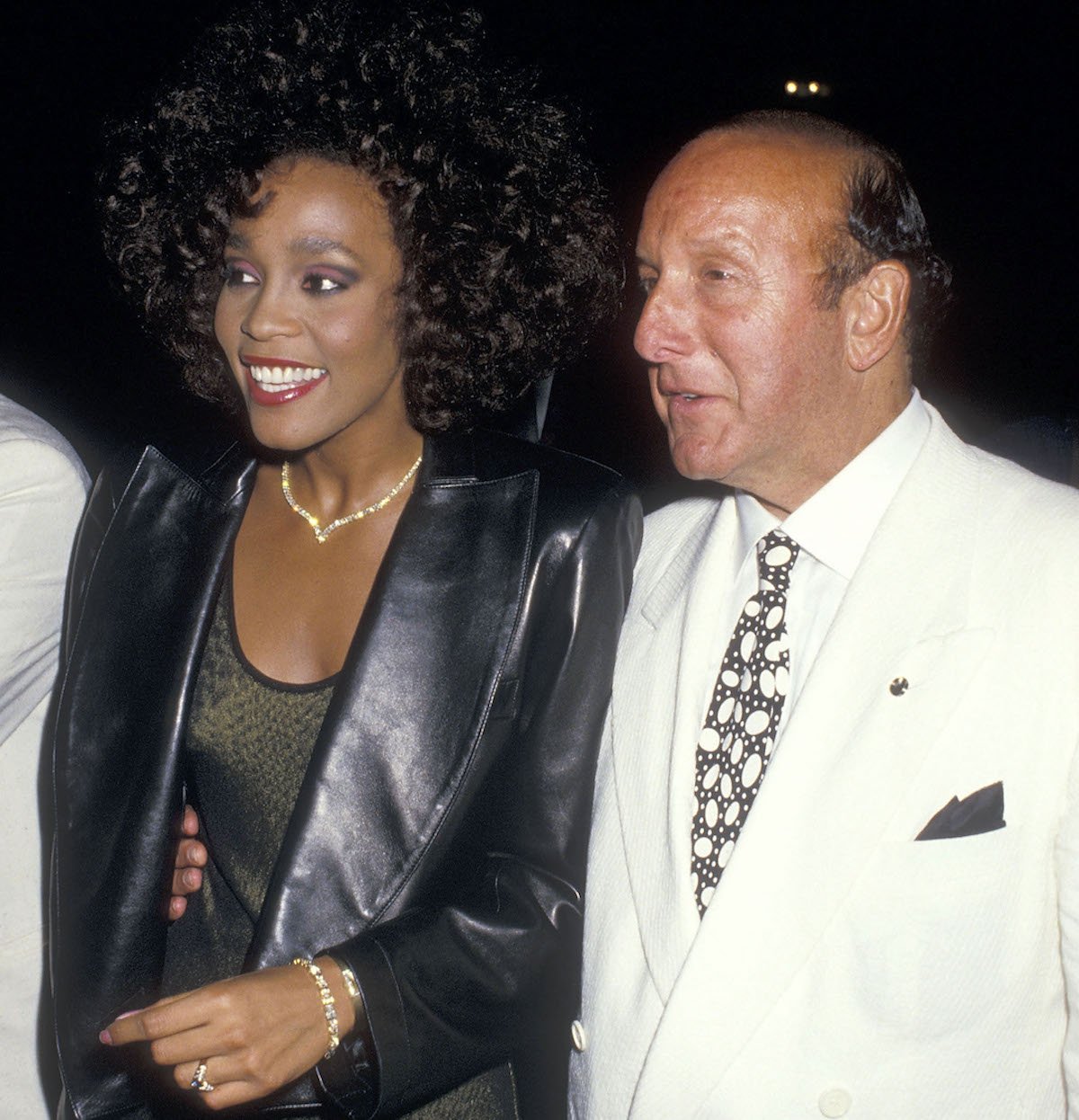 This year, Feb. 11, 2022, marks 10 years since Houston's unexpected passing. A decade later, her family, friends, and fans are still mourning. And many remain perplexed as to how Davis, Houston's mentor and record label head, could have continued on with the party as scheduled when Houston's died just hours before. Making matters worse for many, Houston's body had not yet been removed from the same hotel floors above where the party was happening. 
Whitney Houston died hours before the scheduled event
Houston's favorite event in music was reportedly all things Grammy awards-related, especially Davis' party. She was in town the weekend to celebrate with her musical peers but died hours before it was scheduled to begin. Houston was staying in a suite at the Beverly Hilton on the 4th floor just above where the party was being held in a ballroom. Davis felt it was important to continue on as promised, claiming it was something Houston would have wanted.
"She was so looking forward to tonight even though she wasn't scheduled to perform. She loved music, and she loved this night that celebrates music," he said in a tribute during the gala. 
Other tributes poured in that evening, including from Diddy who called Houston one of the "greatest voices" ever. Alicia Keys also spoke of their friendship, calling Houston "my sister."
Big names in Hollywood disagreed with Clive Davis' decision to continue with the party
Houston's death was the main topic of discussion on the red carpet that evening. Davis also spoke of his protege during a few speeches as some partygoers sat quietly, some with tears in their eyes. But not all of Hollywood was in agreement.
Gerrick Kennedy, a journalist and author of the new book Didn't We Almost Have It All: In Defense of Whitney Houston, was flabbergasted that the party went on. "I thought it was completely disgusting," he said in an interview with The New York Post. "I have never gotten over the fact that this party happened. She's upstairs, and the coroner is waiting to go up there and get her. It's appalling to me. It felt like this weird Shakespearean tragedy unfolding where it's like, this woman who was granted so little dignity in her lifetime can't even die in dignity."
Tyler Perry, a close friend of Houston's, was also upset over the decision. The Jasmine Brand reports of an open letter Perry wrote in honor of the one-year anniversary of Houston's death recounting being in the midst of the chaos at the Beverly Hilton where the party was being held. He wrote in part:
There were hundreds of people standing around, laughing, drinking and screaming for autographs from celebrities as they arrived for a Grammy party…I went up to the floor and saw the police and coroners outside of the room. I went into the room and Whitney's family was broken down, inconsolable. We must have been right above the party because there was a glass of water on the nightstand that was vibrating from the bass and the screams below. It was so surreal…
The Grammy Awards turned into a tribute show in Whitney Houston's honor
The Grammy Awards was scheduled to occur the next day. Show producers scrambled to incorporate a tribute for Houston, who had been a major part of the Grammy family since her debut in the 80s. They came up with a few ideas.
"Your almost natural instinct right at the beginning was to throw the [originally planned] show out and make the show a tribute to Whitney Houston," Grammy producer Ken Ehrlich told The New York Post. "But that wouldn't have been the right thing to do. So it was trying to find the blend between honoring her memory and then doing a Grammy show right."
Despite Kennedy's opposition to Davis having the pre-Grammy party, he agreed with the award show continuing on. "Nothing would have made the circumstances less horrible. Nothing would have made the moment feel less awful," he said. "So it just was kind of like, what do you do?"
Jennifer Hudson opened the show with a tribute performance of Houston's iconic "I Will Always Love You," and Grammy host LL Cool J opened with a prayer. It felt right, with Houston being so open about her faith and the power of prayer throughout her career. Several other tributes occurred that evening.