Whitney Houston Won an Emmy Award For a Performance on Another Major Award Show
Whitney Houston's incomparable voice broke records not just in album sales, but also in awards. Houston is the most awarded female artist in history, earning over 400 throughout her career. She made history in 1986 when she won an Emmy Award for a performance at a separate award ceremony.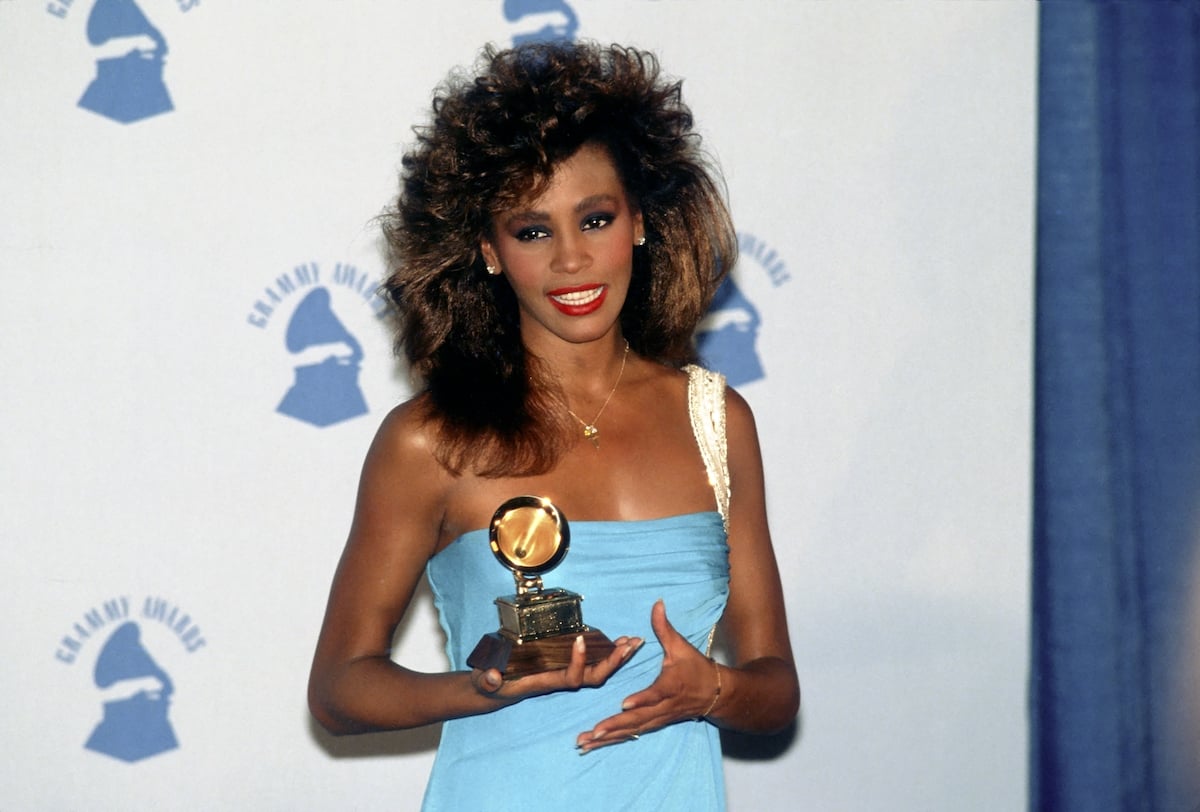 Whitney Houston performs 'Saving All My Love For You' at the 1986 Grammy Awards
Houston was on top of the world in 1986. On the helms of the release of her self-titled debut album, 'Saving All My Love for You' was the second single release. The song is a cover of the 1978 original by Marilyn McCoo and Billy Davis Jr. for their album Marilyn & Billy. Houston's version became a commercial success.
Related: Which Whitney Houston Albums Are Certified Diamond?
'Saving All My Love for you' became Houston's first single to top the US Billboard Hot 100, where it stayed for two weeks. During the 28th Annual Grammy Awards in 1986, Houston performed the song live. She donned a red dress.
Houston won the Grammy for Best Pop Vocal Performance. Dionne Warwick, a fellow singer and Houston's cousin, presented the award to Houston. As her parents, John and Cissy Houston, cheered from the audience, Houston thanked them, noting, "To my mom and daddy, the two most important people in my life." The Grammy was the first of many for Houston.
The singer wins an Emmy Award for her 1986 Grammy performance
Houston's winning streak continued. She earned a nomination for Outstanding Individual Performance In A Variety Or Music Program for the 28th Annual Emmy Awards the same year. The Grammy Award performance garnered her the nomination.
The 'You Give Good Love Singer' won the coveted trophy. Pat Houston, the singer's sister-in-law and longtime manager, spoke with Heritage Auctions in 1986 about the night.
Related: Which Whitney Houston Song Became Her First to Top the Billboard Hot 100?
"That was a very first Emmy away from the music industry really," Pat explains. "It was all about television shows. Another groundbreaking moment to receive an award for singing on another show. And it just happened to be for a song on your first album that you love very much. What could you possibly say than just be honored? And that's what she was. The awards keep coming and you know that you're doing something good and you're doing something great. You know you're satisfying people."
The Emmy was nearly auctioned off in 2016. A federal judge blocked the award from being sold. The judge discovered Emmy awards are a loan. The Emmy award was returned to Houston's family, Rolling Stone reports. 
'Cinderella' earned Whitney Houston another Emmy nomination in 1998
Houston earned another nomination for her work in Rodgers & Hammerstein's Cinderella. The nomination came over 20 years after her first win. Critics loved Cinderella for its diverse cast, which includes Brandy, Whoopi Goldberg, Jason Alexander, Bernadette Peters, and more.
Houston served as the executive producer on the film. Houston initially agreed to star as Cinderella. But as she grew older, and the project stalled, she opted not to. Brandy was chosen as Cinderella, but insisted she'd only do the project if Houston starred as her fairy godmother. 
The film was nominated in the Outstanding Variety, Music Or Comedy Special category. It originally aired to 60 million viewers, becoming the most-watched television musical in decades.