Whitney Houston Said Dolly Parton Called Her After Hearing 'I Will Always Love You'
TL;DR:
Dolly Parton could hardly believe her ears when she heard Whitney Houston sing "I Will Always Love You."
Dolly Parton called Whitney Houston after hearing "I Will Always Love You."
Whitney Houston and Dolly Parton never sang the song together, but Parton wishes they could have.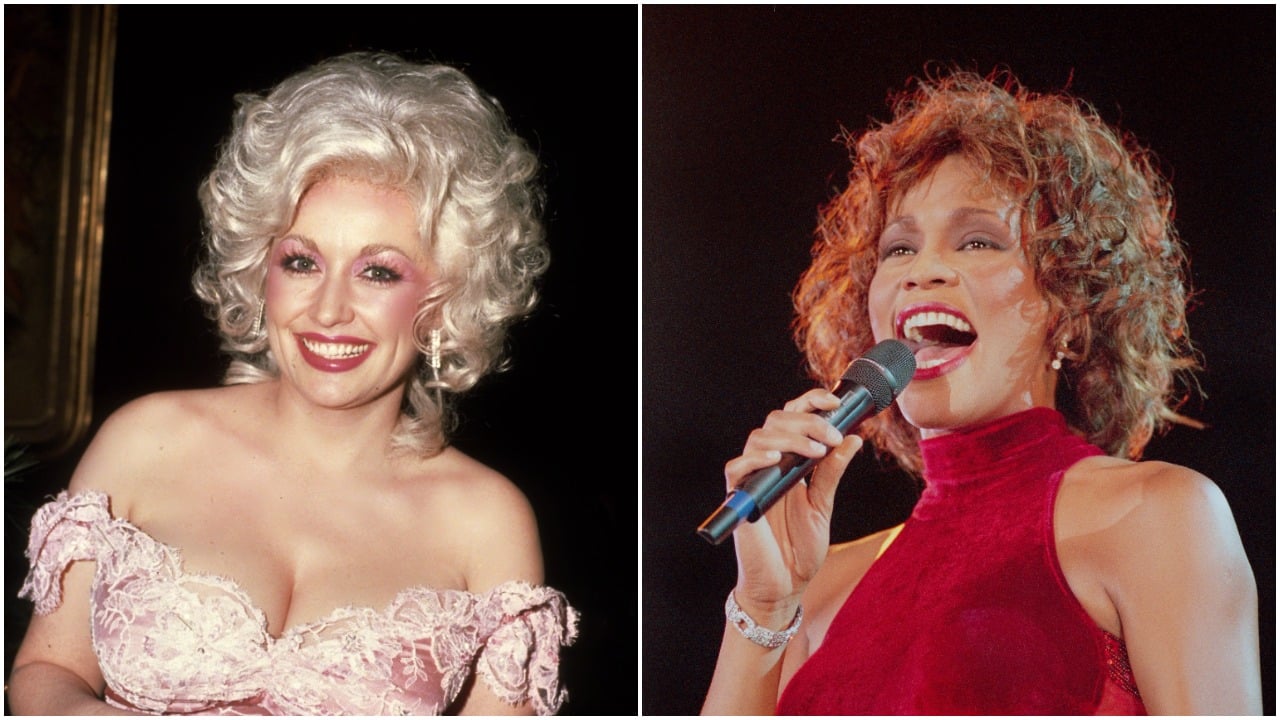 Though "I Will Always Love You" is one of Dolly Parton's signature songs, many people know Whitney Houston's soaring 1992 cover best. Even Parton, who wrote the song in 1974, was blown away by Houston's version. According to Houston, Parton called her to talk about the song after hearing it. The conversation was meaningful for both women.
Dolly Parton first heard Whitney Houston's version of 'I Will Always Love You' in the car
Nearly two decades after Parton wrote "I Will Always Love You," she heard a different version of the song on the radio. Parton was aware that Kevin Costner wanted the song for The Bodyguard, but she hadn't heard anything since then. While driving, Houston's version came on the radio.
"I knew it was something, but it didn't register," she said on Sirius XM, adding, "I thought 'What is that? I know what that is.' And then all of a sudden she starts that … when she goes into the 'I will always love you' part, honest-to-goodness, I almost wrecked. I had to pull over."
Parton explained that she'll never forget that moment.
"I was afraid because I was so caught up in that by then that I had to pull over and listen to it," she said. "But it was the most overwhelming feeling that little song mine could be done so beautifully, so big, so overwhelming, that it really almost just heart attack right there; I'll never forget it."
Dolly Parton called Whitney Houston to talk to her about the song
Not long after hearing Houston's version, Parton reached out to the other musician to express her gratitude.
"I talked to Dolly Parton by phone not too long ago," Houston told Rolling Stone in 1993. "She said to me [imitates Dolly's accent]: 'Whitney, I just want to tell you something. I'm just honored that you did my song. I just don't know what to tell you, girl.' I said, 'Well, Dolly, you wrote a beautiful song.' And she said: 'Yeah, but it never did that well for me. It did well for you because you put all that stuff into it.'"
Houston explained that Parton's call meant a lot to her.
"I think Dolly Parton is a hell of a writer and a hell of a singer," she said. "I was so concerned when I sang her song how she'd feel about it, in terms of the arrangement, my licks, my flavor. When she said she was floored, that meant so much to me."
Parton wishes they could have sung a duet together
The song has deep-rooted associations with both women, but they never performed it together. Parton wishes they could have.
"I was never asked to perform that with Whitney," she said on Watch What Happens Live. "I wish that could've happened, I would have loved that, but I don't think I could've come up to snuff with her, though. She'd have out-sung me on that one for sure."
RELATED: Dolly Parton Once Revealed She'Shattered' When She Heard 'I Will Always Love You' at Whitney Houston's Funeral