Whitney Port on How She Stays in Shape: 'I Try to Live My Life Completely in Moderation'
Whitney Port explains her fitness routine and what she eats in a day. Plus, learn what she does to give herself 'a physical and mental treat.'
Whitney Port, best known for her role on MTV's The Hills has a very relatable strategy when it comes to staying in shape. Ahead find out what the podcaster, wife, reality TV star, and mother likes to eat in a day and how she "treats" herself with exercise. 
The 34-year-old who now stars in The Hills: New Beginnings — Season 1 ended last month with Season 2 on the way — has a pretty relaxed approach to diet and fitness. And we wouldn't expect anything less from her. Whenever we watched her on The Hills she was just that: approachable and relaxed. Learn what Port had to say about what filming The Hills was really like.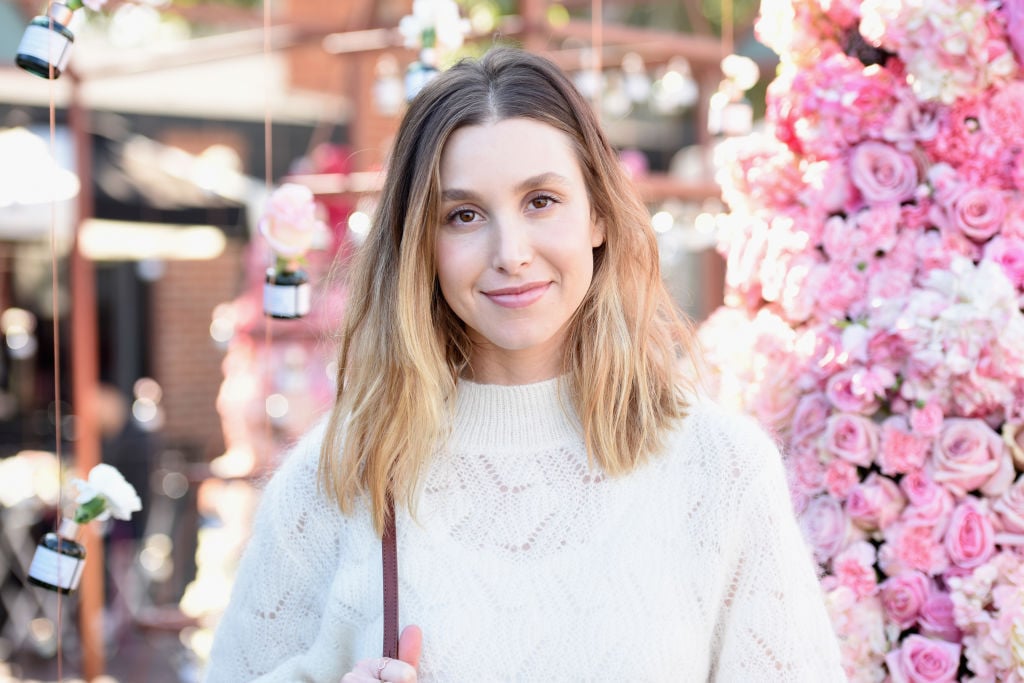 Port always offered her co-star, Lauren Conrad, advice from behind her iMac computer in Teen Vogue's fashion closet where the two were "interns." When she fell on live TV wearing Hilary Swank's Oscars dress, we could immediately relate, having had our fair share of clumsy moments. Side note – while the two appeared to be good friends on the show, Port said she and Conrad haven't spoken in two years. 
That's why when the mother of a two-year-old (she and her husband Tim Rosenman welcomed son, Sonny, in 2017) shared what she does to stay in shape with Hollywood Life by Bonnie Fuller, we immediately connected with how manageable it seemed. 
Whitney Port goes for 'a healthy balance' 
Port told the publication she doesn't have hard and fast rules for herself when it comes to exercise or food.
"I try to live my life completely in moderation," she said. 
She's not hitting the gym on a daily basis either. "I try to work out three times a week and eat mostly lean proteins, veggies, and fruits but, I also allow myself to enjoy myself when I feel like it! I don't believe in strict diets or limitations. It's all about a healthy balance," she said
She doesn't necessarily avoid certain foods but she makes sure to have lots of fruits and vegetables. 
Here's what she eats in a day: 
"For breakfast, I have been eating scrambled eggs with a few cheddar chives mixed in, a cappuccino, and a banana. For lunch, I'll eat a salad with a light dressing, a protein, and a kombucha. Dinner varies, but I LOVE a good steak with grilled onions and roasted potatoes," Port said. 
Again, she doesn't have strict guidelines but she makes a conscious effort to have "usually a protein with a veggie and or salad with lots of different veggies in it and a homemade sherry wine vinaigrette," for dinner. 

She turns to hot yoga for a 'physical and mental treat'
Port is a big fan of hot yoga. Just yesterday she shared with her 1.5 million followers on her Instagram Stories that she gets a good sweat session in by going to Core Power Yoga. "I try to do it at least three times a week," she wrote.
She confirmed her love for yoga yet again with Hollywood Life by Bonnie Fuller. 

"Hot yoga is my jam," she said before adding, "It's the only thing I do and I absolutely love it."
Port continued saying she loves what it does for her mind and body. "It tones me, gives me the release of any stress I have, and just feels so good for my body. It's a physical and mental treat," she said.  
Watch Port on The Hills: New Beginnings. The show's been renewed for a second season but a premiere date has yet to be announced.