Who Are Bob Marley's Children and How Much is His Estate Worth?
Music legend Bob Marley is still considered a pioneer for his contributions not only to reggae, but to rock music as well. He started making music when he was a teenager, and it was during those early years that he met his future wife, Rita. She became one of the backup singers for his band, and the two married when she was 21.
She was already a mom to a toddler, and Bob and Rita Marley went on to have three children together. Though he stayed married to her until his death at age 36, he had other children outside the marriage as did Rita, and he adopted and cared for them as his own. Here's a look at Bob Marley's now-adult children who are all very close.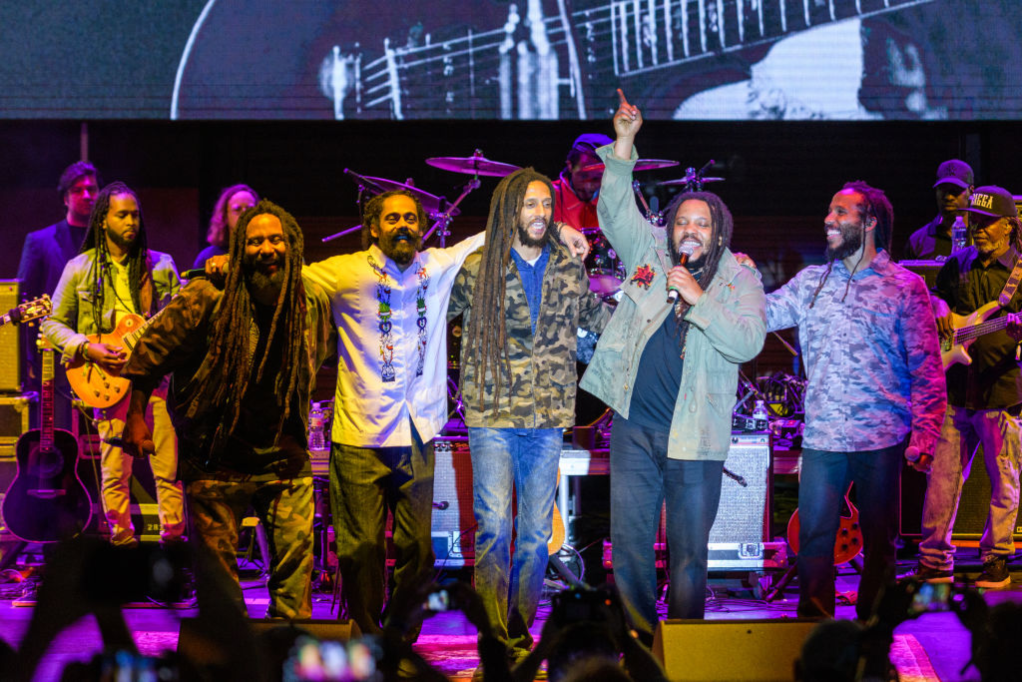 Ziggy
David "Ziggy" Marley has had a successful career in music and a voice similar to his father's. He's performed with most of his siblings musically either as part of the Grammy-winning group, Ziggy Marley and the Melody Makers, and/or during other collaborations. He's the eldest son of Bob and Rita.
Cedella
Cedella Marley is the oldest of Bob and Rita's children and was once a performer. Now, she manages most of the family's businesses and charities with the shared input of all her siblings. According to GQ, she handles Tuff Gong Enterprises, Marley Natural, and more.
Stephen
Stephen is the youngest of Bob and Rita's children, and is also a singer/songwriter who vocally, sounds like his father. He still tours and often collaborates with his siblings to record and perform.
Rohan
Rohan Marley is Bob Marley's son with Janet Hunt. Born in 1972, he was once the partner of hip-hop legend Lauryn Hill and the two share five children together. He's now married to Brazilian model Barbara Fialho. Rohan also co-founded Marley Coffee in 2009, a multi-million dollar operation that produces sustainably farmed coffee.
Robert Jr.
One of the lesser known brothers in the Marley family, Robert Jr. grew up in the Marley household with Bob and Rita but his mother's name is Pat Williams. He's not a career musician, but he also works with his siblings on film and music projects.
Damian
Surely you've heard of Damian "Junior Gong" Marley too? He's the youngest of Bob's sons, born to former Miss World, Cindy Breakspeare. Damian also is a talented Grammy-winning artist whose music has a hip hop and dancehall slant. Outside of music, he's ventured into the cannabis/CBD industry.
Julian
Born in England to Lucy Pounder, Julian Marley is also a musician and frequently works with his brothers on music and ventures such as the family's Kaya Fest.
Ky-Mani
Ky-Mani Marley is Bob's son with Anita Belnavis but didn't grow up with the rest of the family. He's worked in music and film, and resides in Miami, but creates music with this brothers often.
Sharon
Sharon is Rita's firstborn and the daughter Bob adopted after he married Rita. She too bears the Marley name and now helps run the Bob Marley Museum.
Karen
Karen was born to Bob and England native Janet Bowen, but grew up in Jamaica with her siblings. Karen runs her own fashion line with pieces made from sustainably-sourced materials.
Makeda
Makeda is Bob Marley's daughter with Yvette Crichton, and was born in 1981 after her father's death. She has stated in the past that although she received trust funds when she was young, she does not receive money from the family estate.
Stephanie
Although Stephanie was born to Rita and another man in 1974, Bob adopted her as his own daughter during their marriage, and she too carries the Marley name.
According to Forbes, the Marley estate continues to generate more than $20 million a year, making Bob Marley one of the highest paid deceased celebrities. In 2018, the estate earned $23 million, and it's estimated the family fortune is worth more than $100 million.