Who are Gayle King's New Co-Anchors on 'CBS This Morning?'
There's a new look and a new crew on CBS This Morning, now headed by lead anchor Gayle King. With John Dickerson off to 60 Minutes and Norah O'Donnell assigned to anchoring the CBS Evening News, journalists Anthony Mason and Tony Dokoupil have joined King at the desk to deliver the news each morning.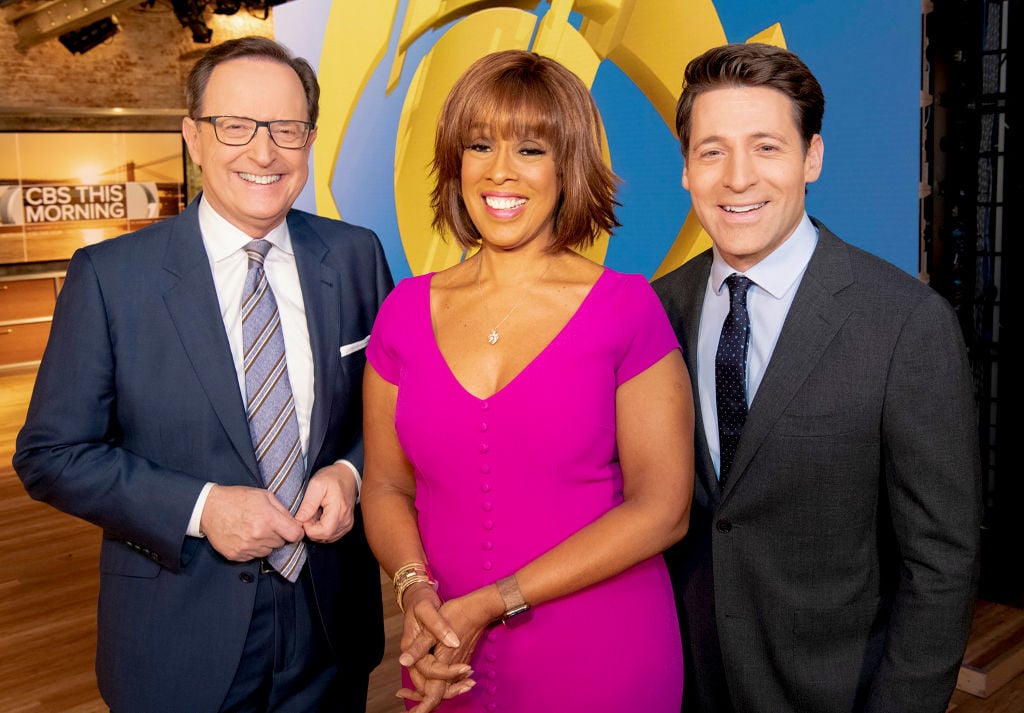 A seasoned newsman
Starting his career in Tulsa, Oklahoma, Anthony Mason has already has quite a resume in journalism. He's interviewed everyone from government officials and business leaders to actors and music legends. Now at CBS News for more than 30 years, his responsibilities included serving as the chief Moscow correspondent, and reporting on wars and presidential elections. He also hosted CBS This Morning: Saturday, where he got to focus on his passion for music in covering some of the greatest musicians of all time, according to CBS.
With seven Emmys to his name, Mason is looking forward to his new role on CBS This Morning and working with King on a daily basis. "The minute I sat down next to her I was kind of blown away by how much 'herself' she really was on television," Mason said of King. "The Gayle King you see on TV is absolutely the Gayle King that I know."
He's getting to know Dokoupil as well. "Tony is relatively new at CBS but he's an incredibly talented guy and I've really been impressed by what I've seen so far, and a very smart guy whose already seen a lot of things in life," Mason said, according to CBS. "We like each other already, which makes it a lot easier and I think it's going to be a lot of fun."
From print to broadcast
According to Esquire, Dokoupil was a reporter for Newsweek and thrived in the environment. "Newsweek was still like the Titanic; it had yet to sink," he said. "It was a glittering operation. Giant tower, views of Central Park, oak paneling on the walls, white tablecloth dinners catered every Friday night, the black town car home was awesome. It was awesome. I wanted to do it the rest of my life." That chapter ended when Newsweek announced it was ending its print magazine to focus on digital publication, forcing Dokoupil to move on.
For awhile he was shuffled around at NBC. Discouraged about the direction of his career, Dokoupil took the advice of his then-girlfriend/now-wife Katy Tur of MSNBC who encouraged him to do a story on armed occupiers who'd taken hold of federal land in Oregon. Dokoupil ended up flying to Oregon and getting an interview with an armed rancher outside the Malheur National Wildlife Refuge. The interview went viral and Dokoupil's career took off.
Three years later, 38-year-old Dokoupil is now co-anchoring CBS This Morning with King and Mason. He's a familiar face on the news program, having done stories for the show about 200 times. He also has a full family life. Dokoupil and Tur married in 2017, and just had their first baby, Theodore in April. Dokoupil has a 10-year-old and a 7-year-old from his previous marriage, according to Esquire.
Happy with her teammates
King is enthusiastic about the new team on CBS This Morning, telling the Hollywood Reporter, "We all want this to work. And you can really feel the camaraderie."
Having known Mason for years, she knows she can count on him. "I always knew when Anthony was here, I didn't have to worry," King said.
Dokoupil also has King's approval. "Tony's doing awesome," King said, according to Esquire. "I've known him for awhile, so he's not a stranger to me. But before now, we've mostly seen his serious side on camera. Now you'll see he's super-duper witty and funny and good with spontaneity. He likes to play, and I like that."