Who are J.Lo's Two Ex-Husbands from the Marriages She Says 'Don't Count?'
J.Lo recently said two of her past marriages "don't count." Who are the exes?
The engagement of Jennifer Lopez and Alex Rodriguez this past March made headlines around the world. Lopez recently reflected on her previous three marriages in a new behind-the scenes video for her concert tour. "I've been married three times. And once was nine months, and once was 11 months," Lopez said in the video according to the Today Show. "So I don't really count those,"
So who are the two ex-husbands in the marriages she is referring to?
Her first ex caused trouble
J.Lo's first walk down the aisle was with Ojani Noa, who was a waiter when they met, as reported by Popsugar. The couple was together from 1997 to 1998, and after their split Noa attempted to make private information about their relationship public for a profit.
According to People, Noa shopped around a sex tape the two made in 1997 entitled How I Married Jennifer Lopez: The J.Lo and Ojani Noa Story. Noa's attempt at selling the private material violated a confidentiality agreement between the two that was set up in 2004. Lopez took Noa to court and sued him for $10 million. Noa had also threatened to write a tell-all memoir, but in 2007 Lopez won $545,000 in damages and attorney fees in another lawsuit that blocked Noa from publishing the book, where she claimed Noa was demanding $5 million to keep him from getting the book published.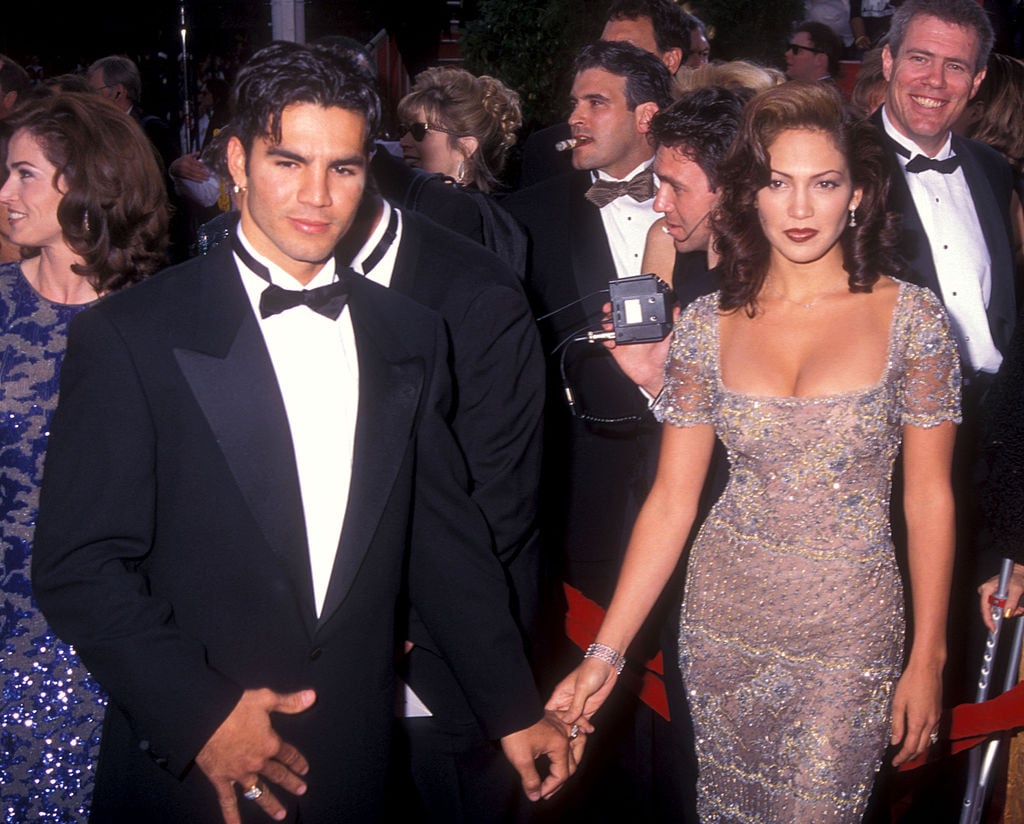 Noa claimed that the reason the couple split was due to her career, according to the Hollywood Mask. He stressed that she was the love of his life and that her choosing her career over their relationship left him heartbroken.
Rebound relationship?
J.Lo had a relationship with Sean "Diddy" Combs from 1999 to 2001 as reported by Popsugar, but almost immediately married backup dancer Cris Judd when she split with Combs.
The two met when Judd was hired do a music video with Lopez, as noted by IMDb. Judd had lived in Florida, landing his first job at Disney World with friend Wayne Brady. He went on to work as a dancer with music powerhouses including Michael Jackson, Celine Dion, and Enrique Iglesias. Entertainment Tonight reported that Judd also appeared on American Idol's series finale in 2015 during Idol alum Larry Platt's performance of "Pants on the Ground."
n past comments, Lopez was regretful of how the relationship ended. "I loved Cris, still love him, he's one of the best people. This wasn't an easy thing to walk away from, but we didn't have what it takes to make a marriage work…" she said according to Popsugar.
Judd doesn't seem to harbor any ill will. According to Us Weekly, Judd said in 2014, " She looks fantastic, that goes without a doubt," Judd said of Lopez. "Anybody that would say she doesn't look great is lying."
Judd told Us Weekly that while the lack of privacy during his short marriage to Lopez "bothered" him, it wasn't the cause for the split. "It had no bearing on the outcome of a relationship," Judd said. "Unfortunately, it just didn't work out."  Judd has since remarried to Kelly Wolfe and the couple have a daughter.
The reasons the marriages didn't work
"I was very young the first two times I tried to get married. I would say try to get married," Lopez said according to the Today Show. "It seems like in this life, you're always surrounded by people, you're never lonely, but it's very lonely. So you always want somebody with you. Somebody. And so, I felt like if I got married I felt like I would always have somebody, but that's not how life works. That's not how it goes. It's a bad reason to get married, not the right reason, it's the wrong one."
Lopez was also married to singer Marc Anthony for 10 years, and the two share 11-year-old twins Max and Emme. Clearly, she is looking forward to her upcoming nuptials with Rodriguez, who she feels is a great match for her. "The right one is when you find somebody who really makes you better," Lopez said.