Who Are Kobe Bryant's Sisters? A Now-Deleted Post Shows Their Unbreakable Bond
Many are still in shock over the tragic death of basketball icon, Kobe Bryant, and his daughter, Gianna. Seven others also perished in the heartbreaking helicopter crash on Sun., Jan. 26. The losses will take time to recover from, particularly by Kobe's wife, Vanessa, their surviving children, and their immediate families. Here's what we know about Kobe's sisters, Sharia and Shaya.
Kobe Bryant was the youngest of three siblings in the family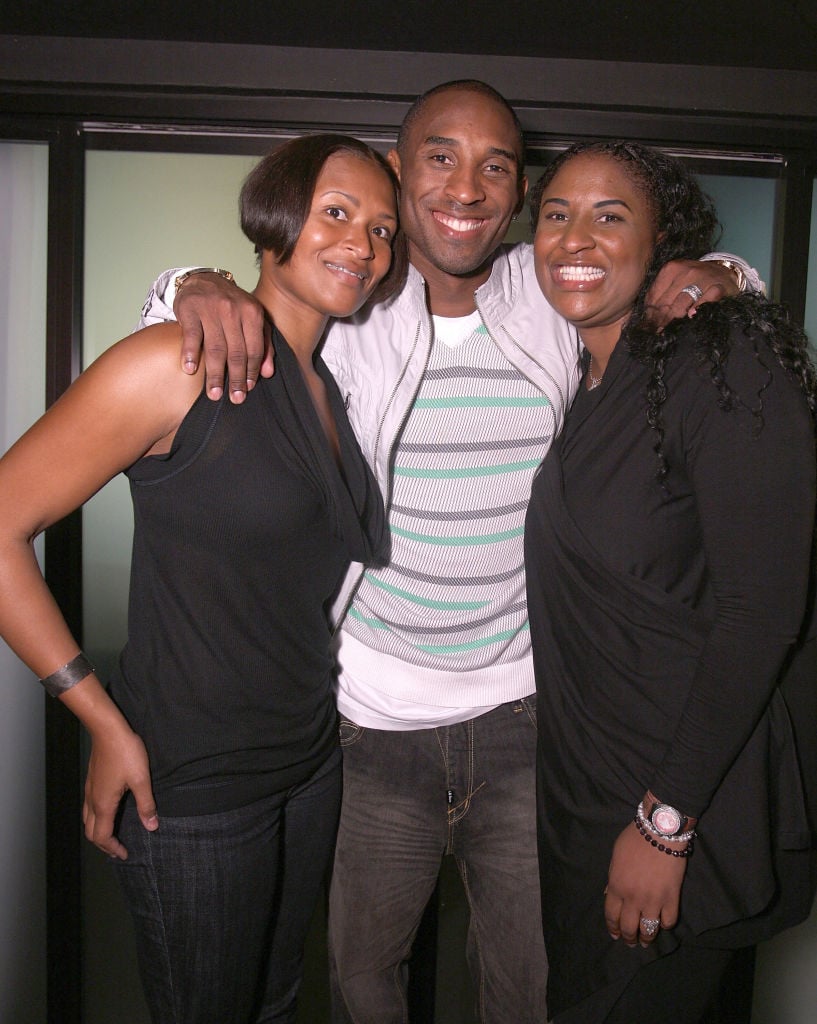 At 41 years old, Kobe Bryant was the youngest of three siblings, at less than three years apart in age. His father, Joe "Jellybean" Bryant also played in the NBA and coached the WNBA in later years. By all accounts, the Bryant family remained close throughout Kobe's childhood.
The eldest child, Sharia Washington, is married to Jerrod Washington. They have three children and live in Las Vegas. Her Linkedin profile says she works as a personal trainer and facility leader at Fit Body Boot Camp, proving athletics and physical fitness run deep in the Bryants' veins.
The middle child, Shaya, also has three children. She works as a dining and events manager for ARIA Resort & Casino, also in Las Vegas.
In 2013, Sharia stood by her brother's side throughout a legal battle between Kobe and their parents, Joe and Pam. The suit involved the sale of Kobe's memorabilia without his knowledge or permission.
"I have frequently heard my mother talk about how the family can make money on items associated with Kobe," Sharia said at the time. She admitted to taking memorabilia out of her own home, "because my mother has access to my garage and I feared that she would try to sell that memorabilia."
Bryant did this 1 thing to show how much he loved his sisters
Kobe loved his family but didn't shy away from the complications of each relationship. In 2016, The Player's Tribune published a letter Kobe wrote to his younger self. In it, he spoke about money, fame, and the problems each created among his close-knit family.
He further explained he stopped giving money to his sisters saying, "They're very smart, college-educated [women]," alluding to the fact that they can get by without a part of his $600 million fortune (which he worked hard for, and earned).
"I'm really proud of them. They were able to get their own jobs, get their own lives, take care of themselves," he added.
"You want them to live a beautiful, comfortable life, right? But the day will come when you realize that… you were actually holding them back. You will come to understand that you were taking care of them because it made YOU feel good, it made YOU happy to see them smiling and without a care in the world," he said.
"You were adding material things to their lives, but subtracting the most precious gifts of all: independence and growth."
The same letter also showed how Kobe's relationship with his sisters didn't mend overnight, saying he had to "deal with the hurt and struggle of weaning them off of the addiction that [he] facilitated."
He continued: "As time goes on, you will see them grow independently and have their own ambitions and their own lives, and your relationship with all of them will be much better as a result," he wrote.
It may not have felt like a gift at the time, but it seems to be what Kobe intended — from a good place of love and support.
One sister posted a heartbreaking tribute but deleted it
In Kobe's honor, Sharia posted a heartfelt tribute to her brother. The collage of photos appeared on Facebook for a little more than 24 hours before it disappeared.
The 10 photos gave the world a glimpse of Kobe through the years. The post included shots of Kobe doing what he loved most — being a dad, husband, brother, son, and friend to many. The post also included memories of Gianna
"My heart is so heavy, I wish I could take some of the hurt. Please know you that your family is in consent prayers," one fan commented before the post vanished.
The Bryant family's grief is tangible. An overwhelming number of responses may have triggered the now-deleted post. Or, perhaps the heartbroken sister wasn't ready to share those very personal memories quite yet.
Lakers legend, Jerry West, told Extra TV, said, "[Kobe's] personal family, is just traumatized and devastated, as any family would be," he said.
Kobe often took to social media to brag about his sister, nieces, and nephews. Despite any struggles throughout the Bryants' lives, one thing remained: a deep love that could never be broken, even in death.