Who Are The 10 Richest 'Real Housewives'? The Top Spot May Surprise You
The cast of Bravo's Real Housewives franchise are never afraid to show off their wealth in front of the cameras. But when it comes to the wealthiest women in the franchise, fans may be surprised to learn who cracks the top ten. Here is a list of the ten richest Real Housewives and how they earned their vast fortunes.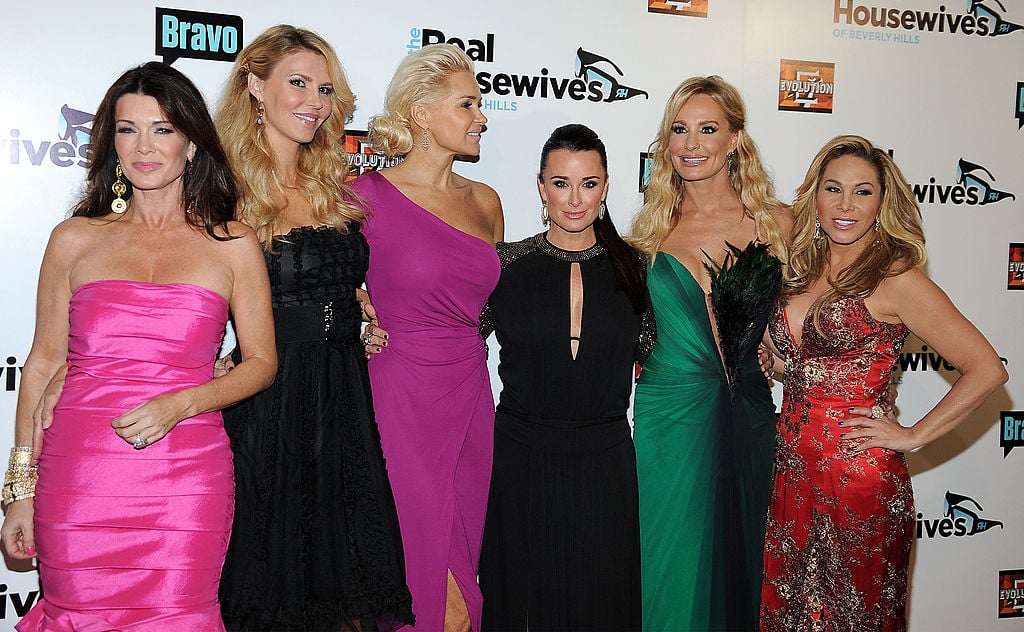 10. Shannon Beador
As a member of the Real Housewives of Orange County, Shannon Beador comes in at the bottom of the top ten list of wealthiest women in the franchise. Even still, her fortune of $20 million is nothing to sneeze at. According to Champagne and Shade, Beador made a good chunk of money from a successful business, though most of her wealth comes from her husband, David Beador.
9. Dorinda Medley
Dorinda Medley accumulated her $20 million through a variety of ways. The Real Housewives of New York star had a successful career in the fashion industry before launching a cashmere business in London. She then married a wealthy man named Richard H. Medley, who was once George Soros' trusted advisor. Medley passed away in 2001.
8. Luann de Lesseps
Luann de Lesseps has gone through some rough times as of late, but the Real Housewives of New York star still has plenty of funds in the bank. Despite dealing with a lawsuit and selling her $8 million home, de Lesseps is believed to be worth upwards of $25 million. De Lesseps made her money by working as a model and a television host, writing books, and recording music.
7. Bethenny Frankel
Bethenny Frankel is one of the most famous members of the Real Housewives of New York, but she only comes in at number seven with a net worth of $25 million. Frankel earned the vast majority of her fortune with her popular cocktail line, Skinnygirl, which she sold back in 2011. She also had a talk show and has her own real estate business.
6. Tinsley Mortimer
Like other cast members on this list, Tinsley Mortimer generated most of her wealth prior to appearing on the Real Housewives of New York. Mortimer's father was a successful real estate mogul and she made bank when she launched a line of handbags with Samantha Thavasa. Mortimer, who is now worth $35 million, has also written a book.
5. Kandi Burruss
Long before she starred on the Real Housewives of Atlanta, Kandi Burruss earned a living in the music industry. Burruss was a part of the R&B group, Xscape, before writing songs for a variety of different groups, including TLC, Pink, and Destiny's Child. Her work in music earned her a fortune of around $35 million.
4. Dorit Kemsley
Dorit Kemsley's staggering net worth of $50 million comes from her line of swimwear and her husband, Paul "PK" Kemsley's, vast fortune. As a team, the couple owns and operates a talent agency named Nixxi Entertainment. During her down time, Kemsley stars on the Real Housewives of Beverly Hills, from which she also earns a large salary.
3. Carole Radziwill
Carole Radziwill also has a net worth of $50 million. Radziwill is a successful journalist and award-winning author. The former Real Housewives of New York star is also technically a princess and has connections to the Kennedys. Her husband, who tragically passed, was related to John F. Kennedy and a prince of Poland. Radziwill has since left RHONY to pursue new projects.
2. Kyle Richards
Kyle Richards is also tied in second on our list with a fortune worth $50 million. Richards started amassing her wealth early in life as a child star. She is also related to the Hilton family and is the owner of her own boutique line called Kyle by Alene Too. Her husband is also a wealthy individual and owns his own real estate company. While they are worth millions, the couple still finds time to donate some of their fortune to good causes, including the Children's Hospital Los Angeles.
1. Lisa Vanderpump
Lisa Vanderpump easily tops the list at the most wealthy Real Housewives star at an astounding $75 million. While her future on the Real Housewives of Beverly Hills might be over, she still enjoys time in front of the cameras on Vanderpump Rules. She also owns a slew of restaurants in California, London, and Las Vegas. Vanderpump's husband, Ken Todd, also helps her in the restaurant business and owns a few venues himself.