Who Are the 'Below Deck' and 'Below Deck Med' Female Deckhands?
Below Deck and Below Deck Mediterranean feature a number of women on deck. The mainly male-driven position has included a woman in more than one occasion, showing that women are more than capable of handling the physical rigors of the job. Thus far three women manned the deck (and crushed it while doing so) on …
Below Deck and Below Deck Mediterranean feature a number of women on deck. The mainly male-driven position has included a woman in more than one occasion, showing that women are more than capable of handling the physical rigors of the job.
Thus far three women manned the deck (and crushed it while doing so) on Below Deck Med and five women have been on deck on Below Deck. Although most of the female deckhands have dominated the deck, a few have had some issues with how they were treated by their male counterparts.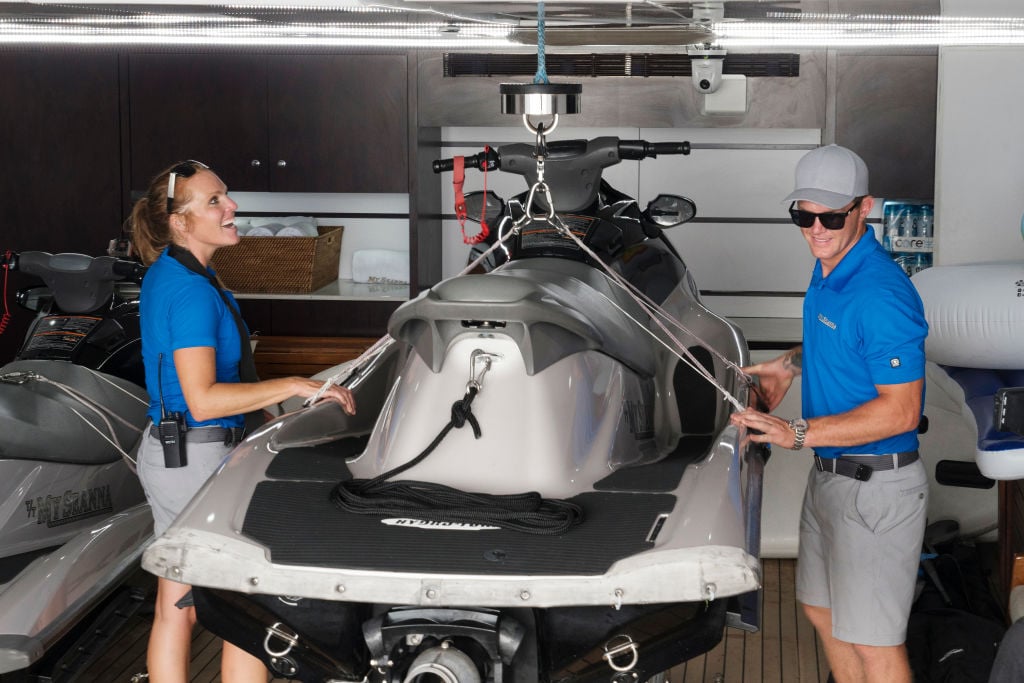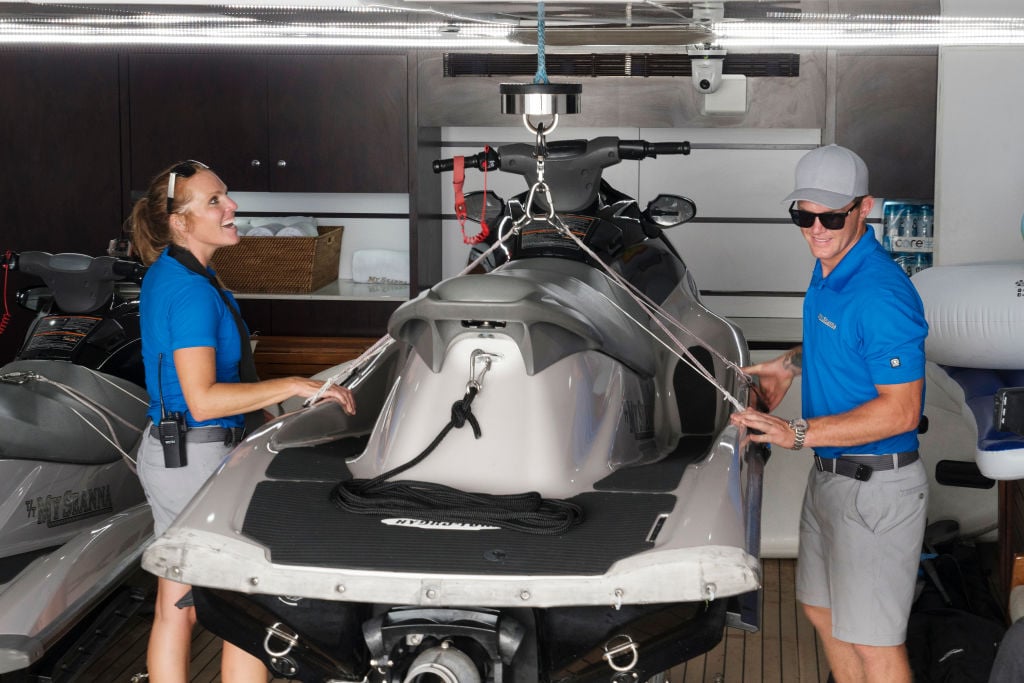 So who are these tough female deckhands? And what are many of them doing now?
Jennice Ontiveros
Ontiveros was the inaugural female deckhand to the series. She appeared on season two and would often talk about doing whatever she could to keep up with the guys.
She also had a romance that went sour with deckhand Kelley Johnson. The two worked side-by-side and took their flirtatious behavior to the next level. After Johnson pursued her for some time, Ontiveros finally decided to give the relationship a try. But that's when Johnson got cold feet.
Today Ontiveros resides in California. She is working on creative projects and working in the studio. Ontiveros posted a cute photo from the sound booth. "From the booth," she wrote.
Connie Arias
Arias appeared in season three and became a fan favorite. She had a quick wit and easy smile. Arias often had fun joking around with her fellow deckhands and eventually became close friends with chief stew Kate Chastain.
She was one of the few deckhands asked by Captain Lee Rosbach to continue to work on the yacht after the season ended. Bosun Eddie Lucas also trusted Arias implicitly telling her she was the only deckhand he trusted.
Arias still loves the sea but is no longer in yachting. "Connie's not in yachting so much anymore, but she has her own boat, so she goes out on boats like every weekend," Chastain told Bravo's The Daily Dish. "She's in her hometown of Melbourne Beach doing Connie stuff: fishing, golfing, just getting up to no good sometimes in a really funny way."
Lauren Burchell
Burchell's amazing smile and easy going personality made her the perfect fit for season four. The Australian native brought plenty of yachting experience to the show, but (sort of) fell for fellow deckhand Nico Scholly. But Burchell's straight forward attitude allowed her to avoid drama with Scholly.
Today Burchell is a certified personal trainer, holistic nutritionist, and health coach. She posts regularly on social media and includes delicious food and workout ideas.
She also recently eliminated gluten from her diet. Burchell wrote (along with an enticing photo), "Back to being gluten-free like I was for 10 years! Stay tuned for some gut healing, fat melting recipes coming your way!"
Baker Manning
Manning was a friend to everyone during season five and allowed most of the drama to just roll off her back. The Lowcountry deckhand had a near miss romance with stand-in bosun EJ Jansen. She and Jansen really seemed to click, but Jansen's time was cut short on the show when his original charter came into port.
Since leaving Below Deck, Manning has been busy, but not in yachting. She posted on Instagram in April 2018 about her new adventure. "My new #gig as a #cabinattendant on #corporate (AKA #badass) #jets… an easy transition from #yachtlife for sure. We'll see how I feel after 8 days straight of #jetsettingthough! Haha…"
She also shares plenty of fun photos on Instagram too. It is clear that Manning is living her best life. She also launched a digital guide to yachting called, "The Yacht Job Handbook." 
Rhylee Gerber
One of the more controversial female deckhands, Gerber often clashed with her all-male deck team. She told Showbiz Cheat Sheet her team didn't give her the same opportunities as the male deckhands.
Gerber also said she'd love to work for Captain Sandy Yawn from Below Deck Med someday. She believes Yawn could provide her with the guidance and training she needs to climb the ranks in yachting.
"I feel like Captain Sandy really cares about what goes on with the crew and maintaining a well-rounded work environment," Gerber told Showbiz Cheat Sheet. "While everyone has their own job to do she makes sure you're aware she isn't opposed to stepping in if an extra hand is needed."  
Jen Riservato
As the inaugural female deckhand of Below Deck Med, Riservato had her work cut out for her. She had the bromance of deckhand Bobby Giancola and bosun Bryan Kattenburg to deal with. Plus she was constantly fielding deckhand Danny Zureikat's shenanigans. But she took the testosterone in stride and shined on deck.
When she joined the show she was a seasoned yachtie. The Long Island native worked had freelanced for seven years before Below Deck Med. She also kept it (very) real when it came to her coworkers. She told Bravo's The Daily Dish she ultimately let Kattenburg exactly how she felt about him on the last day of the season.
Today, Riservato often posts photos on Twitter of her adorable pup. Plus Riservato appears to be in the best shape ever. "Where are all the good girls?" We are at the gym, taking walks, reading and goin to church," she wrote along with a picture that featured her rock hard abs.
Malia White
White came onto Below Deck Med with a bit of controversy hiding in the closet. Before the show aired, she and Chef Adam Glick met and had a romantic encounter. The two decided not to tell production (or the crew) they knew each other, which ultimately blew up in their faces.
White became romantically interested in bosun Wes Walton and chose Walton over Glick. This choice came under fire when Walton appointed White to be the lead deckhand. But Yawn supported Walton's decision because she saw White as a strong member of the deck team.
Today White is still loving the ocean. She posted a picture on deck from a yacht in New Zealand. She wrote, "Cold weather attire in full effect here in Auckland!" Plus it appears she has a new love. She recently posted an adorable photo with her special someone. "I'm thankful he agrees to take the photos because my arms aren't long enough!"
Jamie Jason
Jason clicked well with the entire crew, which was no easy feat during season three of Below Deck Med. The hardworking deckhand stayed out of the fray as drama swirled between the deckhands and interior.
She even fell ill at one point. Jason was quarantined to her cabin where she expressed frustration for not being able to work. She finished the season strong and she and deckhand Colin Macy-O'Toole were the only cast members to leave the season drama-free.
But the drama came when she announced she was dating Below Deck bosun Chandler Brooks. Brooks was fired from My Seanna and took a significant amount of heat for his management style. She stood by her man and the couple continues to be happy today. Jason still works in yachting and recently posted a fun picture with a fellow crew member.