Who Are the Hunks of 'Chicago Fire'?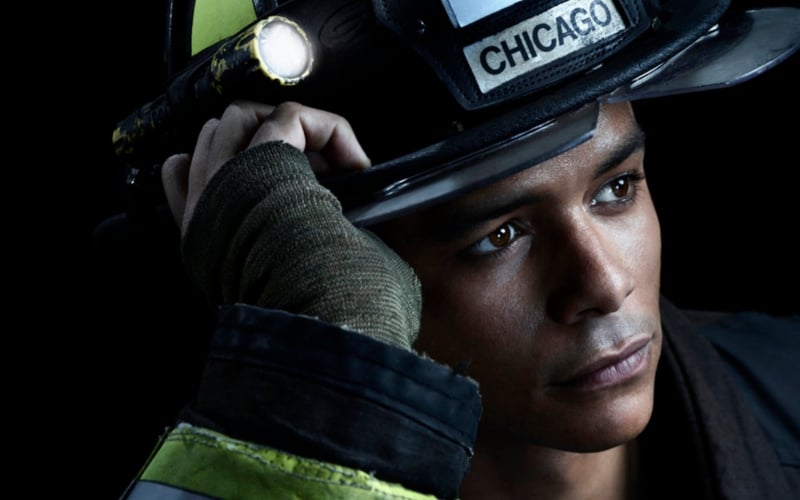 For more than six years fans have been watching Chicago Fire. On some episodes, the testosterone levels can be quite a bit to handle. So, just who are these actors who star in the roles of these hunky firemen? Let's take a look at the real lives of three of the main stars of the show.
Taylor Kinney as Lt. Kelly Severide
Before Taylor Kinney started putting out fires in Chicago, he played Mason Lockwood on The Vampire Diaries. He has portrayed Lt. Kelly Severide since the premiere of Chicago Fire in 2012.
Born in Lancaster, Pennsylvania, Kinney studied business management at West Virginia University prior to starting his modeling turned acting career in the mid-2000s. In 2011, Kinney was featured in a Lady Gaga music video, You and I, and shortly after they started dating. The romance lasted for five years and the couple was engaged, before calling it off.
As a couple, Kinney and Lady Gaga were dynamic. Chicagoans and Americans loved them. But, despite their being "soulmates" it apparently wasn't meant to last. Shortly after their breakup, Gaga sited each of their busy schedules as one of the reasons for the split.
Kinney recently starred opposite Sarah Jessica Parker in the film Here and Now released in November of last year. Kinney has been nominated for the People's Choice Award three times for his role as Kelly Severide and won in 2016.
While Kelly's been in an active romance with Firefighter Stella Kidd (Miranda Rae Mayo) on the show, as far as we know the 37-year-old Chicago Fire star isn't seriously dating anyone in real life.
Jesse Spencer as Capt. Matt Casey
When you see Jesse Spencer as Matt on the show, you may think of him as the All-American guy. Well, no. He's Australian, not that you can tell he has an Aussie accent on the show. Chicago Fire is the first show he has had to portray an American. Like Kinney, Spencer has appeared on the show since the first episode. Spencer was not new to American audiences, however. He played Dr. Robert Chase, a character who was also Australian, on House from 2004-2012.
The Melbourne-born actor starred in an Australian soap opera prior to moving to the U.S. He was also in the Australian Boys Choir and is a violinist.
Despite some serious relationships over the years, Spencer is still single. He dated House co-star Jennifer Morrison. Later, during the early days of Chicago Fire, he was in a serious relationship with Brazilian wave surfer, Maya Gabeira. If he's seeing anyone now, he is doing a good job of keeping it private. Spencer turns 40 on Feb. 12.
Eamonn Walker as Battalion Chief Wallace Boden
Starring as the fire chief of Firehouse 51, Eamonn Walker has, like Spencer, had to lose his accent. A native to England, his father was from Grenada in the West Indies and his mother was from Trinidad. In London Walker trained as a dancer but had to give it up due to an injury. He later studied film at the New York Film Academy. In the mid-1980's he began work on various British television shows with a lot of appearances on the BBC.
In the late 1990s, he sought out and obtained work in the U.S. His first major role was as Kareem Said in Oz. He has remained active on both sides of the pond, on small and big screens as well as live theatre. In fact, he was the first black actor to play Othello at Shakespeare's Globe Theatre in 2007.
On Chicago Fire, Chief Boden is married to Donna, his third wife and together they have one child. He also has a stepson from a former marriage, Jimmy. In real life, the 56-year-old is married to Sandra Walker and they have three children.
Besides these stars there are some other handsome, hunky actors portraying firemen on Chicago Fire including Joe Minoso (Joe Cruz), David Eigenberg (Christopher Herrmann), Yuri Sardarov (Brian "Otis" Zvonecek), and Christian Stolte (Randy "Mouch" McHolland). Truth is, the actors must stay fit as they work outside in the real elements of Chicago and with real fire gear! Filming is done in a real Chicago firehouse, and sometimes the actual firemen from that house are extras during some of the shoots. Chicago Fire airs Wednesday nights along with Chicago Med and Chicago PD on NBC.