Who Are the Stars of 'Impractical Jokers' Dating?
Whether you love them or hate them, the stars of Impractical Jokers are here to stay. They have been around since the show's debut in 2011 and have only gotten bigger in time, with their very own film set to hit select theaters on Feb. 21.
We could go on and on about their career highlights and accomplishments, but what about their personal lives? Like, are they dating anyone? And if so, who?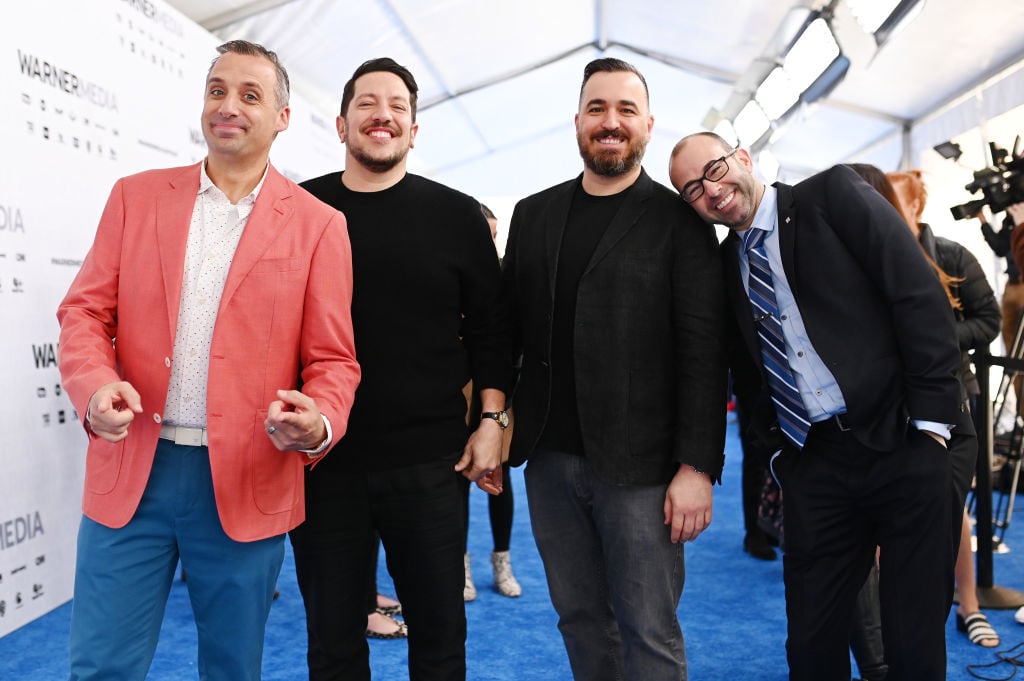 Joe Gatto has been off the market for years
He's been married to his wife, Bessy Gatto, since 2013. Joe, 43, is the only married Joker.
Joe and Bessy tied the knot in a sweet outdoor ceremony following a years-long relationship. They welcomed their first child, daughter Milana, in 2015 and had a son, Joseph, two years later.
Judging from her Instagram page, Bessy appears to spend much of her time with her children. When she's not, she likes to travel and play with her family's many dogs.
It's unclear if she works, but some reports say she manages her husband's social media accounts. Hey, you know what they say — a couple who works together, stays together.
Sal Vulcano seems single
In comparison to the other Jokers, Sal's relationship history is a lot murkier. It seems that he's never dated anyone during his time on the show, and there's very limited information online regarding his most recent relationship.
Viewers did get to see Sal, 43, have a "date night" in a 2019 Impractical Jokers clip, but every possible thing that could go wrong did.
But considering that fans are constantly flirting with him on the show, maybe he'll have better luck in the love department down the line.
Brian 'Q' Quinn has a complicated relationship history
Q, 43, is also famously single. Though he's been linked to a couple of people in the past, he has never officially come out and gone public with anyone during his time on Impractical Jokers.
According to Looper, though, Q once confessed on the series that his first girlfriend is related to an A-list celebrity and that she served time in prison. Internet sleuths claim that the mystery woman is King of Queens star Leah Remini's half-sister Elizabeth, who was arrested in 2005 on drug charges, but Q has yet to address the rumor.
His last known relationship was with a woman who apparently left him for a police officer. Q has said on the show that the two were engaged when it happened and seemed like he still hadn't gotten over it.
The failed romance has become a running joke on the show, with practically all of the Jokers poking fun at his fiancée taking off and leaving him behind with a bunch of cats.
James 'Murr' Murray has found his person
As of writing, Murr, 43, is engaged to his partner Melyssa Davies. Not much is known about her, but People reported in September 2019 that she had recently graduated from nursing school.
They met by chance in June 2018 when Davies attended a press event for Murr's novel Awakened and were instantly attracted to each other. Just over a year later, in August 2019, Murr popped the question at the New Jersey home he had recently purchased with Davies.
"I set up a picnic and champagne and a Scrabble board. I took her there to sign 'documents' [about the house] — there were no documents to sign," Murray explained to People. "And thank God she said yes."
Davies was over the moon, admitting that she had wanted to marry Murr "for a while now." She added: "I am so myself around him. It's amazing."
Aww!
It'll be the second marriage for Murr, who was previously married to Sal's sister, Jenna Vulcano. He got hitched in 2014 as a punishment for Impractical Jokers but had the marriage annulled the following day.
Read more: Which Star of 'Impractical Jokers' Has the Highest Net Worth?