Who Are the Stars of Netflix's 'Baby-Sitters Club'?
The Baby-Sitters Club is currently one of the top trending shows on Netflix. Premiering on July 3, 2020, it is based on the popular book series by Ann M. Martin as well as a reboot of the 1990 TV show adaptation.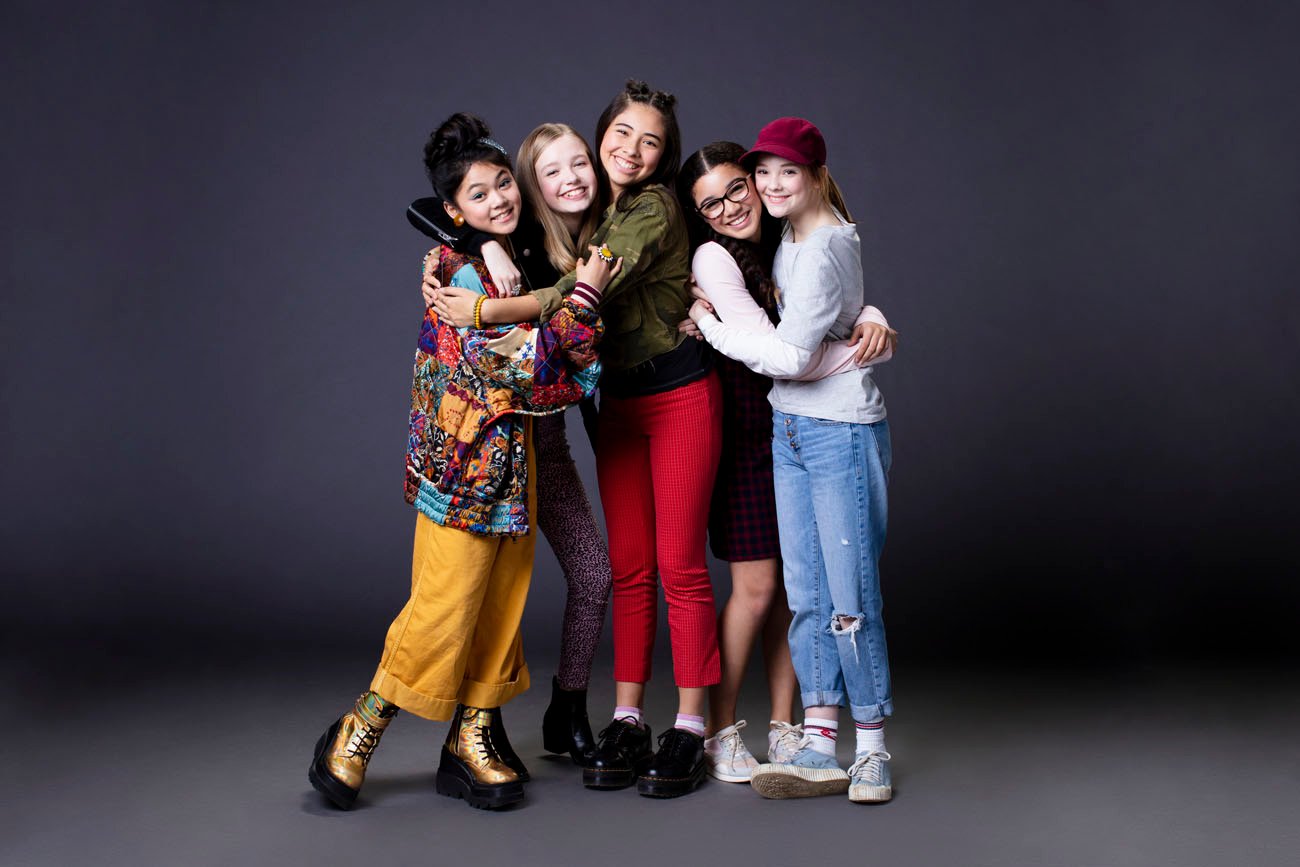 Like many reboots nowadays, Netflix's Baby-Sitters Club is introducing fans to a more diverse cast as well as story lines that fit in with today's social climate. If you are curious about the young girls who are now the face of this remarkable franchise, read on below to learn more about the stars of the new 2020 series.
Sophie Grace as Kristy Thomas
Actress Sophie Grace plays Kristy Thomas, the president and creator of the Baby-Sitters Club.
Sophie Grace is 14 years old and from Philadelphia. She started acting professionally in 2018 with a few roles in short movies.
In an interview with Seventeen, she shared that she and Kristy are similar in that they are both "natural leaders" and "goal-setters." However, unlike Kristy, she does not play sports despite coming from a sporty family.
Malia Baker as Mary-Anne Spier
RELATED: Netflix in July: 'The Umbrella Academy' and 5 Other Must-See Original Releases
Related post url: 
Actress Malia Baker plays Mary-Anne Spier, the secretary of the Baby-Sitters Club.
Baker is 13 years old. She was born in Botswana but raised in Canada. Before The Baby-Sitters Club, she appeared on A Million Little Things and The Flash.
Baker shared with Seventeen that, like Mary-Anne, she is a shy person. However, she can be more assertive than her character, saying, "When my opinion is welcome and I can state it clearly, I'll do that and I'll have debates, while Mary-Anne does not do that."
Momona Tamada as Claudia Kishi
Actress Momona Tamada plays Claudia Kishi, the vice president of the Baby-Sitters Club. For years, the character of Claudia has been praised for being a positive representation of Asian-Americans.
Tamada herself is 13 years old and has already had an impressive resume. She has appeared on shows like The Boys and The Terror. Most notably, fans might know her work as young Lara Jean in To All the Boys: P.S. I Still Love You.
Speaking to J-14 about her character on The Baby-Sitters Club, Tamada said: "I relate to Claudia a lot actually! I love art and during school, I would always draw little doodles all over my work turning numbers into animals and words into pictures… From a young age, I was definitely into creating new things! I love fashion but Claudia's wardrobe was a definite eye opener and encouraged me to try new clothes out."
Shay Rudolph as Stacey McGill
RELATED: Is This a Desperate Move by Netflix to Keep up With Disney+?
Related post url: 
Actress Shay Rudolph plays Stacey McGill, the treasurer of the Baby-Sitters Club. McGill is known for being a New York City girl who moved to Stoneybrook.
Rudolph is 14 years old and already has some TV experience. She played Maya Flynn on FOX's Lethal Weapon from 2018 to 2019.
Rudolph shared with Seventeen that she and Stacey both are "genuine, loving" people who care about friends. However, when speaking about the difference between her and Stacey, Rudolph said, "She's pretty boy crazy and I'm not so much."
Xochitl Gomez as Dawn Shafer
Actress Xochitl Gomez plays Dawn Shafer, the "alternate officer" of the Baby-Sitters Club and Mary-Anne's half sister.
Gomez is 14 years old and has appeared in numerous works in the past few years, such as the series You're the Worst and Gentefied.
In terms of how she is like Dawn, Gomez explained to Seventeen that they are both "very confident and very chill." However, she admits that Dawn is more passionate about activism than she is.