Who Bachelor Nation Faults For 'Champagne-Gate'
'The Bachelor': Who's fault was Champagne-Gate? Bachelor Nation has some thoughts on the roles Hannah Ann and Kelsey played.
Last night's episode of The Bachelor was dramatic for a few reasons. Peter Weber finally said goodbye to Hannah Brown, Victoria Fuller had a meltdown at the fashion show group date and threatened to leave the show, and, of course, Champagne-Gate.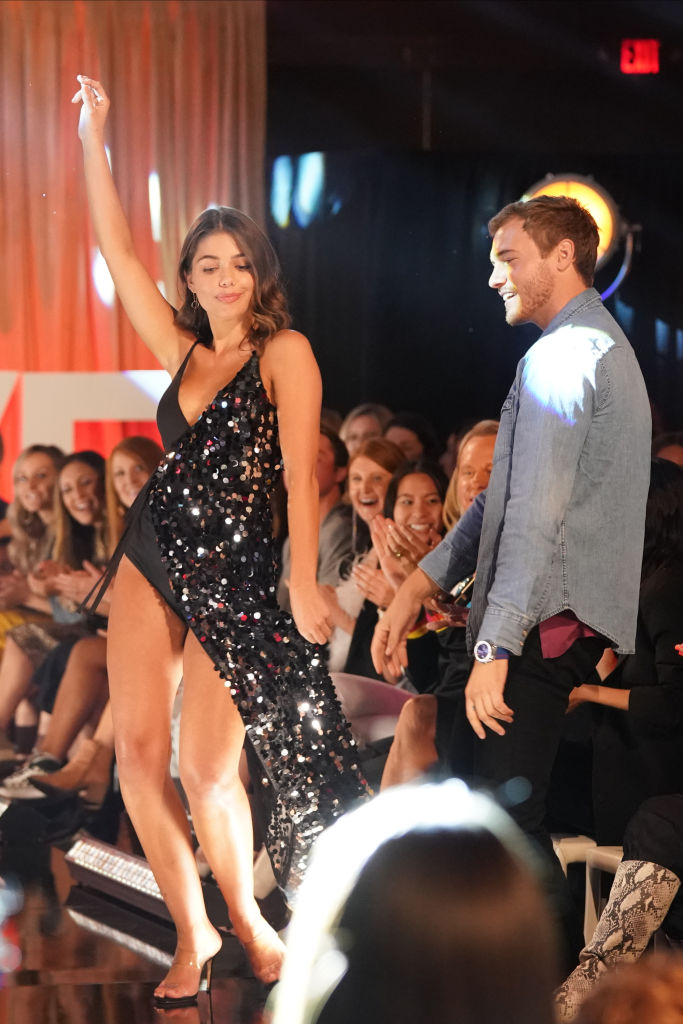 Contestant Kelsey Weier had been saving a bottle of champagne to share with Weber as soon as they got some alone time. But shortly after she set up the champagne in an ice bucket with two glasses by the fire, Hannah Ann Sluss swooped in and took over the setup. Or, at least, that's what Kelsey believes happened.
Hannah Ann swears she didn't know it was Kelsey's champagne. She said she'd asked the producers for her own champagne setup with Weber and must have gotten confused.
What Bachelor Nation thinks about the champagne incident involving Kelsey and Hannah Ann
Bachelor Nation absolutely ate up the entire incident, but different fans are siding with different people involved.
"I'm just getting caught up on #TheBachelor and BAHAHAHHA @ Kelsey for the champagne to the face after she was such a bully to Mykenna and Hannah Ann. Instant karma," wrote one fan siding with Hannah Ann.
Another fan thinks both women are partially at fault.
"ok kelsey was definitely being a b*tch about the champagne thing but hannah ann telling peter she was being bullied is straight snake like," they wrote.
Some fans called out Hannah Ann for the way she handled things.
"*Hannah Ann talking about the champagne fiasco* So now it's done and we are moving forward *also Hannah Ann* I'm going to have to talk to Peter about Kelsey and the champagne," tweeted one fan.
And some people think Hannah Ann knew she was drinking Kelsey's champagne.
"patiently waiting for woman tell all for Hannah Anne to say she knew D*MN WELL that it was Kelsey's champagne," wrote another.
Did the producers orchestrate Champagne-Gate?
Much of Bachelor Nation believes the producers were 100% behind Champagne-Gate.
"the producers orchestrating all of champagne gate," tweeted one fan along with the meme of a little girl smiling at the camera in front of a burning house.
"so you're telling me…..kelsey saved a special bottle of champagne for over a year and the producers told hannah ann to drink it with peter knowing it's gonna create drama THE DEVIL WORKS HARD BUT THE BACHELOR PRODUCERS WORK HARDER," tweeted another.
"The bachelor producers when they put an extra bottle of champagne out knowing that someone will mistake Kelsey's bottle for one of the bottles the producers left and start drama," tweeted another fan along with a picture of Mickey Mouse saying, "It's a surprise tool that will help us later."
To whomever was truly behind Champagne-Gate, Bachelor Nation thanks you.
But the one thing many of the show's fans seem to agree on is that Hannah Ann giving the final toast of the rose ceremony was the perfect, messy ending to the debacle.
"HANNAH ANN TAKING THE TOAST AFTER KELSEY REFUSES IS THE ACTUAL PERFECT ENDING TO CHAMPAGNE GATE," wrote another Twitter user.
Read more: 'The Bachelor': So Hannah Brown Asked Peter Weber to Run Away With Her and He Said No