Who Is in the Cast of HBO's 'Big Little Lies'?
Honestly, any show that has Reese Witherspoon throwing ice cream at Meryl Streep is okay by us. With 14 episodes under its belt, Big Little Lies became one of the most popular shows on this television network. Who is in the cast of HBO's Big Little Lies? Is the show returning for its third season? Here's what we know about the Golden Globe-nominated television show.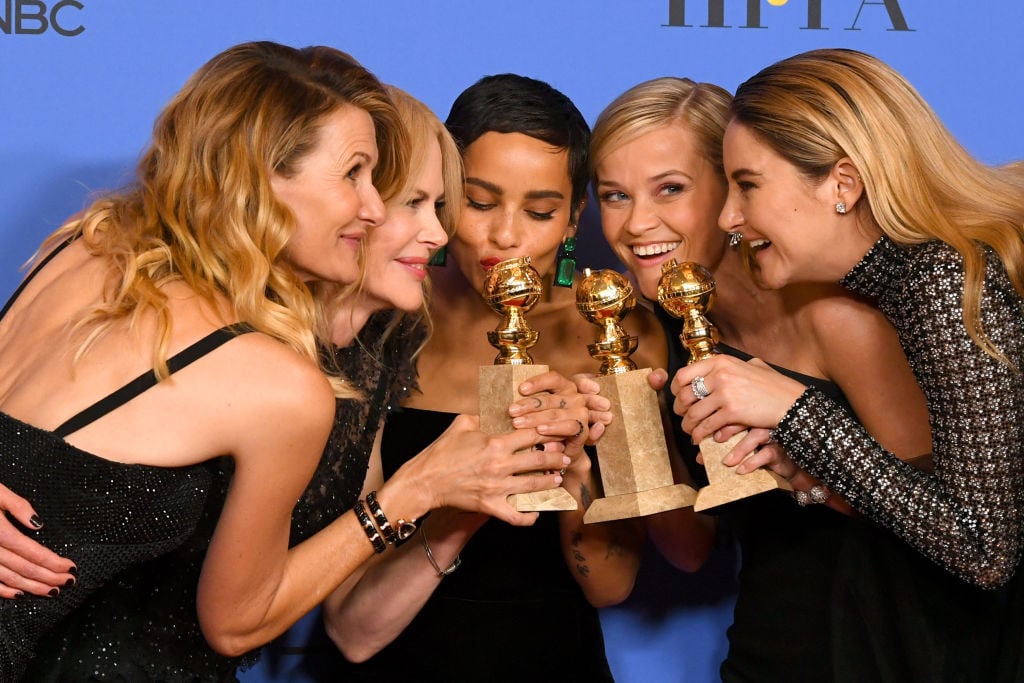 HBO's award-winning series features actresses like Reese Witherspoon and Laura Dern
What other show has a powerful, female-driven cast, murder, and mystery? HBO's Big Little Lies premiered during 2017 and has since launched 14 episodes for fans to fawn over. There are a handful of important characters, most portrayed by well-known and nominated actresses.
Shailene Woodley, the star of The Fault in Our Stars and Divergent portrays one of the main characters, Jane Chapman. Zoë Kravitz, known for her roles in Spider-Man: Into the Spider-Verse and Mad Max: Fury Road portrays Bonnie Carlson for 14 episodes, according to IMDB. However, the cast also includes Academy-award winning actresses like Meryl Streep and Nicole Kidman.
Some of the best-known cast members include Nicole Kidman and Meryl Streep
Nicole Kidman also has a starring role, as Celeste Wright. Nicole Kidman also acted in films such as The Goldfinch, Moulin Rouge, The Killing of a Sacred Deer, and Aquaman. Meryl Streep, with previous roles in The Devil Wears Prada, Into the Woods, Little Women, and Sophie's Choice appears in this HBO series.
"[My agent] said, 'Don't you want to read it [the script]?' I said no," Meryl Streep said during an interview with Vanity Fair. "It was the greatest thing on television, it really was. There isn't a woman in this room who wouldn't sign up."
Known (and loved) for her portrayal of Elle Woods in Legally Blonde, Reese Witherspoon is one of the cast members of Big Little Lies. (She even had an iconic ice-cream throwing moment with Meryl Streep in season 2!)
Some cast members of 'Big Little Lies' attended the Golden Globe awards, even earning a handful of nominations
In 2020, Big Little Lies earned three Golden Globe nominations — "Best Television Series – Drama," "Best Performance by an Actress In A Television Series – Drama," and "Best Supporting Actress in a Series, Miniseries, or Motion Picture Made for Television." Although they did not win in these categories, the show and its cast previously earned Golden Globes and Emmy Awards.
There's no word regarding when, or if Big Little Lies will return for HBO for its third season. However, actress Nicole Kidman says that a third season is "likely." During an interview with Elle, the actress elaborated on the possibility of future episodes.
"Everyone says, 'Are you going to do a season three?'" Kidman said during October 2019. "We're like, 'Just give us a sec.'" But she soon added, "We'd love to [do another season] because we love being together, and it's lovely spending time with your friends, and with such good material."
Until then, fans can binge-watch the first two seasons of Big Little Lies on the television network's streaming platform, HBO Go.