Who Did Taylor Swift Call out in 'The Man' Music Video (Aside From Scooter Braun)?
When Taylor Swift performed at the 2019 American Music Awards, it was her first performance to directly call attention to her feud with Scooter Braun. Now, with her music video for "The Man," she's done it again.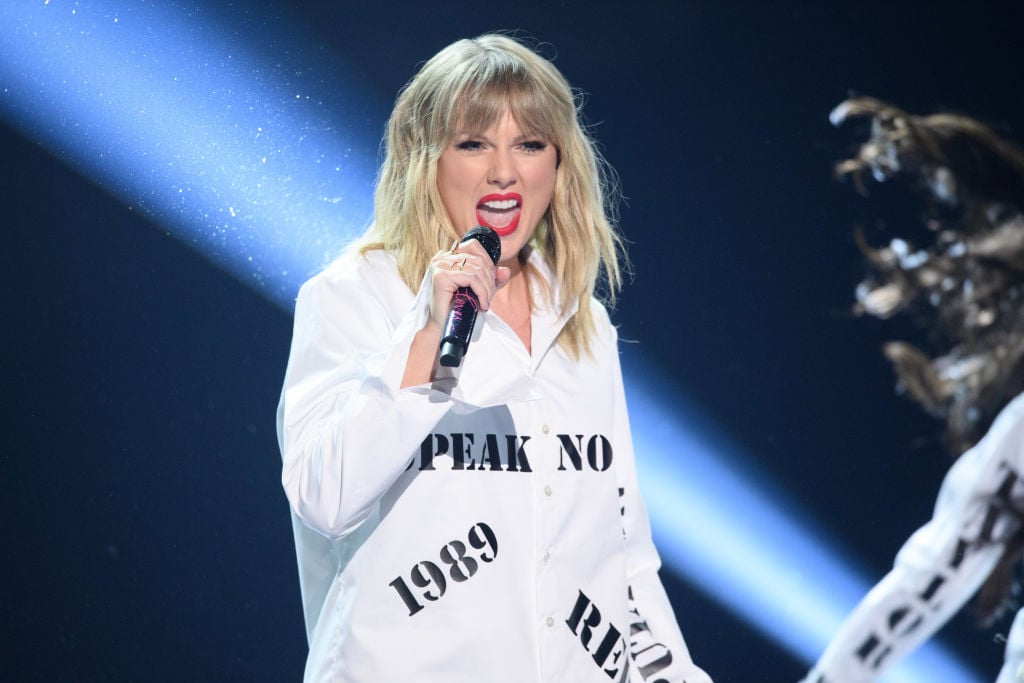 But Braun isn't the only big name Swift has recognized with her new video, released on Thursday, Feb. 27, 2020. Discover which other celebrities were the target of Swift's criticism — and the one who she felt deserved praise.
Taylor Swift's 'The Man' music video is finally here
For weeks, Swifties have been eagerly awaiting (and frequently speculating about) the music video for their favorite artist's fourth single, "The Man." A lyric video and a live performance video preceded it, all building further anticipation. But the day has finally arrived.
Swift's video, which is her solo directorial debut, did not disappoint. It featured the artist as a male version of herself (Tyler Swift), who lives out his life without consequences. Man-spreading on the subway, a casual one-night stand that earns him praise, and plenty more are featured.
She addresses her feud with Scooter Braun
Given her AMAs performance, and what she's said on the subject, fans had a feeling that "The Man" music video would address her feud with Braun, which has to do with the ownership of her master recordings for her first six albums. And she didn't disappoint.
The most obvious scene sees the titular man urinating on the wall of the 13th Street Station (13 is Swift's favorite number), marked by graffiti album titles. In addition to the "Missing: If found return to Taylor Swift" sign, there's another that indicates "no scooters allowed." It's clear what she's saying here: She's asked for what she wants clearly, and he has, for lack of a better term, p*ssed all over her request.
Swift also references Kanye West
When Swift first announced the music video on Feb. 25, 2020, she did so with the above image. Many were focused on the caption and the 19 hands (which some believe are a reference to the 19th amendment, which brought women the right to vote), but there's another element that stands out: The hallway, which looks a bit like one in Kanye West and Kim Kardashian West's house.
This was further emphasized by the scene in which it appears in the video. Male Swift is shown leaving a naked woman in bed, and then high-fiving the hands as he runs down the hall. Swift's most recent controversy with West was over a lookalike of her appearing next to him in bed in his video for the song "Famous," along with his lyrics, "I feel like me and Taylor might still have sex/Why? I made that b*tch famous."
Was this a nod to Jake Gyllenhaal?
Swift has a history with Easter eggs, that's for sure. And while some are very obvious (like the Braun ones), others are much more subtle. "The Man" music video is generally void of specific ex-boyfriend references. Given the subject, this isn't surprising. But there's one that may have made it's way in.
In the above image shared on Twitter, the Mr. Americana poster in the video (a play on the Swift documentary Miss Americana) is compared to that of Enemy, a 2014 thriller starring none other than Swift's ex, Jake Gyllenhaal. There's a pretty striking resemblance here.
But this actually doesn't appear to be a true dig at Gyllenhaal at all. The film in question is about a man who meets his doppelgänger, only by the end, you're unsure as to whether they were really just two sides of the same person. This message draws a clear parallel to Swift's "other persona" in "The Man."
The tennis scene was about Serena Williams
With "The Man," Swift primarily focuses on the issues that she personally has faced as woman in the music industry. But the video also takes aim at how sexist double standards are everywhere — including how they have affected another very famous woman: Serena Williams.
The tennis scene at the end of the video plays out similarly to a match in which Williams called out an umpire for sexism. While some took this as a negative critique, others recognized that Swift was actually showing support for Williams and the fight for gender equality everywhere.