Who Does Keanu Reeves Play in 'Toy Story 4?'
He's played an assassin, a hunky boyfriend, and now Canada's greatest stuntman. There's a new toy joining Woody, Buzz, and the rest of the gang. Find out which character in Disney and Pixar's Toy Story 4 is voiced by Keanu Reeves.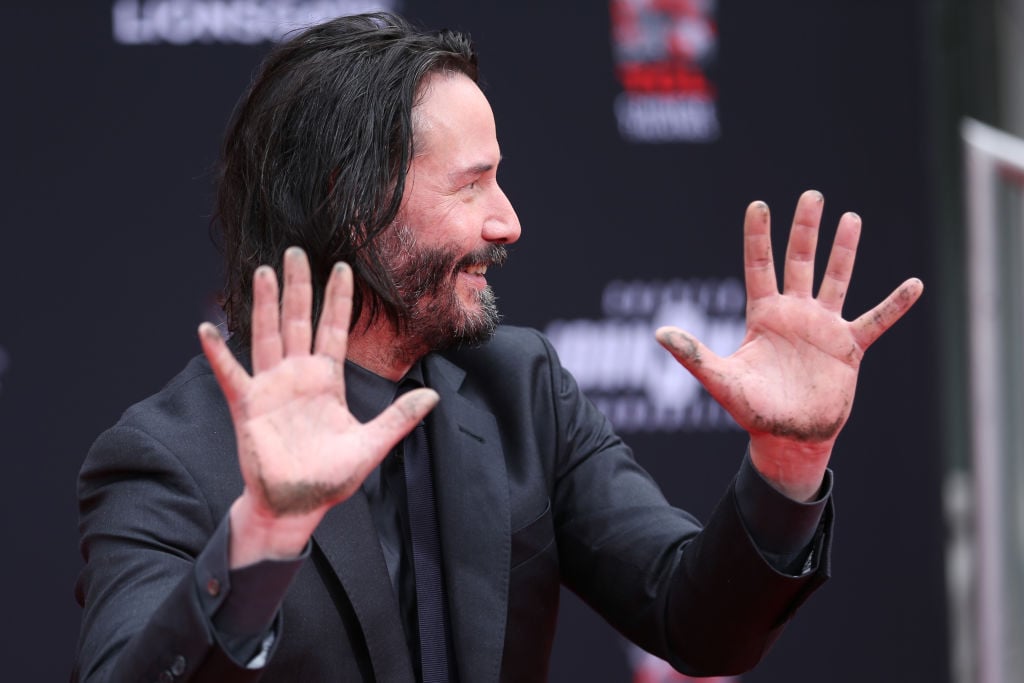 'Toy Story 4′ is not Keanu Reeves' first voice acting role
Keanu Reeves is known for his work on The Matrix and John Wick, but recently, he's been stepping outside of the box, getting opportunities with Pixar and even a video game. Cyberpunk 2077, an open-world, action-adventure story, features Keanu Reeves as one of the characters. The game will be released on April 16th, 2020.
Additionally, Keanu Reeves acted in Netflix's Always Be My Maybe. He also appeared in the television series, Bill & Ted's Excellent Adventures, as Ted Logan. In one of his upcoming films, Toy Story 4, Keanu Reeves plays the toy Duke Caboom, Canada's greatest stuntman.
Keanu Reeves' character is perfect for him

Some of the first reviews for Toy Story 4 are in. A majority of the reviews are positive, giving special praise to Keanu Reeves and his character, Duke Caboom.

"#ToyStory4 is simply delightful. A tightly paced narrative that harkens back to the feeling of the original 2 films featuring some of the franchises best comedy. A relatable & mature message that speaks to those who grew up with it. #DukeCaboom RULES! More Keanu please," said one Twitter user.
"#ToyStory4 has an ending as lovely and warm and heartbreaking as Toy Story 3. In between the genuine belly laughs (thanks, Duke Caboom) is a story that has the heart that Pixar is known for. Loved it," said another Twitter user.
From what fans can see in the trailer, Duke Caboom is a motorcycle-riding, pose-perfect toy, in addition to being a friend of Bo Peep. In a clip posted on Twitter, Keanu Reeves voices this character and acts out some of Duke's finest poses. It garnered attention from Toy Story lovers and celebrities, including Chris Evans.

'Toy Story 4' premieres in summer 2019
This movie features old friends, Woody, Buzz, Jessie, and Bullseye, along with a few other new friends. Jordan Peele and Keegan-Michael Key voice plush toy duo, Bunny and Ducky, respectively. Bo Peep, who was noticeably missing from Toy Story 3, returns to this movie, voiced by Annie Potts. Of course, Keanu Reeves voices Canadian stuntman, Duke Caboom.
Additionally, Bonnie makes a new toy out of a spork, named Forky. Presumably one of the main characters, Forky is voiced by Tony Hale. Toy Story 4 is the final installment of the Toy Story films and, according to Tim Allen, it's sure to make fans emotional.
"Yes, I gotta resist getting emotional, I don't want to give it away, but this is an incredibly great story. It is so emotional, it's so funny, it's so big, the idea they've come up with, I'm startled," said Allen in an interview. "I couldn't even get through the last scene. I would love to be a Washington leaker. I just can't do it; I can't give any more away."
Disney and Pixar's Toy Story 4 premieres in United States theaters on June 20, 2019.