Who Films Jennifer Garner's 'Pretend Cooking Show'?
Jennifer Garner began her Pretend Cooking Show on Dec. 20, 2017. The cooking and baking videos she shares on her social media accounts grew in popularity over the past several years. Many fans are begging for the 48-year-old actress to star in a real cooking show. Until that happens, who is filming Garner's Pretend Cooking Show?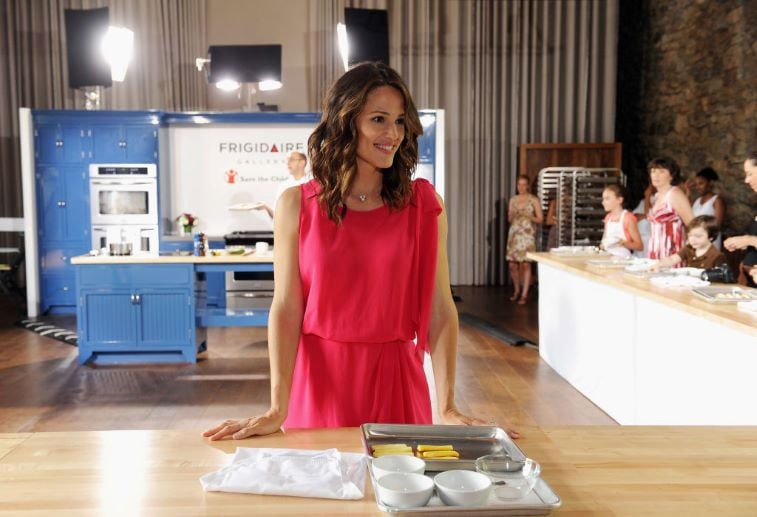 Will Jennifer Garner ever have a real cooking show?
Numerous fans and celebrities all want to know if Jennifer Garner will ever turn her Pretend Cooking Show into a real show on TV. The Rachael Ray Show recently shared a YouTube video where she asked Garner if she would ever have an actual cooking show.
"I am a geeky fan of cooking shows," Garner answered Rachael Ray. No matter how much she loves watching cooking shows, she won't be producing her own. "I don't know enough to have my own cooking show. I like a three and a half minute cooking show that I do with my friend in my kitchen and an iPhone, and it's done."
Although Ray told Garner that she set the kitchen on fire during her first show, Garner won't budge on the topic. The actress prefers to keep it fun and light in her kitchen at home. Martha Stewart also asked Garner about doing a real cooking show.
"I like doing a three or four-minute version in my pajamas at my house…but no, that's as far as I go," Garner answered Stewart during a Facebook live video, adding that she didn't have "any plans for a regular cooking show."
Who films Jennifer Garner's 'Pretend Cooking Show'?
Garner's long-time personal assistant, Maureen Grosser, is the woman behind the iPhone for the Pretend Cooking Show. The camerawoman turned assistant has been working personally with Garner for over seven years.
"People ask what social media company I use — well, I sit in the excellent company of @mogrosser, noodling on ideas, and edits, and captions, playing to our morphed-into-one funny bone," Garner wrote in a celebratory birthday post to Grosser.
Grosser organizes Garner's calendar, social media accounts, and travel arrangements. She often travels with the star. The actress said that Grosser "makes [The Pretend Cooking Show] funny and cute." Garner often calls Grosser her friend, not her assistant.
Where does Jennifer Garner get her recipes for her 'Pretend Cooking Show'?
Garner uses various sources for her recipes, but her original inspiration for the show came from the Barefoot Contessa Cookbooks by Ina Garten. She also uses an occasional Martha Stewart recipe, and several from a local Santa Monica, California, bakery and cafe — Huckleberry.
The Peppermint star even began reposting her recipes lately with a helpful quarantine hint.
"Quarantine note: if your pantry looks sketchy— milk with vinegar/lemon juice = buttermilk," read Garner's tip. "And All-Purpose flour works A-OK here."
Although early on in the coronavirus (COVID-19) pandemic Garner was quarantining with Grosser, there is no evidence that they are still together. No new videos were posted since the lockdown in California began.