Who Has a Higher Net Worth: Jennifer Lopez or Shakira?
Jennifer Lopez and Shakira are getting ready for the performance of a lifetime. For singers, performing at the Super Bowl is one of the biggest accomplishments that can be achieved. It means that you have really made it big. Super Bowl performers have to appeal to a wide enough audience that the millions of people watching the game will enjoy the performance. Which is why typically only artists who have had long and successful careers are asked to perform at the show.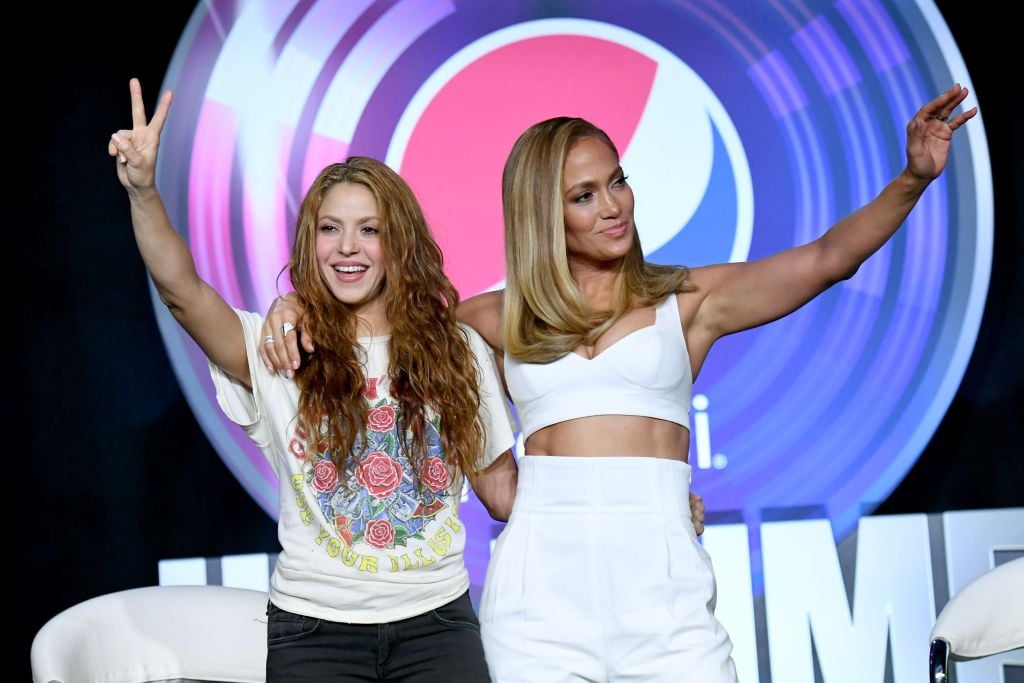 Lopez and Shakira both fit that description. Both women have achieved great success in their careers. But who is worth more?
Jennifer Lopez
Lopez has had a long and fruitful career. She started out as a dancer on In Living Color in 1991. She worked her way up to becoming a backup dancer for Janet Jackson in 1993. But her big break came when she played Selena Quintanilla-Pérez in her namesake movie. Lopez earned $1 million for playing the iconic singer. Later, she became the highest-paid Latina actress with her role in Out of Sight.
Since then, she has been in several other films, which have altogether grossed $3 billion.
In 1999, she released her first album, "On the 6." To date, she has released eight studio albums.
She also spent two seasons as a judge on American Idol, making $12 million per year. According to Celebrity Net Worth, between June 2017 and June 2018, the star earned $50 million for her various jobs, including starring in tv ads. Between June 2018 and 2019, she earned $43 million. She is currently worth $400 million.
Shakira
Shakira Isabel Mebarak Ripoll was born in Barranquilla, Colombia. When she was four, she heard a doumbek, a drum used in Arabic music, and began belly dancing. As she continued to learn how to belly dance, her friends and classmates started calling her "belly dancer girl." She, then, started learning to sing. Later, she met a theatre producer named Monica Ariza who was able to convince an executive at Sony Colombia to let Shakira audition for him in his hotel lobby. She scored a three-record deal from that meeting.
Shakira's first album, "Magia," came out in 1991, when she was just 13. She didn't start to gain noteriety until her 1995 album, "Pies Descalzos and then again with 1998's "Donde Estan los Ladrones?"
With her fifth album, "Laundry Service," Shakira branched into the English-speaking market. The album sold over 20 million copies.
Now, she has sold over 125 million albums making her the second most successful Latina singer in history, behind Gloria Estefan. She has won three Grammy Awards, thirteen Latin Grammy Awards, four MTV Video Music Awards, seven Billboard Music Awards and thirty-nine Billboard Latin Music Awards. She is also the most-streamed Latin artists on Spotify.
According to Celebrity Net Worth, Shakira is worth $300 million.
J. Lo and Shakira's half-time performance
J.Lo and Shakira have been prepping for their Super Bowl performance for a while.
"I'm putting it together now," J. Lo told Variety. "Me and Shakira together. We're both excited to have been given the opportunity to do that, as two Latin women, in Miami. I think it's important in this day and age for two Latin women to be standing on that stage — when Latinos are being treated a certain way in this country, or looked at a certain way — to show that we have a really specific and beautiful culture and worth and value, and we bring something to this country that's necessary. I think that's going to be an amazing moment. That night, I want it to be a celebration of who we are. All of us, because we're in this together."
Super Bowl LIV will air at 6:30 pm ET on Sunday, Feb. 2.