Who Has a Higher Net Worth, Megan Fox or Brian Austin Green?
Is it just us or is quarantining during the COVID-19 pandemic leading to a lot of breakups? Another celebrity couple has called it quits. This time, it's actress Megan Fox and her husband Brian Austin Green. After almost 10 years together, the two have decided that they are better off on their own.
When any couple gets divorced, especially celebrity pairs, people wonder about the couple's finances. Who made more money? And who is going to get more in the divorce?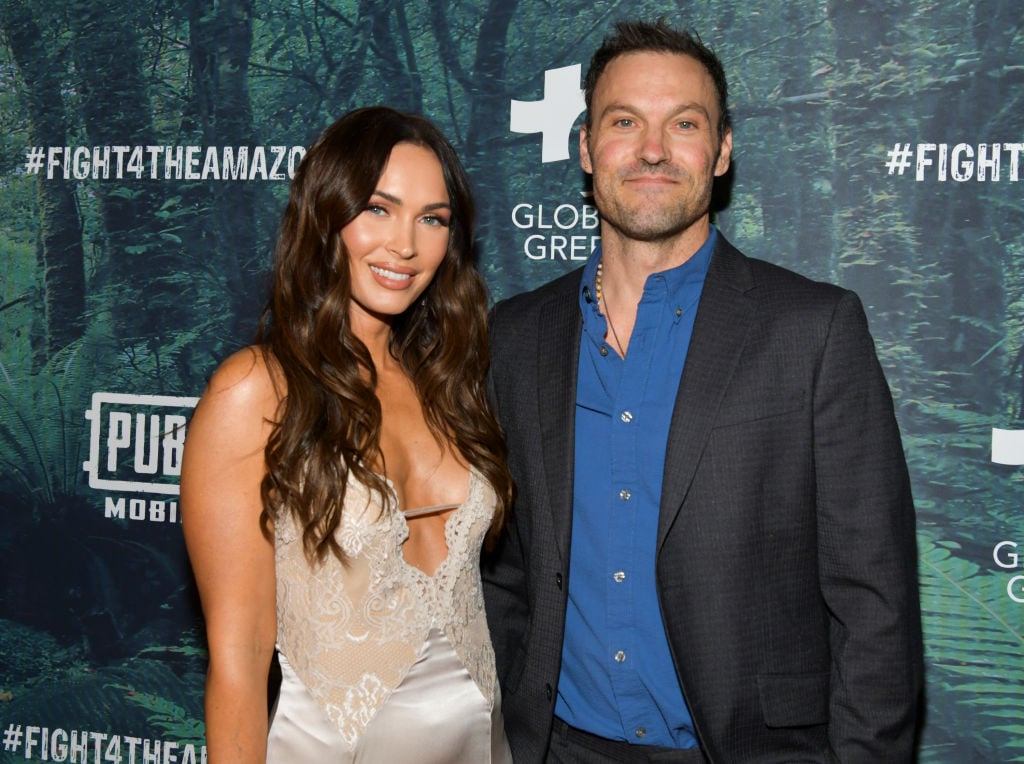 Megan Fox and Brian Austin Green's divorce
Rumors have been floating around about trouble in paradise for the two actors for a while. But recently, Green clarified what was going on between him and Fox.
"I will always love her," he said on the May 18 episode of his podcast…With Brian Austin Green. "And I know she will always love me and I know as far as a family what we have built is really cool and really special."
He went on to say that he and Fox will "still do family vacations and holidays as a family and really make that a focus for the kids." The two share three children, Noah, Bodhi, and Journey.
Green, who was obviously having a tough time with the split, went into more detail about how he was feeling.
"It sucks when life changes and something that you're used to, that you've been doing for 15 years, you try and not get rid of but you change," he said. "There's the unknown aspect…there's that pit in my stomach. I really don't want Megan and I to be at odds…she's been my best friend for 15 years and I don't want to lose that."
Fox had recently been pictured with rapper Machine Gun Kelly, causing people to wonder if she was cheating on her husband.
"She met this guy, Colson, on set…I've never met him…Megan and I have talked about him," Green said of Kelly, whose real name is Colson Baker. Green said that Fox and the rapper are just friends for now.
"I trust her judgment, she's always had really good judgment," he continued. "I don't want people to think her or he are villains or that I was a victim in any way."
What are Megan Fox's and Brian Austin Green's net worths?
Fox and Green's net worths are identical, according to Celebrity Net Worth. They each have a net worth of $8 million.
Fox has earned her money from her extensive acting career. Her first big role was in Mary-Kate and Ashley Olsen's 2001 Holiday in the Sun. Later, she appeared on What I Like About You and Two and a Half Men.
Her first feature film was in Lindsay Lohan's Confession of a Teenage Drama Queen in 2004. She went on to land a role in two seasons of the sitcom Hope and Faith.
But Fox's most notable role came in 2007 when she appeared as a main character in Transformers. The first film grossed $709.7 million worldwide. She reprised her role in the sequel, which grossed $835.2 million. Since then, Fox has appeared in a number of roles in films like Jennifer's Body and shows like New Girl.
Her latest venture is a crime thriller called Midnight in the Switchgrass, which she is working on with Kelly.
Green, on the other hand, has had a much longer career. He starred in the original Beverly Hills, 90210 and then returned in 2019 for the reboot BH90210.
He and Fox bought a home together in 2009 for $2.95 million and sold it in 2014 for $3.75 million. The last time they broke up, the two sold some of their assets including two LA homes for $2.6 million and $1.299 million.