Who Has Won More Awards: Blake Shelton or Gwen Stefani?
Gwen Stefani and Blake Shelton are one of music's most unexpected couples. The pair first met on the set of The Voice when Stefani joined the panel in 2014. Though the couple first denied rumors that they were dating, the chemistry between the two was undeniable. But it wasn't until late 2015 that the two singers finally admitted that they were a couple.
Four years later, Blake and Gwen are still going strong. And while they are loved as a couple, they each have passionate fans of their music. With such long and successful music careers, you have to wonder: "Who's won more awards? Shelton or Stefani?"
Stefani got her start as a pop icon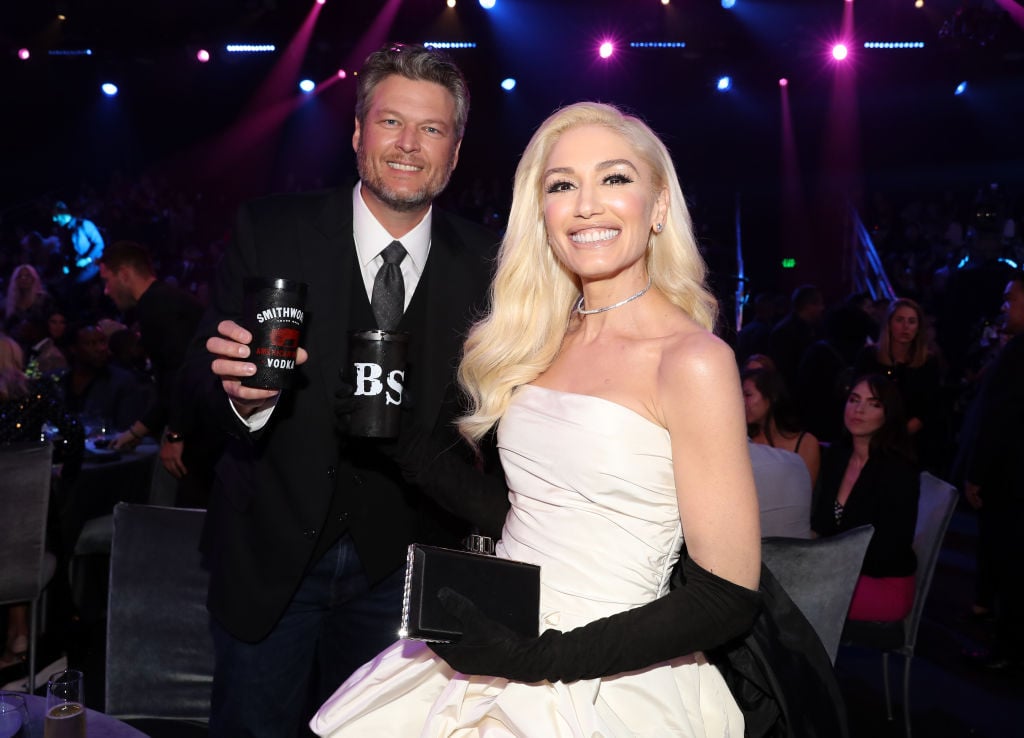 It's hard to beat the global recognition of Gwen Stefani. Her platinum hair, punk style, and distinctive voice have all leaned to a very successful and very long career. Stefani got her start as the lead singer of the punk-pop band No Doubt. The band first broke on the scene in the '90s with hits like "Don't Speak," and "Spiderwebs." But while No Doubt saw massive success, Stefani decided to try her hand as a solo artist. 
Stefani released her first solo album in 2004. Like her previous work with No Doubt, the singer saw immediate success. Over the past decade, Stefani has released several solo albums with one No. 1 hit and five songs making the top 10.
In 2014, she joined The Voice where she met and began dating Shelton. Stefani released her most recent album, "You Make It Feel Like Christmas" in 2017. 
Shelton is one of country music's biggest star
While Stefani was already a star in the '90s, Shelton didn't get his break until the early 2000s. In 2001, the country singer released the song "Austin," which made it all the way to No. 1 on the country music charts and stayed there for five weeks. 
Since his initial success, there has been no looking back for the Oklahoma native. Shelton is one of the most loved men in country music and has no problem filling stadiums across the country.
In 2011, Shelton joined The Voice, which instantly became popular among fans. Fans tuned in as much for the bromance between Shelton and co-judge Adam Levine as they did to hear the contestants sing. Today, Shelton remains the only original judge on the show.
Over the course of his career, Shelton has had 14 No. 1 hits, and 32 songs hit the top 10. As if he needed any more bragging rights, Shelton was named People's Sexiest Man Alive in 2017. Today Shelton continues to judge The Voice with his number one girl.
Which star has won the most awards?
So the big question is: which star has won the most awards? The answer is, it depends on where you look. If you take a look at the IMDB list for each star, it appears Stefani has the lead. The platinum star has her boyfriend beat when it comes to Grammys (she has one, he has none). Shelton has a Billboard award and a People's Choice Award, but Stefani has three Teen Choice Awards. 
But for country music fans, something doesn't add up. That's because IMDB doesn't list all of Shelton's CMA and ACM awards. Yes, Stefani doesn't do country, but IMDB lists all the other awards that are a big deal in the pop star's sphere.
When you look at country music awards, Shelton has won five ACM awards and nine CMA awards. In the grand scheme of things, does who has the most awards really matter? No. But something about this couple screams competitive, so there's no doubt that this topic has been looked at from every which way inside the Shelton-Stefani household.