Who Has Won More Awards: Blake Shelton or Miranda Lambert?
Four and a half years after their divorce, news about the one-time couple continues to spark interest. The artists themselves feed public curiosity with songs about and behavior toward each other since the split. Miranda Lambert's performances with the Pistol Annies "I Got My Name Changed Back" and "When I Was His Wife" fueled speculation they were leveled at Blake Shelton. Shelton's breakup anthem "She's Got a Way With Words" reverberated with acidity.
Lambert and her husband, Brendan McLoughlin, stoked the flames by refusing to participate in a standing ovation after Shelton performed his award-winning song "God's Country" at the 2019 Country Music Awards ceremony. Both Lambert and Shelton have garnered industry respect and recognition for their talent. Perhaps, the two can put acrimony aside at some point.
Rising stars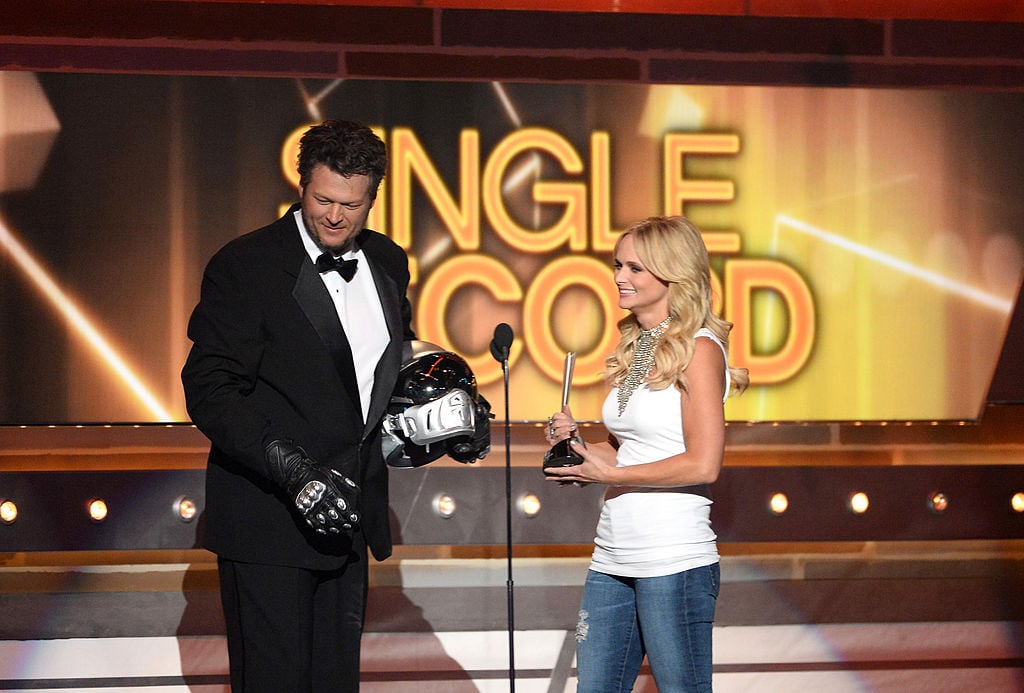 By the time Miranda Lambert and Blake Shelton met to perform "You're The Reason God Made Oklahoma" at the CMT 100 Greatest Duets concert in 2005, they were each well on their way to stardom.
In fact, "Austin," had already launched Shelton into his first No. 1 hit on Billboard's "Hot Country Singles" charts in 2001. "All Over Me" was another single off the debut Blake Shelton album that reached top 20 success and helped launch the album into platinum orbit.
Shelton's second album, Dreamer, followed in 2003, earning gold certification. His 2004 release of Blake Shelton's Barn & Grill, with its No. 1 singles "Some Beach" and "Nobody But Me," was also catapulted into platinum territory.
Lambert's turn on Nashville Star may have ended with a third-place ranking in 2003, but it secured the recognition she needed to move ahead in the industry. She was signed to Sony Music, producing her first No. 1 Billboard country album, Kerosene. She also earned a Grammy nomination for "Best Female Country Vocal Performance" for the album's title track.
Blake Shelton's award history
Shelton's recognition by the Academy of Country Music has included 21 nominations and five wins. He's earned 10 Country Music Association awards and 18 nominations. Shelton is also the recipient of nine CMT Music Awards and one CMT Artist of the Year award.
American Country Awards hold eight with Shelton's name, as do two American Music Awards, and five People's Choice Awards. Additionally, he's earned one Billboard Music Award and one iHeartRadio Music Award.
The awards keep coming for Shelton, as he's been honored with 27 American Society of Authors, Composers, and Publishers (ASCAP) awards and 27 Broadcast Music, Inc. (BMI) awards. He's also been inducted into the Grand Ole Opry.
While the coveted Grammy has escaped Shelton to date, he has gotten close with nine nominations, including one for the upcoming 2020 award show.
Miranda Lambert's award history
Lambert's Academy of Country Music wins total 34 with 63 nominations. She's topped the Country Music Association 13 times with 23 nominations. The artist has earned CMT's top honors seven times.
Five American Country Awards bear Miranda Lambert's name. She's also been the recipient of two Grammy Awards and 16 nominations, including two for the upcoming 2020 show.
The verdict
Blake Shelton has been honored with awards a total of 96 times, surpassing Miranda Lambert's showcase of 61 wins. With six of her albums reaching certified platinum numbers, Lambert is certainly a tough competitor.
Far from languishing on the sidelines, however, Shelton was recently honored by Warner Music Nashville executives with a plaque designating his 10 million platinum albums sold.
Each continues to produce new innovative material, and each has work nominated in the upcoming Grammy Awards. Shelton's "God's Country" is up for Solo Performance, and Lambert's "It All Comes Out in the Wash" for Best Country Song. Neither performer appears to be going away any time soon.