Who Has Won More Awards: Jennifer Lopez or Alex Rodriguez?
When Jennifer Lopez and Alex Rodriguez met by chance outside of a Beverly Hills restaurant in 2016, neither of them expected a romance to blossom. They each had full lives they were managing, and taking time out for a casual flirtation didn't seem to fit with their schedules.
Each seemed to have found the perfect connection with the other, and in March 2019, the couple announced their engagement. While they appear committed to supporting each other in their personal and professional lives, their individual talents have amassed an impressive collection of awards. So, just who has the most statues and plaques lining the shelves, Lopez or Rodriguez?
Alex Rodriguez's baseball career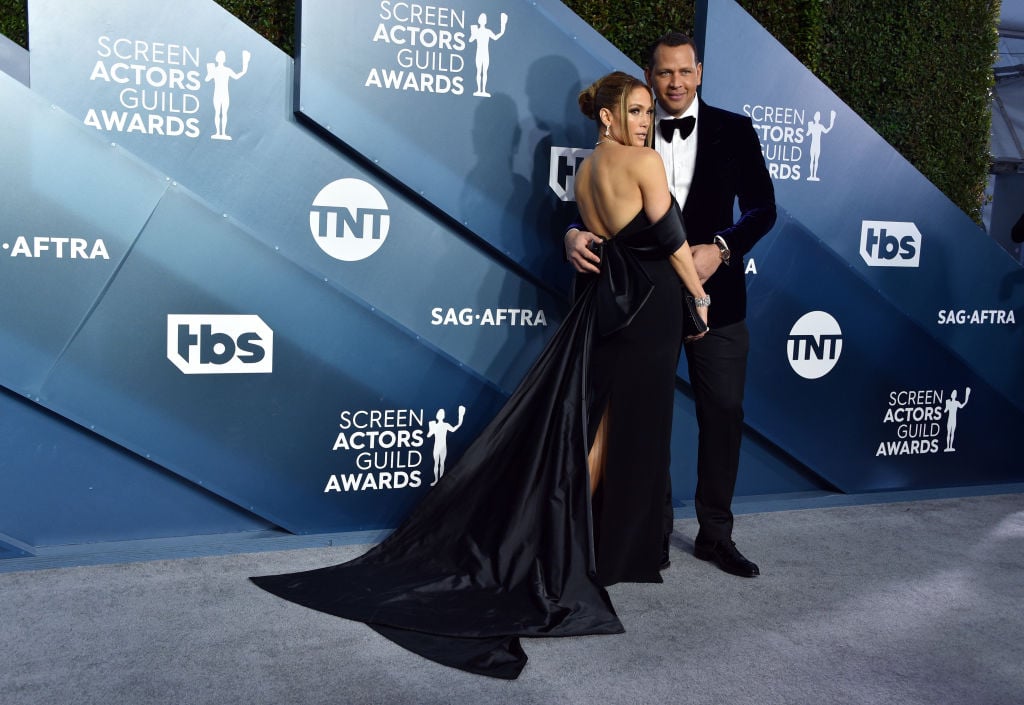 From an early age, Alex Rodriguez showed an affinity for sports during his Miami, Florida school years, but he finally focused on baseball.
He originally committed to attend the University of Miami on a baseball scholarship, but Rodriguez elected to forego playing college ball and signed with the Seattle Mariners 1993 when he was 18.  His three-year contract earned Rodriguez $1.3 million. His debut with the team on July 1, 1994, marked the debut of the youngest player to join the major leagues since 1984.
During his second year with the Mariners, Rodriguez joined the '40-40 Club,' a distinction earned for hitting 40 home runs and stealing 40 bases. Jose Canseco and Rodriguez are the only American League players to make the list, while Barry Bonds and Alfonso Soriano reign in the National League.
When Rodriguez signed on with the Texas Rangers in December 2000, the $252 million inked marked the "highest ever paid in sports at the time." He moved on to sign another record-high contract with the New York Yankees in 2004 at a total of $275 million.
Rodriguez's performance began to slip in 2010 after knee and hip surgeries. With continued legal pressure and game suspensions, he finally admitted in 2014 that he'd used steroids. Returning to the diamond for the 2015 season, Rodriguez surpassed Willie Mays with 661 home runs. He retired after an August 12, 2016 game between the New York Yankees and the Tampa Bay Rays.
Alex Rodriguez garnered a total of 59 awards, including three-time MVP honors, three-time Babe Ruth Home Run honors, four Hank Aaron awards, six GIBBY Outstanding Player awards, 10 Silver Slugger awards, and earning a spot 14 times on the American League All-Star team. Rodriguez is also a contributing member of the New York Yankees' 2009 World Series Championship.
Jennifer Lopez's triple-threat career
Born in the Bronx in 1969, Jennifer Lopez was a natural athlete from an early age. By 1990, Lopez had won a national competition, earning her a spot as a dancer on the Fox television comedy In Living Color.
Her first feature film, 1995's Money Train, won her critical acclaim, and it opened the door for her breakout title role in 1997's Selena.
By 1999, Lopez's music career was picking up. "If You Had My Love," her debut single from the Latin pop album, On the 6, went platinum. The entertainer proved her talent throughout the mid-2000s. Lopez had reached the top of her musical and acting game with the release of 2001's No. 1 J. Lo album and The Wedding Planner in theaters.
Lopez opted to switch gears in 2008 and focus on raising the twins she had with husband Marc Anthony. She signed on as a judge for American Idol's 10th season, premiering in January 2011. Lopez remained with the popular singing competition series through the 11th season and returned again for the 13th through the 16th and final season.
She's cited American Idol as turning her career around. It gave her a chance to relaunch her popularity by appearing in front of millions of fans each week.
Recognition for Jennifer Lopez's work includes seven ALMA Awards, three American Music Awards, 12 Billboard Awards, two Golden Raspberry Awards (Gigli), four MTV Music Video Awards, four People's Choice Awards, and nine Teen Choice Awards.
And the winner is . . .
Rodriguez earned a total of 59 awards plus winning the World Series, bringing his grand total to 60. By contrast, Lopez numbers come to 41.
Rodriguez is the clear winner in this competition; however, each enjoys an adoring fan base that appreciates their respective talents.