Who Is Actress Meagan Good's Husband, DeVon Franklin, and How Long Have They Been Married?
Meagan Good and DeVon Franklin have been married since 2012. The actress met the film producer on the set of a film she had a role in.
Meagan Good scored her first movie role when she was 10-years-old and later became a teen heartthrob when she starred in the Nickelodeon sitcom Cousin Skeeter for three years. Good went on to be lauded as a sex symbol in her adulthood as she played the leading lady in a few cult classics. Her beauty garnered the attention of many and she dated a few well-known hunks before meeting the man of her dreams in her now-husband, DeVon Franklin.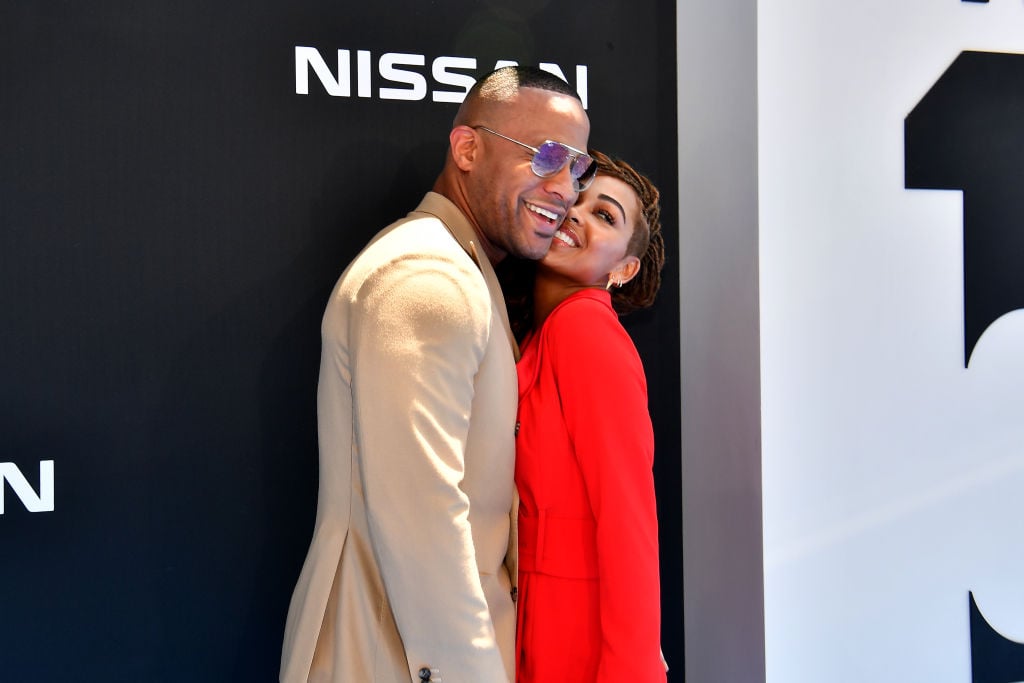 Who is DeVon Franklin?
Franklin is a film producer, author, preacher and motivational speaker. Raised in Oakland, California as a Seventh-day Adventist, he grew up with strict religious beliefs and have credited his faith to his career success. 
He got his start in the business as an intern for Will Smith at Smith's film production company, Overbrook Entertainment. He accepted a position with the company after graduating from USC. After four years at the company, feeling stagnant, he resigned with no other job offer. Within a month, he was offered a job as a junior executive at Tracey Edmonds' company, Edmonds Entertainment. Franklin detailed his career journey in his 2012 memoir, Produced By Faith. 
He eventually landed at Sony's Columbia Pictures where he was Director of Development. He made it his mission to produce quality work with positive messages. While at Columbia, he oversaw films such as The Pursuit of Happyness, Not Easily Broken, Sparkle and The Karate Kid. He started Franklin Entertainment in 2014. 
Franklin miraculously has never missed a church service, despite his very demanding career. He's always put his faith first. He began preaching at the age of 15 and continues today at Lakewood Church. 
It's worked well for him as he's been praised for his works which have included being named one of the Most Influential Christians Under 40 by Beliefnet, one of the Top Producers To Watch by Variety Magazine and one of the Top 100 Influential African Americans in America by Ebony Magazine.
Meagan Good and DeVon Franklin's marriage
In 2011, Franklin and Good began dating. They met on the set of the film Jumping the Broom, which Franklin produced and Good starred in. It was instant chemistry from Good's end. She says she knew Franklin would be her husband even before they began dating. For Franklin, his attraction to his future wife took time as he vowed to never date an actress. 
Abiding by his faith, Franklin was celibate for over a decade prior to dating Good. She was also in the transitional period of trying out celibacy for the third time and knew that Franklin was the man for her when she discovered they shared the same values. They married in Malibu, California in 2012. 
They shared their story of waiting to become intimate until marriage in their 2015 book, The Wait. The book went on to become a bestseller. 
They are both fiercely protective of one another. Franklin has supported Good through serious criticism she's received for her sexy image from the Christian community. He was praised for his defense of Good following an interview they did while promoting their book. When an audience member asked if Good would "cover up," Franklin shot back that Good would wear whatever she wants "in the name of Jesus." Good smiled and kissed her husband through tears as the audience cheered.
Good has been open about the caliber of man Franklin is to her. They've been married for seven years and recently announced that they are planning to start a family.