Who Is Adam Driver Married To?
Adam Driver is a widely regarded Hollywood actor, known for his roles in the Star Wars sequel trilogy and Marriage Story. But did you know he was also a husband and a father?
As a private person, Driver keeps many aspects of his life under wraps, though interestingly his wife is also a performer. Who is Adam Driver's wife? Read on to find out.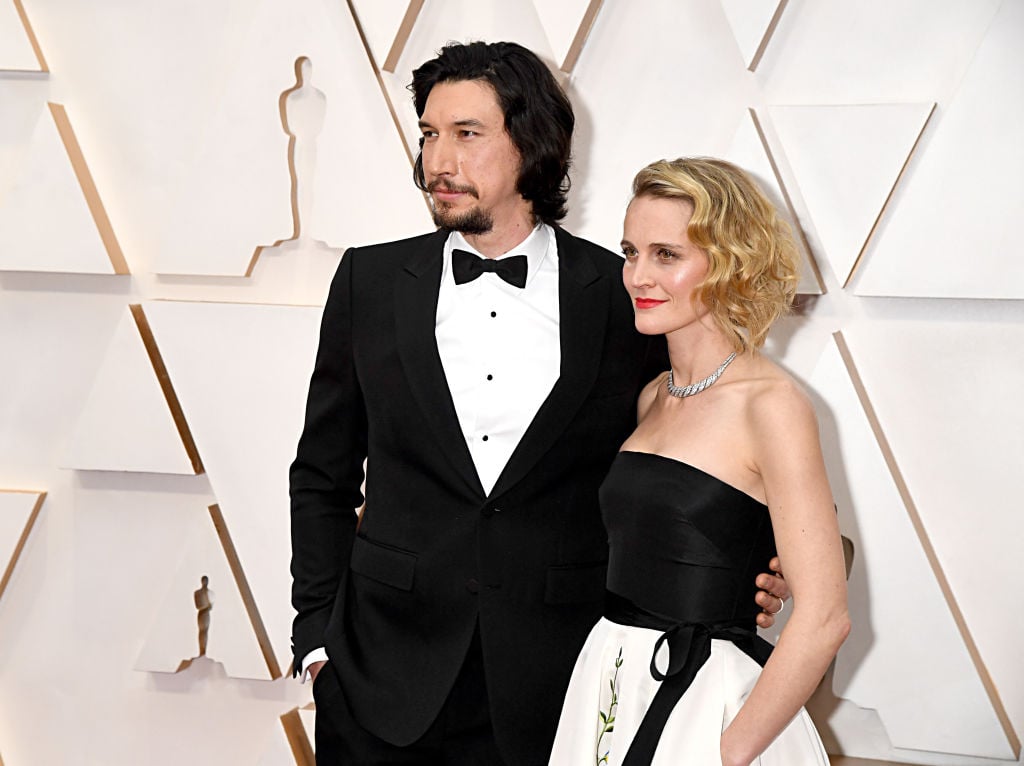 Adam Driver's rise to Hollywood success
Driver was born in 1983 in San Diego to Nancy Wright and Joe Driver. After his parents divorced, Driver was raised in Mishawaka, Indiana. Before he started a career in acting, the attacks on Sept. 11, 2001, inspired Driver to enlist in the military, where he served as a mortarman for over two years.
Driver's breakout role was playing Adam Sackler, the main love interest of Lena Dunham's character, Hannah Horvath, on the HBO series Girls. He starred alongside the likes of Allison Williams, Zosia Mamet, Jemima Kirke, and The Book of Mormon star Andrew Rannells. 
After his success on Girls, Driver became known for his role as Kylo Ren, the commander of the First Order in the latest Star Wars movies. Driver has also been in several other films, including Netflix's Marriage Story, Spike Lee's BlacKkKlansman, Silence, Inside Llewyn Davis, and The Report. 
How did Adam Driver meet his wife?
Driver was medically discharged from the military due to a mountain biking incident in which he dislocated his sternum. After he was discharged, Driver enrolled in the Juilliard School, where he met his future wife. 
Driver married fellow actress Joanne Tucker in a private ceremony in 2013. Tucker starred in Girls with Driver, playing a character named Ruthie in an episode titled "Hello Kitty." Tucker also starred alongside her husband in The Report. 
Together, the couple started Arts in the Armed Forces. This nonprofit organization makes arts programming free and readily available to active-duty military, veterans, and their families. 
Driver and Tucker have a son. They managed to keep his birth a secret from the press for nearly two years. In an interview with The New Yorker, Driver recalled maintaining that level of privacy, calling his son's hidden existence a "military operation." 
Driver lives with his family and their rescue dog, Moose, in Brooklyn Heights.
What's next for Adam Driver?
Driver has a few upcoming roles. He plays a stand-up comedian in the Annette, a movie about a 2-year-old girl with a surprising gift. The film is currently in post-production and scheduled for a 2020 release. 
Driver will also star in the Ridley Scott film The Last Duel, which will be released in 2021. The movie tells the story of a woman who is raped by her husband's friend. When no one believes her, her husband challenges the friend to a duel. The film will also star Ben Affleck and Matt Damon.