Who is Avril Lavigne Dating?
Avril Lavigne has had her ups and downs in relationships, just like the rest of us. She's been married twice, first to Sum 41 singer Deryck Whibley in 2006, and then to Nickelback singer Chad Kroeger in 2013.
While both relationships ended in divorce, she's been open about how she is still on extremely good terms with both of her ex-husbands. So, who is Avril Lavigne dating now?
Avril Lavigne's past relationships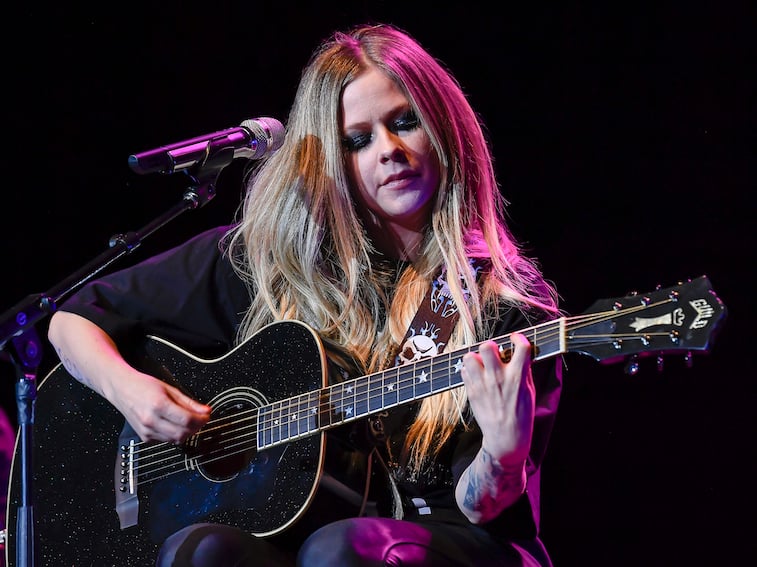 Before getting together with her current partner, Lavigne was dating billionaire investor Phillip Sarofim. The two were first spotted together in early 2018 and were together for about a year and a half before Lavigne met and started seeing someone new.
She and Sarofim reportedly met through mutual friends and were seen together multiple times during the duration of their relationship, but Lavigne would rarely comment on it, preferring to keep her personal life quiet.
Prior to becoming close with Sarofim, Lavigne struck up a relationship with music producer J.R. Rotem.
Rotem, who has worked with Maroon 5, Gwen Stefani, and Nicki Minaj, met Lavigne while he helped work on her sixth album, Head Above Water, which was released in February 2019. The couple quietly split up in 2018.
Avril Lavigne is dating Pete Jonas
Lavigne attended Clive Davis's pre-Grammy Awards gala alongside musician Pete Jonas of Jagwar Twin. While neither has commented publicly on their relationship, the pair were seen holding hands, posing for pictures, and embracing at the pre-Grammy Awards event.
Jonas has also posted photos of the two of them together on his Instagram. Lavigne and Jonas were first spotted together in November, before Lavigne had confirmed her split from her previous boyfriend, Phillip Sarofim.
How did Avril Lavigne and Pete Jonas meet?
Lavigne and Jonas presumably met when the group Jonas performs with, Jagwar Twin, opened for Lavigne last fall. Singer of the group, Roy English, has spoken kindly about performing on Lavigne's tour, calling her "so warm and kind to all of us on tour."
Saying that the touring life was new to the group, Lavigne was generous with her advice about surviving and thriving on the road and performing multiple shows each week at large venues to huge groups of people.
Avril Lavigne isn't giving up on love any time soon
Having two divorces under her belt isn't stopping Lavigne from considering marriage again in the future. She has spoken openly about her past relationships and has said that the fact that she's had two failed marriages doesn't change anything for her.
"I don't really care so much about that," she has said. "I just care about being in a healthy relationship and just being happy. I believe in love." When asked if she would consider getting married again, she said, "of course."
For Lavigne, her past marriages were stepping stones in the story of her life. She has remained on great terms with both of her ex-husbands, sharing that their families became a part of her family and she doesn't want that to change just because she and her exes decided to go in different directions.
She and Kroeger have continued to work on her music together and she regularly keeps in touch with him and Whibley, as well as both of their families.
Will Jonas be the next person to commit Lavigne to marriage? Time will tell, but they appeared happy and enjoying each other's company when they were spotted at the pre-Grammy Awards gala last month.
Lavigne starts the Europe/Asia leg of her Head Above Water tour in March.