Who Is Betty Ting Pei and What Is Real Her Link to Bruce Lee?
Find out more about Betty Ting Pei and her relationship with Bruce Lee.
Because of their connection to the public, celebrity deaths — especially untimely ones — tend to really have an impact. When a celebrity dies in a mysterious way, it can leave a trail of conspiracy theories, rumors, and whispered tales for decades.
This is the case for Bruce Lee, the famous martial arts legend and movie star who died more than forty years ago. Now, as a new documentary has brought his name back to the headlines, people are refocusing their attention on the Taiwanese actor Betty Ting Pei who was with him when he died. 
Bruce Lee's death was scandalous
Lee died in 1973 when he was just 32 years old. At first, Lee's business partner Raymond Chow told the press that Lee died at home with his wife, Linda Lee Cadwell. However, that was not actually true.
The fact was that Lee died in the apartment of Taiwanese film star Betty Ting Pei, and his business partner was trying to avoid adding scandal to Lee's untimely death. Perhaps ironically, Chow's lie ended up causing even more speculation and rumor to surround the incident. 
Conspiracy theories swirled. Some suggested that Pei herself had killed Lee. Others thought Chow was to blame.
Outlandish tales suspected everyone from Chinese Triads — a branch of organized crime — to Japanese ninjas. When a major star's life ends so early, fans want someone or something to blame, and the fact that he was found in an apartment with a woman who was not his wife helped add fuel to the fire.
Bruce Lee actually died of brain swelling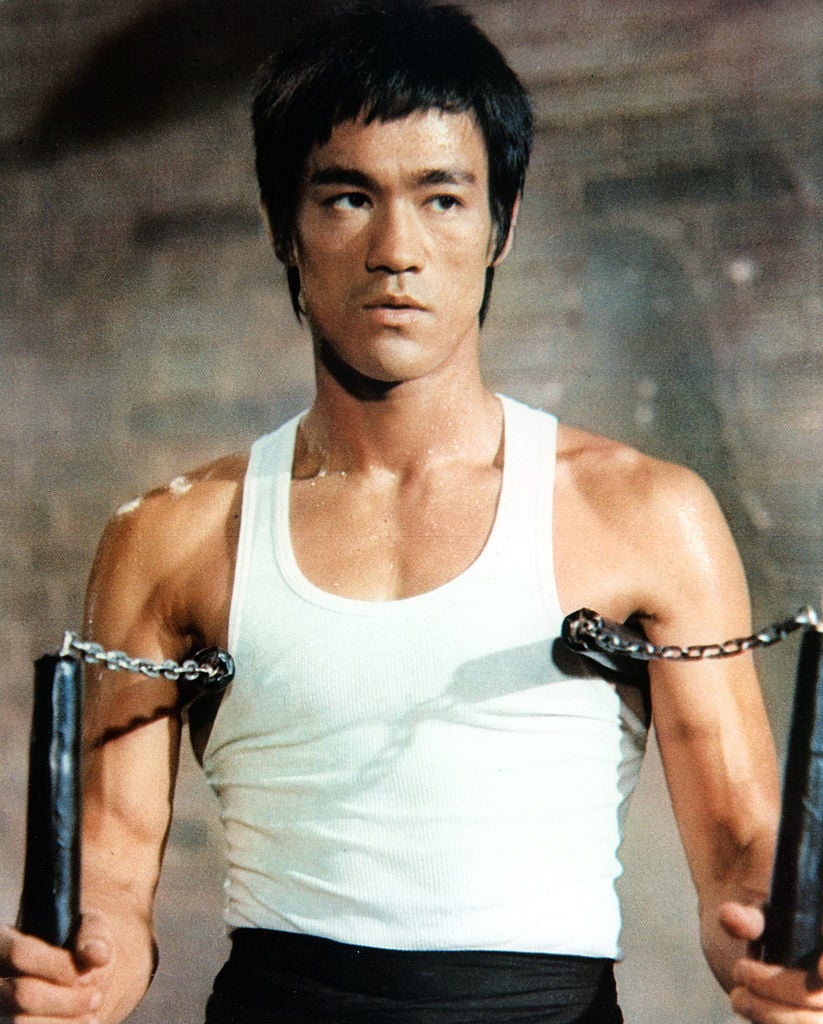 The official cause of Lee's death was cerebral edema — swelling of the brain. Matthew Polly, the author of Lee's biography actually suspects heatstroke may have been the source of the swelling that ultimately killed Lee.
Lee had undergone surgery to remove sweat glands to keep from getting unsightly stains while on set, wanting to keep his professional appearance. The day he died was a particularly sweltering one. Media outlets ultimately blamed an aspirin allergy for the incident.
Whatever the case, it is unlikely that Betty Ting Pei was behind it. For years, Pei insisted that she and Lee were just friends, but she did admit in a 2006 interview that they had been lovers for more than a year when he died. 
On the day that Lee died, Pei was watching TV while Lee went to rest on her bed. Within half an hour, she called Chow in hysterics because she couldn't get Lee to wake up.
Chow recognized the way that the situation would look to the media, so he panicked and dressed Lee before calling in a doctor. The doctor tried to revive Lee for 10 minutes before giving up and admitting that the star was gone. The tragedy haunted Chow and Pei from that day forward. 
Association with the death ruined Betty Ting Pei's career
Pei was an up-and-coming actor at the time of Lee's death. She had signed with the Shaw Brothers Studio in Hong Kong in 1968 and already had several film credits to her name.
When Lee was found dead in her apartment, the criticism, attention, and grief proved to be overwhelming for Pei. She blames the negative attention and constant association with the tragedy for ruining her career. 
While she did continue to act up until the 1980s — including in some English-language films such as The Lost Generation and My Name Ain't Suzie — her career never really took off, and she was not able to shake off the stigma of having been associated with Lee's death. To this day, her name is still connected to his death, and she still lives under the shadow of the speculation and questions surrounding the incident.