Who is 'Blue Bloods' Actress Vanessa Ray's Husband?
Whether fans know Vanessa Ray from Pretty Little Liars or Blue Bloods, they might know her background is full of musical theater. So it's fitting that she recently married a Four Season— at least a Four Season adjacent.
That would be Landon Beard. Beard is not a household name, but he's known in music and theater circles as a singer supporting the famed band Frankie Valli and the Four Seasons on tour. What makes the real life love story even more interesting is that it mirrors Ray's fictional one on Blue Bloods. 
Who is Landon Beard, besides Vanessa Ray's husband?
Beard is mostly a background player who has taken a few steps out to the front of the stage in his musical career. He's also dated a fellow singer before: Lea Michele. The actress most famous for Glee dated Beard when she starred in Spring Awakening in 2008, before Glee made her fame national. 
In his bio for Frankie Valli and the Four Seasons on Broadway, Beard writes that his career began with a Kodak commercial when he was three years old. His most notable gig has been with Frankie Valli, although to be clear, this is not the Broadway hit Jersey Boys about the legendary 60s band. This is for Frankie Valli and the Four Seasons on Broadway, featuring Valli himself. 
His Playbill biography reads, "When not on the road with Mr. Valli, Landon tours with his group The Modern Gentlemen with his fellow FV singers, Brian, Brandon and Todd. Stay tuned! Thanks to his family, friends and his beautiful new wife, Vanessa!"
Vanessa Ray has sung a lot in her early career
Pretty Little Liars and Blue Bloods are not known for musical numbers, but Ray cut her teeth on musicals. Ray earned her Actors Equity card playing Rusty who sings "Let's Hear it for the Boy" from Footloose. Other performances include originating the role of Nemo in the Finding Nemo musical at Disney World in Orlando. She also performed in Hair on Broadway. 
Her big break came in 2013 when she got the role of CeCe Drake in Pretty Little Liars. She said of her character, a blonde stylist, "It's so fun to do, and what a crazy character I get to play. She's sort of a sociopath. I think she's so weird because she's, like, 22 but hangs out with high-schoolers."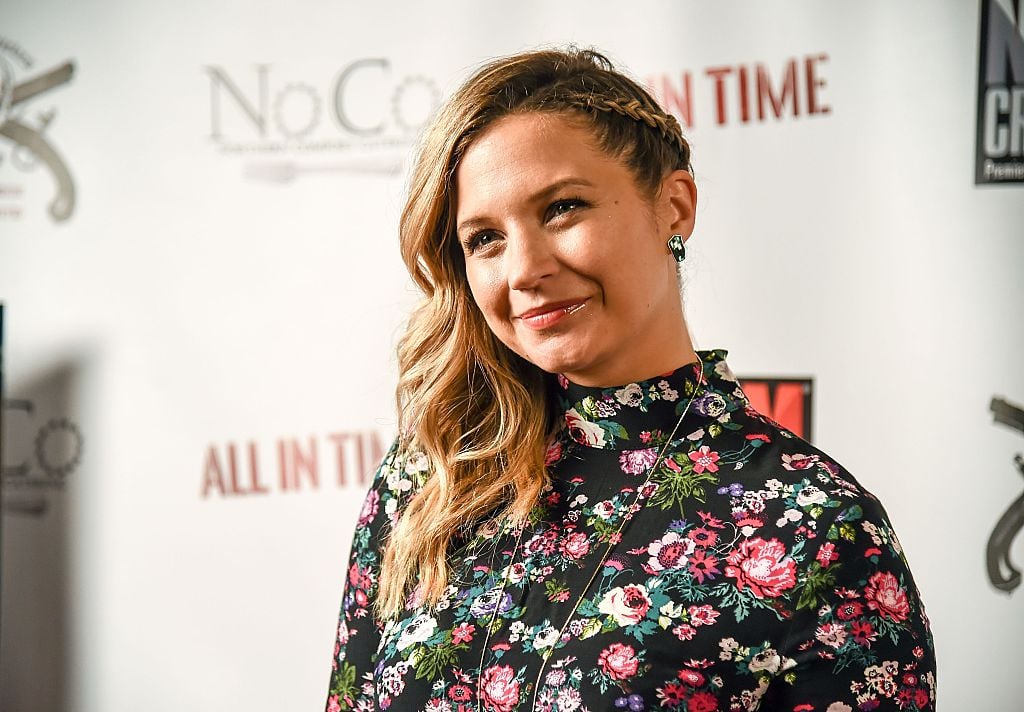 After Pretty Little Lies ran its course, she joined the cast of Blue Bloods during its fourth season, playing the rookie cop Eddie Janko who hooks up with Eddie Reagan in more ways than one. That remains her main gig to this day. 
Vanessa and Eddie both got married
Vanessa Ray married Landon Beard in 2015. As reported by the wedding site The Knot, the ceremony was so relaxed that "guests were given tambourines to create their own playlist of sorts, and both the bride and groom's fathers officiated the ceremony."
Not long after that, art imitated life, and Ray's character Eddie married Jamie Regan, played by Will Estes. Eddie had been a rookie cop that Eddie was none too pleased about overseeing, but the pair engaged in a risky relationship culminating in nuptials. Ray told CBS that "aside from the romance, there are so many times one of our conversations will end up in the story. I'll look at a script and be like, We just had this argument or We just talked about that thing!"
Ray also told CBS about her how real life wedding deviated from the imaginary one. The two actually crossed because Landon came to the dress fitting for Blue Bloods.
She said, "He really did give his two cents. It was a collaboration. Our costume person, Michael Woll, and I found one we were all happiest with. When I actually got married it was a nontraditional dress. This is the complete opposite; it's very traditional. Mine was pale pink with a green muslin skirt and a separate fitted top. It was a very hippie-girl-in-the-trees kind of feel."