Who is Buffalo Bills Quarterback Josh Allen's Girlfriend, Brittany Williams?
Josh Allen was selected by the Buffalo Bills with the seventh overall pick in the 2018 NFL Draft, behind fellow quarterbacks Baker Mayfield and Sam Darnold. The pick made Allen the highest-drafted quarterback in the Bills franchise history. For anyone wondering Bills legend Jim Kelly was drafted 14th. Now, with Allen, fans are hoping the team can get back to its winning ways and ultimately a Super Bowl.
Here are a few things you probably didn't know about Allen and his girlfriend, Brittany Williams, who you've likely seen on his Instagram page a number of times.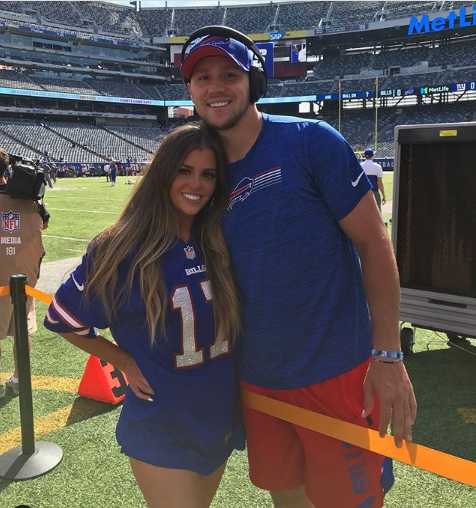 How long Williams and Allen have been dating
The athlete and his girlfriend both grew up in California and were together before Allen signed with the Bills.
According to a post on Williams' Instagram, they knew each other since they were kids but didn't start dating until 2017.
"My 8 year old crush turned out to be my boyfriend a few years later 😏🖤 I love you! #1yeardown #bae," she captioned a pic of them side by side.
In another post, Wiliams made a reference to their childhood again. She wished her man a happy birthday and then thanked him for "flirting with me when we were 8 years old."
Williams was a cheerleader at the college Allen wanted to go to
While the couple dated in college they did not attend the same school. Williams went to Fresno State where she was a cheerleader and Allen went to the University of Wyoming when Fresno didn't recruit him. The fact that he wasn't drafted by the school he grew up rooting for was a huge blow but something Allen used as motivation.
"I used that nonbelief as fuel to my fire," he told the Denver Post. "If you didn't want to believe in me, that's OK, because I'll make a believer out of you. It's not been my mission, but it's been kind of icing on the cake to this whole thing. Obviously, I didn't get looked at and didn't get recruited by Fresno State or any other school in the nation, to be honest. It has always been my goal to go into every game and show you why you should have recruited me."
Williams would make time whenever she could to visit her beau at Wyoming and watch him play. Unfortunately, when the two teams went head to head on Nov. 18, 2017, Allen was out with an injury. Fresno ended up winning that contest 13-7.
The following April, Williams was by Allen's side on draft night.
Williams appeared in a photo with Allen in Patriots gear
From trips to Disneyland to Halloween parties, Allen and Williams aren't shy when it comes to posting photos of each other on social media. But in September 2019, an old post of them went viral and horrified Bills fans as it showed the quarterback in a Tom Brady jersey.
It's true that Allen did grow up a Patriots fan and even attended games with his father. Today though his allegiance is only to the team he plays for and it's just a bonus that he gets to play against his idol a couple of times a year.
Read more: Who Is Mitch Trubisky's Girlfriend, Hillary Gallagher?