Who is Cardi B's Sister Hennessy Carolina?
Cardi B exploded into fame. Although she was relatively unheard of a few years ago, she's launched herself into the limelight, and she's now a household name. She doesn't take her influence lightly, either. She's gotten political this year, and has talked policy with some presidential candidates. She hopes to stay informed so she can help her fans make the right decision in the voting booth.
It turns out Cardi is not the only famous one in her family. Her sister, Hennessy Carolina, isn't quite as big as she is. Still, Hennessy has a strong social media presence, and she's taking steps to become a big name like her sister.
Hennessy has worked as a model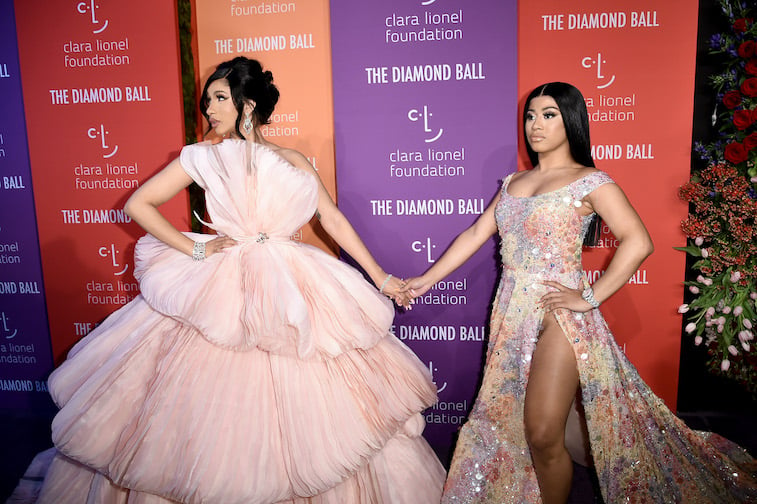 In fact, her name was on a whole fashion line. Last year, Hennessy partnered with Boohoo for the Boohoo x Hennessy Carolina collection. The line came out just in time for the holidays, and Hennessy modeled the clothes for the campaign.
The photos were taken by Charlotte Rutherford, and styled by William Lenov. The theme of the campaign was "No More Parties." In the pics, Hennessy can be seen posing in empty party venues, wearing the looks from her line.
The clothes Hennessy designed are party looks and feature a ton of bright colors and shine. They're not dissimilar to what her sister, Cardi, would wear. However, if the Boohoo collection is any example, Hennessy definitely has her own style.
She's a talented makeup artist
Cardi B recently posted a video of herself after her sister Hennessy did her makeup. She joked that she doesn't need a makeup artist anymore, since her sister did a perfect job of creating Cardi's signature look.
The two were on vacation together in the Dominican Republic, so apparently Cardi's usual makeup artist wasn't available. Her artist has said that Cardi is very picky about her makeup, so we know Hennessy must have done a really good job.
Hennessy is only 23, and she's already showing a lot of talent in multiple areas. We're excited to see what she'll do next. It's likely she'll end up as famous as her sister.
Hennessy gave Cardi B her nickname 
Cardi B is not the rapper's real name. Legally, Cardi B's name is Belcalis Marlenis Almanzar. Hennessy's full name is Hennessy Carolina Almanzar. Growing up, Hennessy called Cardi 'Bacardi' after the alcoholic beverage. Since Hennessy was named after alcohol, she gave her sister a similar name. Later, Cardi changed the nickname to Cardi B.
Hennessy and Cardi are very close. They're about four years apart. Hennessy is 23, and Cardi is 27. They obviously still travel together, and Hennessy loves being an aunt to Cardi's daughter, baby Kulture.
In fact, Hennessy accidentally revealed Kulture's gender on Instagram before Cardi was ready. Hennessy posted a moving note to her sister on the platform after Cardi publically announced her pregnancy. She mentioned how she couldn't wait to see the baby and "give her all the kisses and hugs."
Fans immediately noticed the use of the female pronoun, and guessed that Cardi was carrying a girl. Hennessy removed the pronoun and replaced it with gender-neutral language, but the cat was already out of the bag.
Now, Hennessy is instrumental in helping Cardi survive life as a working mom. Cardi doesn't feel comfortable leaving baby Kulture with strangers, so her ability to work depends on a family member being able to watch the baby. Hennessy steps in and cares for her niece when Cardi needs her, in addition to the help Cardi gets from her mom.