Who is 'Chicago Fire' Actor Taylor Kinney?
Chicago Fire, along with its sibling shows Chicago P.D. and Chicago Med, has become one of the most popular drama series on primetime television.
Chicago Fire, along with its sibling shows Chicago P.D. and Chicago Med, has become one of the most popular drama series on primetime television.
Set in the bustling city of Chicago, the show follows various members of the city's police force, fire department, and doctors who work to keep their home safe.
The three programs take place at the same time and in the setting, and crossovers are very popular. The shows feature a variety of interesting characters, including Kelly Severide played by actor and model Taylor Kinney. Kinney has had an interesting career as a celebrity, both on-screen and out in the world where he has had a very high-profile celebrity relationship. 
What is 'Chicago Fire' about?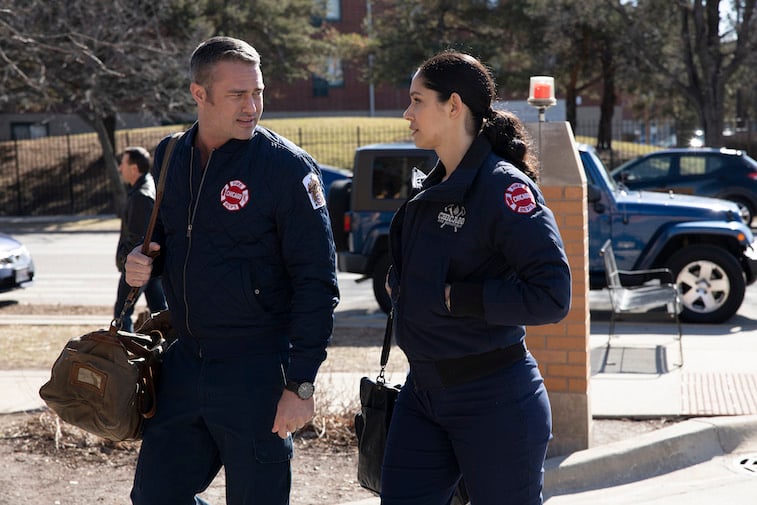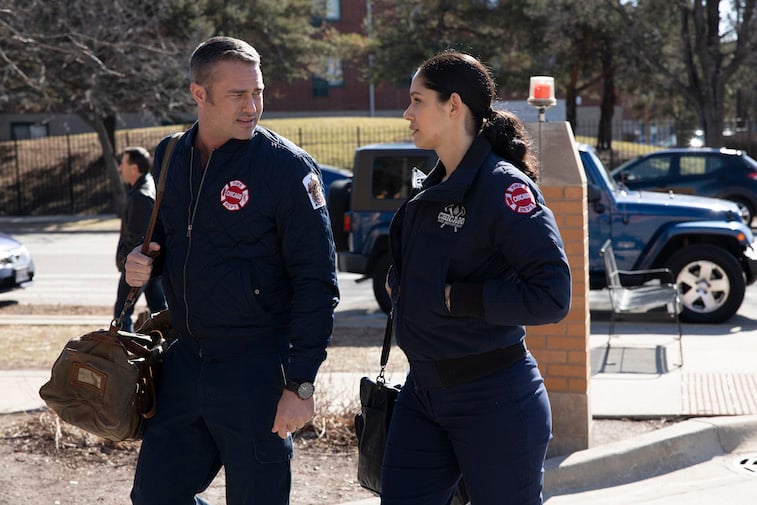 The drama follows the risk-filled lives of a group of Chicago firefighters in both their professional and personal lives. The firefighters and paramedics of Firehouse 51 face a number of challenges as they attempt to protect and save the civilians of their city.
The main characters of the Dick Wolf produced show include Captain Matthew Casey (Jesse Spencer), paramedic Gabby Dawson (Monica Raymund), and Kinney's character Severide. The show premiered in October 2012, and has run for a total of seven seasons thus far.
NBC has already renewed the popular show for seasons 8, 9, 10, and 11. The network clearly has a ton of confidence for the Chicago franchise, as this type of renewal is rare. 
Taylor Kinney's role on 'Chicago Fire'
On Chicago Fire, Kinney plays Lieutenant Kelly Severide, the leader of Rescue Squad 3 in Firehouse 51. The talented and brave firefighter is a prodigy in the firefighting profession, as he is the youngest member to make the squad level at just 23 years old.
His closest ally and friend in the show is Casey, but the two have a complicated relationship. The show's initial tension comes from the death of a fellow firefighter, and Casey and Severide blames the other for the tragic event. Eventually, the two work out their issues and lead the firehouse together.
Kinney has also appeared in Chicago Med and Chicago P.D. as crossovers between the three shows are common. Kinney is also a proficient model, appearing in various music videos and fashion shoots. One of these music videos had a major impact on Kinney's life, as it led to him meeting and dating an extremely famous musician. 
Kinney's career and high profile relationships  
Kinney is known for his various acting roles and work on Chicago Fire, but he is also notable due to an extremely high-profile romantic celebrity relationship. From 2011 to 2016, Kinney was romantically involved with pop megastar Lady Gaga.
The two were even engaged to be married when Kinney proposed on Valentine's Day 2015. No wedding ever occurred, however, and the celebrity couple broke up in July 2016.
Gaga is one of the most famous musicians in the world, and while Kinney is a popular actor, he is not at the same level of celebrity as her. That of course does not disqualify them from being in a loving and real relationship, but it is interesting to consider.
The two met on the set of Gaga's Yoü and I music video, where Kinney played Gaga's love interest. Life imitated art, and the two became a celebrity couple.
According to Billboard, the two's relationship began with Gaga slapping Kinney on the face during shooting. This slap was warranted, as Kinney kissed Gaga without permission during the very first time they met, in a professional setting. The slap did not leave a bad taste in their mouths, as Kinney and Gaga remain friends to this day.
Following the two's separation, the celebrities have found new romantic partners. Gaga dated and was engaged to agent Christian Carino before separating, and recently announced that she is involved with businessman Michael Polansky. Kinney has been spotted with a mystery partner, but it is unclear who she is.