Who is 'Chicago Fire' Actress Miranda Rae Mayo?
Chicago Fire is part of the NBC television series trilogy that includes crossover episodes with Chicago P.D. and Chicago Med. Based on the lives of courageous firefighters and paramedics, the popular drama is now in its eighth season.
Throughout the years, relatable characters have won the hearts of fans across the country. Kelly Severide, with his charm and good looks, and Chris Herrmann, who is the soul of House 51, are the consistent favorites.
When it comes to the women of Chicago Fire, there is no one more respected and well-liked than Stella Kidd.
High-octane television drama series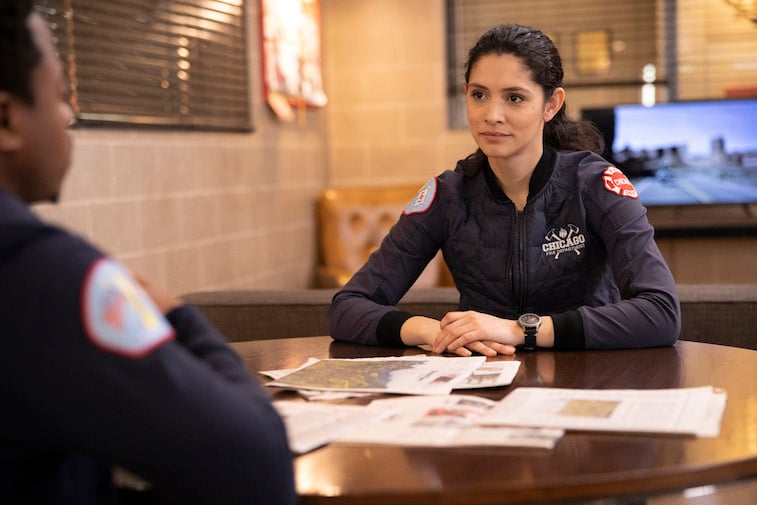 The intense drama focuses on the complicated lives of Chicago firefighters and emergency personnel. Heartfelt emotion and relationship twists and turns, keep fans turning in week after week to follow the fast-paced drama.
Experienced technical advisors recreate raging fires, graphic accidents, and terrible injuries. Some storylines are based on actual stories told by real Chicago firefighters. Their expertise is used on and off the set to keep the scenes as realistic as possible.
A big draw for the show is the brave women of Firehouse 51. Emily Foster, played by Annie Ilonzeh, is the first African-American female character to play a major role on Chicago Fire. She is not only strong-willed and independent but beautiful as well. Kara Killmer plays the role of paramedic Sylvie Brett, a small-town girl with a heart of gold. She is a fan-favorite and one of the most lovable characters in the series. And, then there's Stella.
Who is Stella Kidd on 'Chicago Fire'? 
Miranda Rae Mayo is the likable actress that plays resourceful Chicago firefighter, Stella Kidd. She is considered to be one of the guys and has made her mark on the squadron. She is among the top five favorite characters of the show.
This may have something to do with her on-again-off-again relationship with fellow firefighter Lt. Kelly Severide. Known as "Stellaride," the couple has been heating up the screen with the ups and downs of their steamy love affair.
Mayo became part of the show in 2015, first appearing in Episode 15 of Season 4. Now in her eighth season with Chicago Fire, her character has become an integral part of Truck 81.
She had to learn a lot about firefighting before taking on the non-traditional role. One of the responsibilities included driving the fire truck, which she says she wrecked the first time she drove it.
Mayo told Forbes that she still gets scared, saying, "At the start of every season, there's this fear where I think to myself, 'Can I still do this? Am I still good?'" She explains that it's not the flames that scare her but the work itself. 
Mayo's personal life
Mayo is a California girl that braves the cold weather of The Windy City to work on Chicago Fire. An aspiring actress, she landed her first role on BET's The Game back in 2006 and then went on to star in the soap opera Days of Our Lives.
With more than a decade of experience under her belt, Mayo now has a long list of television and film credits. Mayo is best known for her role as Talia in the ABC hit series Pretty Little Liars.
She also made a name for herself playing Lacey Briggs, alongside Don Johnson, in the ABC drama series Blood & Oil.
Mayo draws from her own personality to portray the funny, fearless firefighter of House 51. She loves staying active and is an accomplished musician who gains inspiration from jazz legends like Billie Holiday.
The 29-year-old actress keeps her personal relationships private, but there are rumors she may be dating a co-star she met on the set of The Girl in the Photographs.
The firefighter recently bought a three-bedroom duplex condo valued at $600,000 in the Chicago suburb of Bucktown. She is embracing The Windy City as her home, and is neighbors with castmate David Eigenberg.
An avid philanthropist, she supports the community by being involved with charities such as Red Nose Day, The Conscious Teen Leadership program, and Amnesty International.