Who Is Erin Andrews' Husband Jarret Stoll?
Beloved sportscaster Erin Andrews is no stranger to the spotlight, but what about her husband Jarret Stoll? It's no surprise that Andrews has been swept off of her feet, after all, she has an impressive career not just in the sports realm, but in the entertainment world, too. For those who aren't the biggest of sports fans, the 43-year-old is probably best known for her time co-hosting ABC's popular dance competition show Dancing with the Stars. But, what about her husband Stoll?
If you found yourself wanting to know more about Andrews' right-hand man, you've come to the right place. From Stoll's professional career, to when the couple married to their future plans, here's the inside scoop on this Andrews' husband.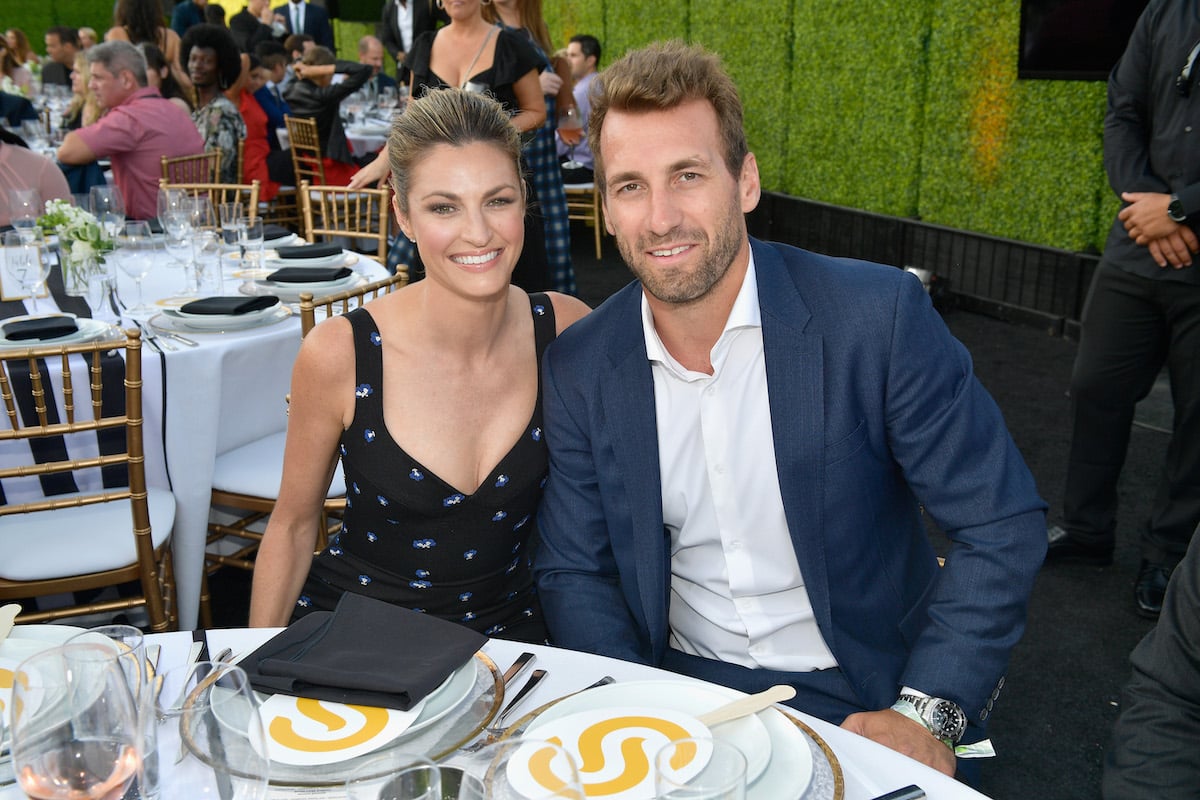 Jarrett Stoll is a former professional athelete from Canada
It would make sense that Andrews fell for a professional athlete since most of her day-to-day requires being on the sidelines and covering the action, right? We think so, too. According to NHL, Stoll is a former professional hockey player who hails from Melville, Canada. They report that he "has been one of the best faceoff men of his generation." He's won two coveted Stanley Cup victories during his career and has played for well-known teams, such as Los Angeles Kings (who he helped win the Stanley Cup for in 2012 and 2014, per NHL) and Edmonton Oilers. Stoll has since retired playing professional hockey but isn't too far away from the game. According to LA Times, he now spends his time developing young talent for the Los Angeles Kings as a player development coach.
Jarrett Stoll and Erin Andrews' relationship timeline
So, how did the former professional hockey player meet Andrews? According to The Heavy, the pair met "through their mutual friend Michael Strahan" back in 2012. They then had a magical Christmas engagement in Disneyland in 2016 and then tied the knot in Montana in 2017. Harper Bazaar covered the swoon-worthy celebration, which included a mountainside ceremony, a tee-pee-inspired tented reception, and chic attire of course.
Jarret Stoll and Erin Andrews are trying to have kids
Even though the pair seem like a picture-perfect couple, they too have had their hardships like everyone else. From Andrews' 2016 emotional high-profile stalking case to Stoll's 2017 cocaine possession arrest to even Andrews cancer scare, the pair have had to go through some rough patches. But besides their up and downs, they still appear to be each other's rock. Especially in 2021, when Andrews opened about her difficult road to motherhood.  Andrews shared an emotional personal essay to Bulletin, on August 25, 2021, about her fertility issues and how she is going through her 7th round of IVF.
Despite having trouble having children, Andrews and Stoll are still hopeful they will one day become parents. Per, each other's social media accounts, the couple seem nothing but supportive of one another, even during the hardest of times.