Who is Gwyneth Paltrow's New Husband, Brad Falchuk?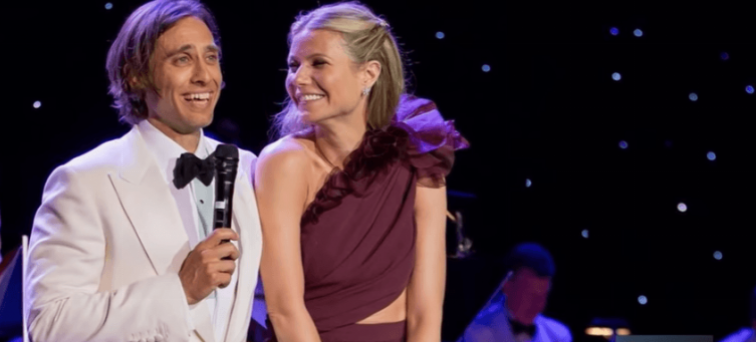 It's official! Gwyneth Paltrow and Brad Falchuk have consciously coupled.
The pair got engaged in January 2018 and tied the knot in the Hamptons on Saturday, Sept. 29, in front of 75 close friends and family members. E! News reported that some of the Paltrow's celebrity pals on the guest list included Cameron Diaz, Jerry Seinfeld, Robert Downey Jr., Steven Spielberg, and Rob Lowe.
The actress' mother, Blythe Danner, told photographers that everything was "gorgeous" and called the affair "the most beautiful wedding I've ever seen."
Now, that they've said their vows people want to learn as much as they can about the GOOP founder's new hubby.
Here's what we know about Falchuk including everything from his net worth to where he and his bride met to his relationship with Paltrow's ex-husband, Coldplay frontman Chris Martin.
Falchuk's net worth
You may have heard that Falchuk is a television producer but he's also a writer and director.
He got his start in 2003 when he joined the writing staff of Ryan Murphy's series Nip/Tuck. He and Murphy became friends and continued to work together on several other projects including Glee, American Horror Story, and Scream Queens. Falchuk also collaborated with Murphy as executive producer on FX's hit anthology series American Crime Story. In June 2018, another Falchuk and Murphy TV drama premiered. The series called Pose featured the largest cast of transgender actors. Evan Peters, Kate Mara, James Van Der Beek, and Tatiana Maslany also star on the show.
Today, Falchuk has an estimated net worth of $20 million.
How he and Paltrow met
Falchuk met Paltrow on the set of Glee.
The actress guest starred on the show in 2010 playing the part of substitute teacher Holly Holliday. She reprised her role on the series several more times including on the 100th episode in 2014.
It was reported that she and Falchuk began dating in the summer of 2014, however, they did not go public with their relationship until they attended Robert Downey Jr.'s 50th birthday party together in April 2015.
Like Paltrow, this is Falchuk's second marriage.  He was previously married to fellow TV producer Suzanne Bukinik from 1994 to 2013. They have two children together — a son Brody and a daughter Isabella.
Paltrow married Martin in 2003 but they never had a big wedding as they decided to elope instead. In 2014, they announced that they were "consciously uncoupling" and their divorce was finalized in 2016. They continue to co-parent their children Apple and Moses.
Falchuk and Chris Martin have hung out
There are certainly no hard feelings between Paltrow and her ex, in fact, Martin is actually pretty cool with Falchuk. Paltrow even shared a photo of them hanging out for brunch on her Instagram to show everyone just how cool they are and used the hashtag #modernfamily.
The musician has been dating again as well as he is reportedly in a relationship with Fifty Shades of Grey star Dakota Johnson.
Check out The Cheat Sheet on Facebook!