Who Is JJ Redick's Wife and Do They Have Any Kids?
For most of his long NBA career, New Orleans Pelicans sharpshooter J.J. Redick has guided NBA life next to his wife, Chelsea Kilgore. The pair met in 2008 and have been happily together ever since. While most hoops fans know about Redick, however, they might now know about his wife.
Kilgore is an active part of everything that Redick does, and without her things might be quite different for the hoopster. 
When did J.J. Redick and Chelsea Kilgore meet?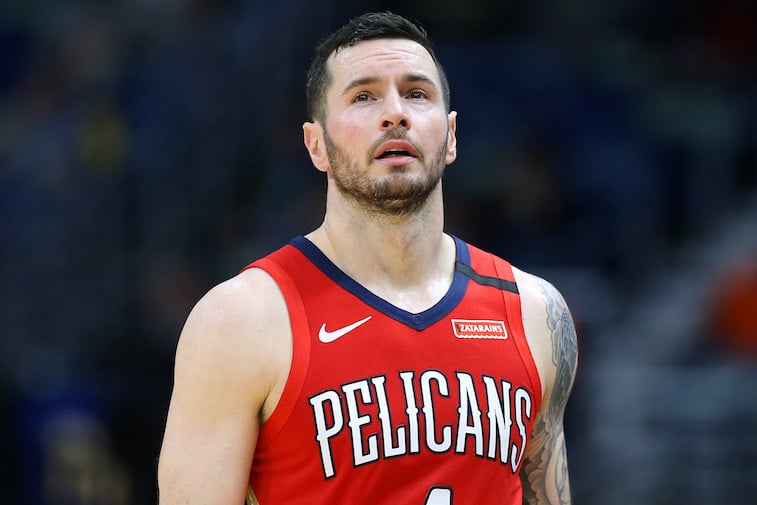 Redick and Kilgore first met in 2008. At the time, Redick was a young NBA player who was still looking to prove that he was more than a college phenom who could only shoot the ball. Kilgore, on the other hand, was a pilates instructor. When the two met, however, sparks flew, and by 2010 the pair were married.
Redick has been vocal about his love for his wife and the role that their shared Christian faith has played in their growth as a couple and as people.
"I was always a believer," he said, "but I sort of became an adult Christian, if that makes sense," Redick said about their relationship (per The Los Angeles Times). "She didn't allow me to be a [jerk], and she still doesn't."
Ten years later, the couple is still going strong.
Who is Chelsea Kilgore?
Kilgore still teaches pilates. A fan of fitness, she is also a self-described "wannabe runner." When she isn't running or teaching classes, however, Kilgore enjoys cooking in the kitchen and going to see concerts with her husband.
Kilgore is also an identical twin named Kylee. Kylee has been present in several of Redick's posts detailing his life at home, and the trio appears to get along quite well. Kylee is, according to her Instagram account, a public relations worker in New York City.
Chelsea also helps her husband run The J.J. Redick Foundation. This foundation uses basketball to help teach children how to become part of a team, although it has also helped raise money for at-risk youths and children's ss hospitals. The Redick family has always been charitable, and Chelsea's leadership is a major reason why.
Does JJ Redick have any kids? 
Redick and Kilgore have two sons, Knox and Kai. Knox is five years old, while Kai is three. Knox has been seen on several of his father's Instagram posts playing baseball, not basketball. Redick has spoken extensively about his love for his sons and how they have shaped his greater worldview as he looks toward the future.
"Especially now that you have kids, you think about everything," Redick said (per The Los Angeles Times). "You think about gun control and what that means, and what's the best practice for that. You want your kids to grow up in a world that's better than the one you grew up in. I'm not talking about my own family's wealth. I'm talking about the actual world and all the issues that we have."
This explains so much about how the Redick family conduct themselves. Not content with being a good basketball player, Redick has been increasingly vocal about his desires to make the world a better place through his platform, and Kilgore has been right there beside him motivating him to do so.
While other famous basketball families are always in the spotlight, the Redick family appears to be content with a relatively quiet lifestyle. Happily married and with two kids, the pair shows that while NBA players may seem different than the rest of us, at the end of the day they lead similar lives to the rest of us.