Who is Joe Biden's Wife, Jill Biden?
Even when Joe Biden was the vice president of the United States, his wife never garnered headlines like she did on Super Tuesday, March 3.
After Joe racked up more delegates than his campaign predicted, Jill Biden was by his side as he gave a speech in Los Angeles. And when protesters stormed the stage, Jill sprung into action and prevented them from getting anywhere near her husband. Jill then began trending all over social media and the interest in her has continued. Read on to find out some fascinating facts you never knew about Joe Biden's wife.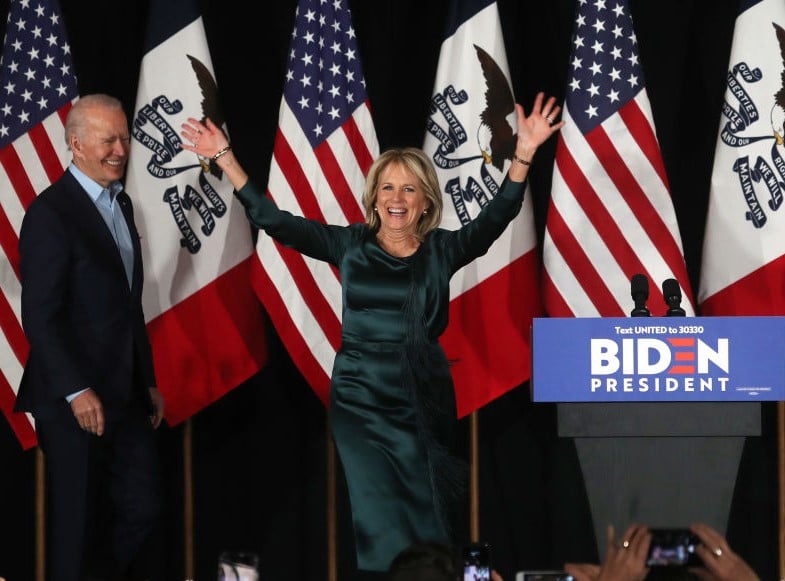 Jill Biden was born in the Garden State and grew up in Keystone State
The former second lady of the United States was born Jill Tracy Jacobs in 1951 in Hammonton, New Jersey, to parents Donald C. Jacobs and Bonny Jean (Godfrey) Jacobs. Jill is the oldest of five children.
Her family moved around quite a bit when she was very young but she spent most of her childhood in a suburb outside Philadelphia. She grew up just a few hours away from Scranton, Pennsylvania, where Joe is from.
Jill and Joe have both been married before and met on a blind date
After graduating from high school, Jill married a man she had been seeing named Bill Stevenson. They attended the University of Delaware together but the marriage didn't work out. They separated and ended up divorcing after five years.
In 1975, Jill and Joe met on a blind date. It was at a rough time in each of their lives. Jill had just gone through her divorce and Joe tragically lost his wife, Neilia, and their 1-year-old daughter, Naomi, who both died in a car crash, just a few years earlier. Joe's two sons were also in the car but survived.
Jill and Joe began dating for a while and the then-senator eventually asked for her hand in marriage. But he had to ask her five times before she finally accepted.
"By that time, of course, I had fallen in love with the boys, and I really felt that this marriage had to work," Jill told Vogue. "Because they had lost their mom, and I couldn't have them lose another mother. So I had to be 100% sure."
The couple tied the knot on June 17, 1977. Today, they have one daughter together.
She is Dr. Jill Biden
Jill has two master's degrees. One in reading from West Chester University and one in English from Villanova University. In 2007, she received her doctorate in education from the University of Delaware.
She has been a professor of English at Northern Virginia Community College since 2009, working full-time even when she was second lady.
She showed everyone that she will always protect her man
When two female dairy protesters ran towards the former VP during a rally on Super Tuesday, Jill jumped in front of one of the women. The image of Jill blocking that protester was shared countless times on social media.
This isn't the first time that Jill has put herself right in the thick of things to protect her husband.
At a rally in New Hampshire, she leaped out of her chair to help others when a man attempted to approach her spouse. After that incident, Jill laughed and told reporters "I'm a good Philly girl."
Some questioned if Joe should be traveling with more security but at this point, his wife is taking care of things.
Check out Showbiz Cheat Sheet on Facebook!