Who is Joe Exotic and What is His Net Worth?
Since the release of Netflix's documentary series Tiger King: Murder, Mayhem and Madness, the name "Joe Exotic" is rattling around wildly in the minds of all of the true crime fans who binged the series. The seven-part docuseries is centered around Joe Exotic, his private exotic zoo full of wild big cats, particularly tigers, and the lengths he was willing to go to in order to salvage his exotic zoo. Throughout his life, Exotic has assumed multiple identities and occupations, from being a country music singer to a politician. So, who is the real Joe Exotic and what is his net worth?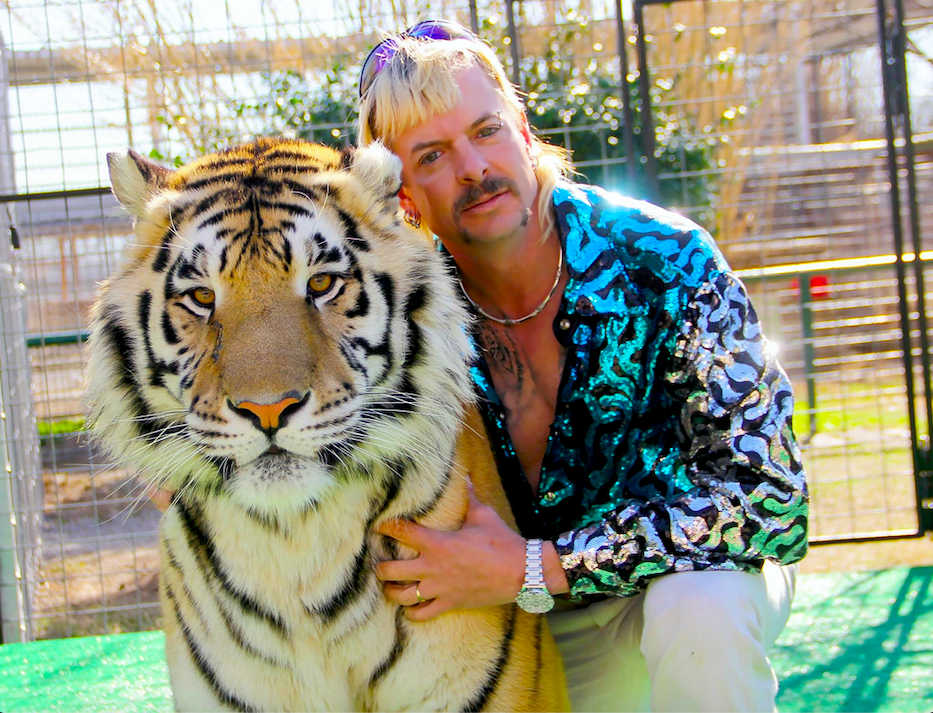 Joe Exotic grew up working on a farm in Kansas
Joe Exotic was born as Joe Screibvogel on March 5, 1963. He was the middle child, sandwiched between two brothers and two sisters. They worked alongside their parents on a farm of barnyard animals, like horses, chickens, and cows. Occasionally, he and his siblings would sneak in wild animals like raccoons and porcupines to care for. 
Exotic recalls that his parents were especially cold toward him and his siblings, never saying "I love you" or treating the children as anything more than young laborers. He was also bullied a lot in high school for mainly hanging out with girls instead of his male classmates. Joe Exotic poured his time and devotion into what he considered caring for animals. As president of the local 4-H chapter, a youth organization within the United States Department of Agriculture, he raised show pigeons and dreamed of one day becoming a veterinarian. 
He explored many different career paths throughout his life
Immediately after graduating, Exotic became the police chief of a small town called Eastvale, Texas with a population of 503 at the time. He was also dating a woman named Kim, but secretly explored Texas' gay nightlife scene. Ashamed and disgusted with himself, Exotic says he attempted suicide in 1985, which he referred to as "the bad year." He views the accident as "the beginning of Joe Schreibvogel's rebirth" according to Intelligencer. 
According to Exotic, after spending over a month in the hospital and moving to West Palm Beach, Florida, he became acquainted with a neighbor named Tim, who was the manager of a pet store. Tim introduced Joe Exotic to another friend who worked at a "drive-thru zoo" where guests could watch animals from safari cars. The friend allowed Exotic to play with baby lions at his home. Upon moving back to Texas, he took a job as a security guard at a gay bar where he met his first husband, Brian Rhyne, who was 19 years old at the time. The pair later married at the very same bar.
Having recognized his passion for animals once again, Exotic got a job at the local pet store. After a while, he bought the store with his brother Garold Wayne, which would eventually lead to the creation of The G.W. Zoo. 
Long after building a career in animal care, Exotic also pursued a career in politics. He ran for President in 2016 as an Independent candidate and received 962 votes. Two years later, he attempted to build a political career again, this time as governor of Oklahoma. He received 664 votes, finishing last out of three candidates.
Exotic opened the G.W. Zoo in memory of his brother
In the fall of 1997, Exotic's brother Garold passed away in a car accident during a drive to Florida. While his parents received a settlement from the company responsible for Garold's death, they refused to spend a cent of it. Garold's family thought of using the money to open a soccer park in his honor, but Joe Exotic had something different in mind. 
With the help of his parents, Exotic purchased a horse ranch in Wynnewood, Oklahoma with the intention of turning it into an animal sanctuary. He named the zoo, "Garold Wayne Exotic Animal Memorial Park" in memory of his late brother, but guests would come to know the zoo as "The G.W. Zoo". The big cats were contained in rows and rows of steel cages. People were attracted to the simplicity and minimalism of the zoo, where they could smell, hear, and interact with the animals up close. 
Exotic's "sanctuary" quickly became over encumbered with wildlife once people learned that he was running a big cat rescue. Some of the younger animals even lived inside Exotic's house with him and his husband. Inspired by the popularity of tiger cubs among guests, Exotic began to breed them excessively. Eventually, Exotic began to proudly consider himself to be the largest tiger breeder in the country, a true tiger king. 
How did Joe Exotic become famous and what is his net worth?
In 2011, Carole Baskin, the Chief Executive Officer of Big Cat Rescue in Tampa, Florida, sued Exotic for $1 million for trademark infringement. The lawsuit forced Exotic to file for bankruptcy immediately, but also turned him into a bit of a celebrity. He was soon contacted by Good Clean Fun productions, the company behind shows like The Bachelor, who wanted Exotic to create a reality show. While the reality show never launched, Exotic took to YouTube to create JoeExoticTV where he would upload footage of the park itself along with broadcasts of himself lip-synching to country songs about animals and even a few political messages. Currently, his channel has 70.4K subscribers. 
With a large social media following and a history of legal issues (to put it lightly) under his belt, Joe Exotic is now a huge name in animal rescue, for better or worse, with an estimated net worth of $10 to $15 million. 
To learn more about the wild story of Joe Exotic and Carole Baskin, Netflix's docuseries Tiger King: Murder, Mayhem and Madness is currently available for streaming.